Wagner's sea of eternity
Share - WeChat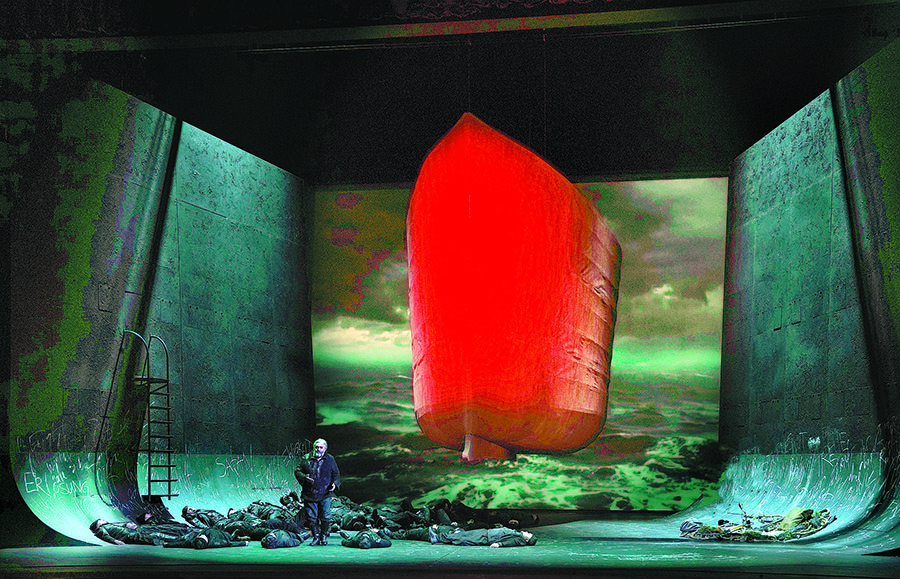 Opera house revives a symbolic production that highlights struggle against a doomed fate, Zhang Kun reports.
The Flying Dutchman, a Richard Wagner's opera coproduced by the Shanghai Opera House, will be staged on Monday, as one of 24 productions being showcased at the fifth China Opera Festival in Hangzhou, Zhejiang province. The opera will also be performed at the Shangyin Opera House in Shanghai, on May 20-21.
Performed in German with Chinese and English subtitles, it premiered in China at the Guangzhou Opera House in Guangdong province on May 5. The opera was jointly produced by the Shanghai Opera House and the Theater Erfurt in Germany in 2018.
The revival this year features the widely praised stage design with a giant red ghost ship and a cold atmospherically chilly cabin, with the same leading male actor American baritone Todd Thomas.
The premiere at the Guangzhou Opera House marked the first performance of Chinese soprano He Hui as a Wagner heroine in a full-size opera production.
"In the past two decades of my opera career I have always tried to make new breakthroughs, but at the same time I have carefully protected my voice," He said before a rehearsal in Shanghai.
"I am very cautious in selecting my roles and productions. By now I believe I can make the bold step to embrace Wagner," He says.
She adds that in some Italian operas, you feel as if the orchestra plays to accompany the singer, while in a Wagner's opera, the human voice is like an instrument, whose sound intertwines with that of the orchestra.
"This makes a huge demand on the strength, fortitude and technique of voice control. To use your voice as an instrument, you need to constantly know yourself and tap your potential to use it well.
"I am glad that with my age and experience, I now have the opportunity to present a most dramatic Wagner's opera. I think my voice is bigger, heavier and more penetrating than ever, and more appropriate for the performance of a Wagner piece," she says.