Sino-Kazakh ties to deepen
Share - WeChat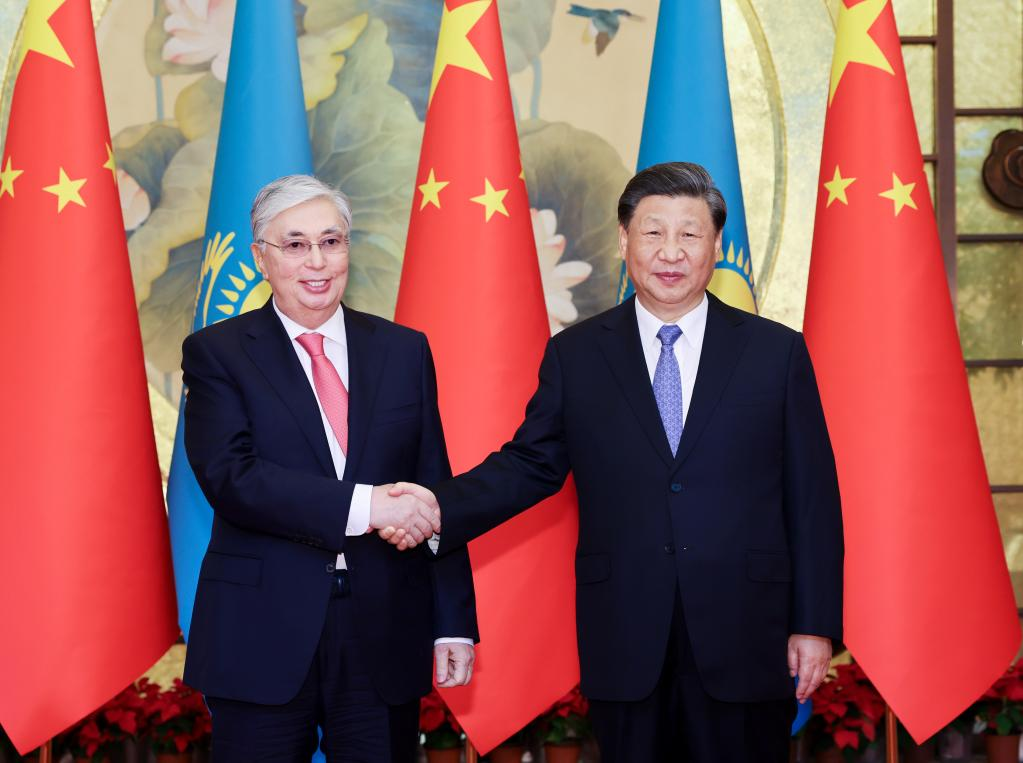 Presidents call for broader steps to strengthen pragmatic cooperation
China and Kazakhstan agreed on Wednesday to build up cooperation on economy, trade, production capacity, investment and emerging sectors such as renewable energy, as part of broader steps to strengthen pragmatic cooperation.
President Xi Jinping and visiting Kazakh President Kassym-Jomart Tokayev reached the consensus during their talks in Xi'an, Shaanxi province, on Wednesday.
The two leaders signed a joint statement in which the two nations agreed to promote cooperation on transportation to stabilize industry and supply chains, including steps to explore building a third cross-border railway line and constructing new railway border ports.
Both sides underscored the significance of safeguarding political security and opposing foreign interference in the domestic affairs of the two nations, and they agreed to enhance cooperation on preventing "color revolutions".
Tokayev arrived in Xi'an on Wednesday for a state visit and to attend the China-Central Asia Summit on Thursday and Friday. Wednesday also was the 70th birthday of Tokayev, the first Central Asian leader to arrive in Xi'an for the summit.
During their talks, Xi wished the Kazakh president a happy birthday, saying that his state visit to China on this special occasion spoke volumes for the high level of bilateral relations and again proved the Kazakh president's strong bond with China.
He noted that the two nations, as trustworthy friends, brothers and partners to each other, are at a critical stage of development and rejuvenation.
Xi underlined the need for the two sides to carry forward their traditional friendship, offer each other steadfast support, closely align development strategies, advance win-win cooperation and build a community with a shared future defined by lasting friendship, a high degree of mutual trust and sharing weal and woe.
He pledged Beijing's firm support to the Kazakh side in upholding national independence, sovereignty and territorial integrity and following a path of development that suits its own national conditions.
The two nations should strengthen interconnectivity and expand cooperation on e-commerce, innovation, big data and other emerging sectors, Xi said.
He urged quicker steps from both sides to establish cultural centers in each other's country and to use the introduction of a visa-free regime to promote people-to-people exchanges.
Xi also said he welcomes Kazakhstan hosting events in China over the next year to encourage Chinese tourists to visit the Central Asian country, adding that he believes the establishment of the country's consulate-general in Xi'an will help promote bilateral cooperation at local levels.
He called for stronger bilateral cooperation and exchanges among media outlets to better tell the stories of friendship between the two countries.
He explained that the China-Central Asia Summit will be a milestone and usher in a new era of cooperation between China and the five Central Asian countries.