Zhang savoring his surprise rise
Share - WeChat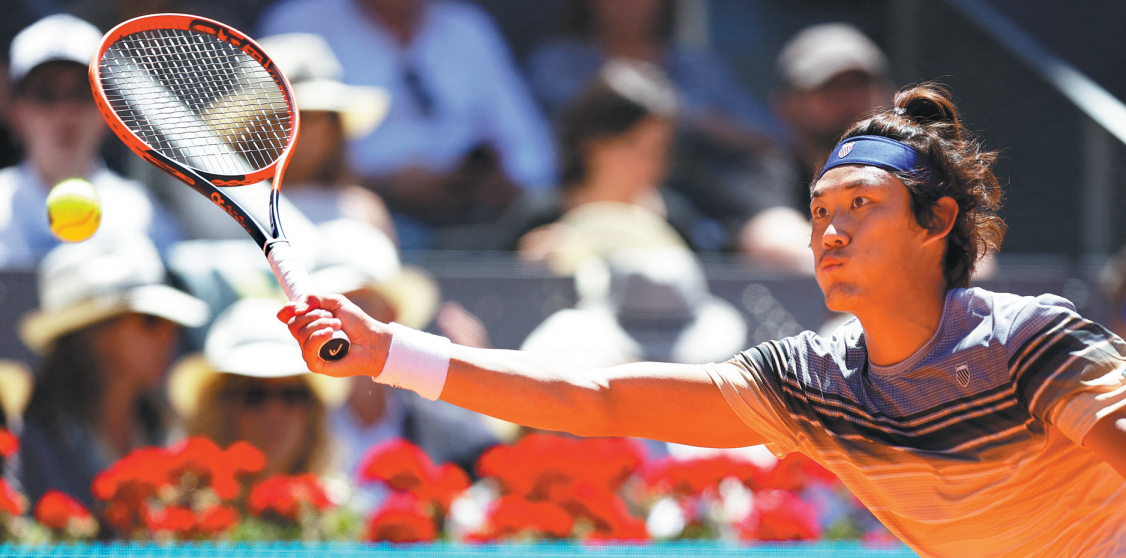 China's late-blooming ace eyeing more breakthroughs after historic, giant-killing run at Madrid Open
Drawing pride and confidence from his historic Madrid run, Zhang Zhizhen is raring to make more breakthroughs for Chinese men's tennis.
Zhang last week became the first Chinese to reach the quarterfinals of an ATP Masters tournament, with nail-biting wins over top-30, top-20 and top-10 players taking him to the last eight of the Madrid Open.
"It's definitely the highest quality tennis that I've ever played and the best week of my career for sure," Zhang told a teleconference with Chinese media the morning after losing to Russia's Aslan Karatsev in straight sets in the quarterfinals on Thursday.
"It's been a week full of surprises and encouragement, and it will go down as a milestone of my career as well as a new beginning for me to push for higher goals.
"I feel I have not reached my ceiling, though. I could've done better technically and physically to play more consistently.
"I believe even the sky is not the limit."
Having arrived at the Madrid clay-court tournament ranked 99th in the world, Zhang was desperate to bounce back from an early-season slump that saw him suffer six first-round exits and almost lose his hard-earned spot in the top 100.Last October, Zhang became the first Chinese mainlander to crack that rankings bracket.
Without a coach or a physio traveling with him, the 26-year-old Shanghai native, produced an unexpected turnaround on what is usually the least favorite surface for Chinese players.
"I had no clue at all that I could play so well ... I just took one game, one set and one match at a time and tried to focus always on the next point. Somehow, I managed to play some of the best tennis of my life and here I am," said Zhang, who climbed to a career-high ranking of No 69 this week.
Built on a kick serve and fierce forehands, Zhang's aggressive game delivered three shocks in succession — and all from a set down — against Canada's Denis Shapovalov (No 27), Britain's Cameron Norrie (No 13) and the United States' Taylor Fritz (No 10), from the second to the fourth rounds.
Zhang's mental steel was also key as he won six of seven tiebreakers in Madrid to emphatically answer critics who claimed he was vulnerable in clutch moments.
"Having been there, beaten them, or pushed them to the limit in close matches on such a big stage, I managed to remain calm and confident in whatever situation, even when I was trailing by a set," added Zhang, who, prior to the Madrid Open, had a 2-5 win-loss record in tiebreakers this season.
Unlikely ascent
Born to parents who were both professional athletes (soccer and sports shooting), Zhang chose tennis over swimming as a hobby when he was 6.
Compared to his friend Wu Yibing, a former junior world No 1, it took time for Zhang's talent to shine. After turning pro in 2012, Zhang spent most of his early career in obscurity before finally winning his first ATP main-draw match at 18 in 2015, at the 250-level Shenzhen Open in Guangdong province.
However, a series of injuries soon negated the gains he had made, dragging him out of the top 800 in 2017 — the same year that his younger compatriot Wu claimed top spot in the junior rankings after winning the US Open boys' tournament.
Zhang was even being eclipsed by veterans such as Wu Di, who became the first Chinese mainlander to appear in a men's singles main draw at a Grand Slam when he appeared in the first round of the 2013 Australian Open.
However, in 2021, Zhang fought through three qualifying rounds to make the main draw at Wimbledon, becoming the first Chinese mainlander to do so at the grass-court major in the Open era. Sixteen months later, he cracked the top 100 in another milestone for the Chinese men's game.
The ever-humble Zhang is keen to frame his breakthroughs as a collective effort.
"I am honored to play my part but the credit also goes to the predecessors of brother Di's generation, who paved the way for us to achieve this progress now," said Zhang.
"For sure, a younger group will emerge stronger to follow in our footsteps and achieve greater feats than we have."
Wu Di, who this year spent four weeks working with Zhang in Europe as an interim coach, was not surprised by Zhang's surge in the Spanish capital.
"I believe he's always had the game, but sometimes he just needs to believe it himself," said Wu Di, who was the first Chinese mainland player to win an ATP Challenger title, back in February 2016.
"Zhang is a tough player technically with a great serve and excellent baseline shots.
"He's had some experience playing on clay when he was a junior and moves really well on that surface.
"With his confidence soaring, we just need to remind him that he should trust himself more and that he can absolutely take his game to the next level."