Beijing exhibition is elementary, Watson
Share - WeChat Interactive display showcases the brilliance of Sherlock Holmes and gives onlookers a chance to solve baffling cases, Wang Ru reports.
For more than a century, Sherlock Holmes, the pipe-smoking genius detective who, from his flat at 221B Baker Street, London, solves impossible cases with astonishing mental acuity, has been engraved in the hearts of people across the world, along with the time he lived — a prosperous 19th-century Britain with misty nights perfect for intrigue and mystery.
Ever since British writer Arthur Conan Doyle created the character in 1887, he has become a major pop culture symbol, exerting a great influence on readers and later fictional renditions of detectives.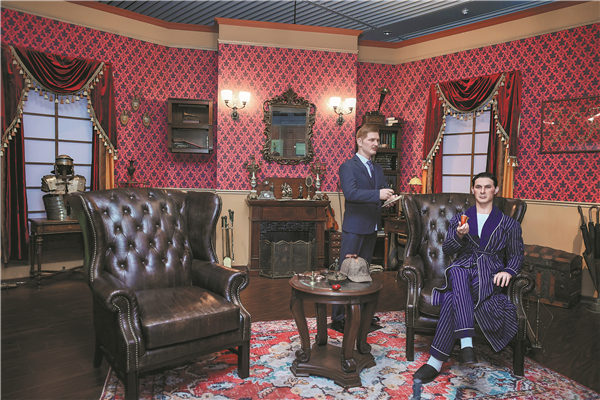 Holmes has been familiar to Chinese readers since Doyle's books were introduced to China in the late 19th century. Over the years, numerous versions of his classics have been published in the country.
Authorized by The Conan Doyle Estate, an exhibition on Sherlock Holmes kicked off at the National Museum of Classic Books in Beijing on April 28, offering visitors a chance to immerse themselves in Holmes' world.
Organized by the National Library of China, the Art Exhibitions China, and United Creation, a Beijing-based company specializing in designing exhibitions, it not only chronicles the life experiences of Doyle and the publication of his iconic books, but also reconstructs some of the crime scenes described in the books, and provides interactive facilities which enable people to learn how to crack cases themselves.
In 1887, the first Holmes story, A Study in Scarlet, by Doyle, a doctor, was published in Beeton's Christmas Annual. The series gained popularity after he started to publish more stories in The Strand magazine in 1891, enabling him to give priority to writing. Altogether he wrote 60 stories about Holmes, with the last penned in 1927.
The books follow the detective work of Holmes, a private investigator who is often invited to help the police crack cases that stump them. Written from the perspective of his friend Dr John Watson, readers see what Watson sees: a brilliant and witty, but eccentric and unsociable recluse who often solves cases in unpredictable ways.
Most Popular