Market hungry for ready-to-eat dishes
Share - WeChat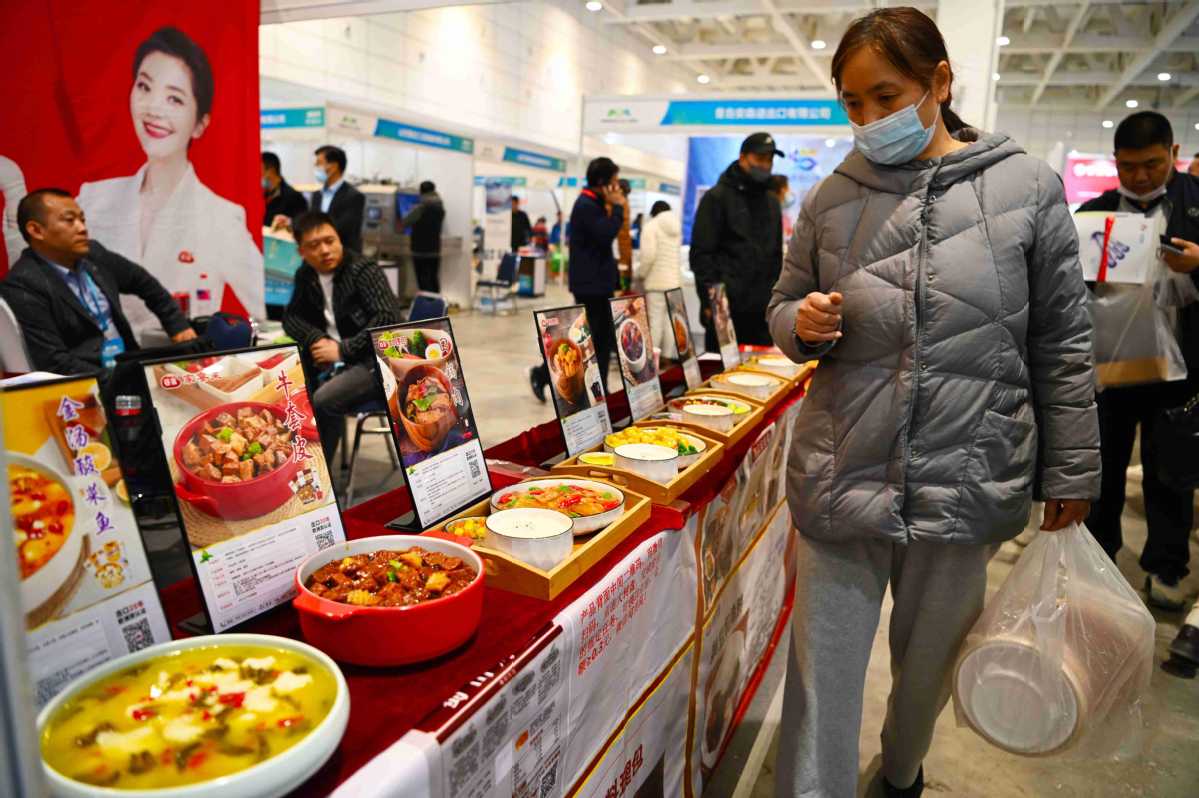 Imagine this — it's been a long day at work and you are finally home. The idea of cooking seems like an insurmountable task and you are too hungry to wait for food delivery. So what to do, oh famished you?
With busy schedules and a desire for convenience, an increasing number of people today are turning to ready-to-eat meals that can be heated up quickly or eaten straight out of the package, giving rise to a trillion-dollar business.
According to consultancy iiMedia, the market for ready-to-eat meals has continued to grow rapidly in China in recent years and reached 419.6 billion yuan ($61 billion) in 2022 — a year-on-year increase of 21.3 percent. By 2026, the industry's market size is expected to reach over 1 trillion yuan.
As of the end of last year, there were more than 64,000 companies whose business involved ready-to-eat meals to one extent or another in China, and the number of such newly registered companies in the January-November period last year reached over 1,690, a yearly increase of 42.7 percent. Shandong, Henan and Hebei provinces had the highest number of such companies, with some 7,900, 5,800 and 5,100, respectively, according to Tianyancha, a corporate information provider.
From microwaveable meals to fresh salads, there are a wide variety of options available. "The faster-paced lifestyles in first- and second-tier cities, combined with longer commutes, high stress and work pressure, make us eager to free ourselves from tedious kitchen tasks after a busy day," said Beijinger Wang Xin.
Enticed by the lucrative sector, many food chains and retailers have set their sights on launching or expanding their ready-to-eat meal businesses.
Quanjude, a Beijing-based restaurant chain famous for its roast duck, has a long history of making ready-to-eat meals. Recently, the brand has focused on upgrading its ready-to-eat meal products. It has launched a new hand-sliced roast duck product, which is roasted through multiple processes and then sliced by skilled Quanjude chefs. To preserve the optimum taste, the roast duck is then flash frozen and vacuum-packed before being shipped through a coldchain delivery system to customers' homes.
So far, Quanjude has launched more than 30 ready-to-eat meal products.
Quanjude isn't the only company tapping into the ready-to-eat meal market. From JD to Alibaba, e-commerce platforms are now offering their own take on ready-to-eat meals.
Data from JD showed that sales of ready-to-eat meals on the platform's online supermarket grew at a compound annual growth rate of over 120 percent in the past three years. It said small-packaged ready-to-eat meal products are more popular among consumers due to factors such as refrigerator capacity and portability.
Married women born in the 1980s and 1990s living in first-tier cities have become the main driver in ready-to-eat meal consumption, JD said.
In the past year, over 400 ready-to-eat meal brands supplied more than 2,000 types of such products on JD's online supermarket. The retail giant said it will continue rolling out a series of supportive measures for such brands in six areas such as coldchain logistics and online exposure.
Zheng Simin, chairwoman of Shandong Delisi Food, a Shenzhen-listed company that concentrates on frozen pork processing, said despite the industry's rapid development, it still faces problems such as a lack of standards and relatively low levels of product research and development.
Zheng suggested setting up a standard system that covers the whole process of production to regulate companies' business practices, avoid food safety risks and enhance the market environment.
Sun Baoguo, chairman of the Chinese Institute of Food Science and Technology, told Workers' Daily that the ready-to-eat meal industry boom is not only a reflection of the upgrade of the consumption and food processing sector, but also provides strong support to promote the development of agriculture and will generate new growth points for the industry.
Sun said it is necessary to set up industry standards and take better measures to standardize flavor restoration, food additive use, microbial control and labeling management to ensure food safety and quality.