Barbecue craze fanning flames of success in Zibo
Share - WeChat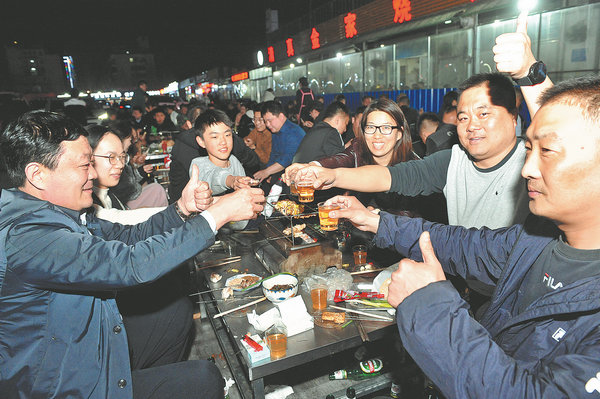 Huang Yang (an alias) is a native of Zibo city in Shandong province who works outside his hometown. He recently returned home for a visit and wanted to have some barbecue. But he failed to find seats in four different restaurants.
"A barbecue restaurant owner I know told me to come back on Monday, so as to leave the weekends to out-of-town visitors. Another restaurant owner told me that they had run out of meat. I've been eating barbecue for over 20 years and this is the first time I've heard something like that," Huang told chinanews.com.
Thanks to social media recommendations, Zibo barbecue has become an overnight sensation, with large numbers of visitors flocking to the once obscure city in Shandong province on weekends.
Taking advantage of the barbecue craze, Zibo has gone all out to promote local tourism resources, while working to ensure the safety of visitors and the quality of tourism products.
The new tourism offerings include barbecue-themed train services, dedicated bus services that take visitors from train stations straight to barbecue restaurants, barbecue maps, barbecue-themed tourism routes and free access to local scenic areas. A barbecue festival is also in the pipeline.
Zibo's tourism officials have been promoting the city's food and attractions and sending gifts to tourists on the barbecue-themed trains.
To provide visitors with a happy experience, volunteers have been working at train stations to provide information on transportation, accommodation and tourism routes. Market regulators have carried out inspections on barbecue restaurants to ensure food safety, and police have increased the number of patrol personnel to ensure visitors' safety.
According to data from on-demand service platform Meituan, as cited by people.com.cn, Zibo has seen an 800 percent increase in accommodation bookings for the upcoming May Day holiday compared to 2019, ranking first in Shandong province in terms of growth rate.
Peng Han, director of the Center for Strategic Studies at the Ctrip Research Institute, told Jimu News that Zibo's online popularity has converted into solid growth in the local tourism market, citing local hotels' business performances and marked rises in train ticket sales and the proportion of tourists' overnight stays.
Another key factor underpinning the success, according to Peng, is that before Zibo became popular on the internet, the city had an array of mature tourism products and service standards. For example, the barbecue-themed train services, bus services, barbecue map, the youth hostels that offer discounts for college students and the strict requirements for local tourism businesses were not achieved overnight, Peng noted.
Although the popularity of Zibo barbecue has not yet diminished, the local tourism authority has begun to make longer-term plans.
"What else does Zibo have besides barbecue?" Wang Shenghua, a senior tourism official in Zibo, was quoted asking by cnr.cn.
As the ancestral home of the Shandong merchants and having origins in the Silk Road, Zibo will work to develop its profound historical and cultural resources into unique cultural brands, Wang noted.
Most Popular