Ancient festival back in bloom after centuries in the shadows
Share - WeChat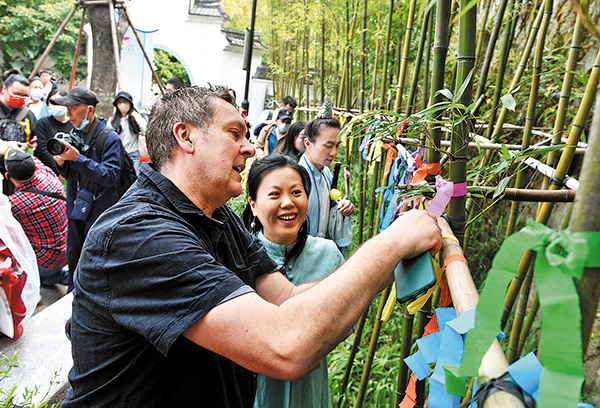 The event will last to May 3, with a variety of activities planned for its main venue in the park and sub-venues across 18 townships across the city's Chongming district.
In addition, the event's organizers have cooperated with scenic sites, hotels and bed-and-breakfast service providers, online shops and flower businesses to launch a slew of promotions.
On March 26, a series of cultural events began in celebration of the festival in Weifang, Shandong province.
"Before the first Yuntai Mountain Hanfu Huazhao Festival was held in 2018, we conducted research and learned that Huazhao is an alternative name of the second lunar month so Huazhao celebrations generally take place on the second, 12th or 15th day in the month," said Wu Peimeng, deputy manager of Jiaozuo Mount Yuntai Mountain Tourism Development."So we decided on hosting our Hanfu Huazhao Festival in the second lunar month — the period that is an ideal season for spring outings," he said.
This year, the Yuntai Mountain festival has added intangible cultural heritage experience programs to attract more tourists, including stove-boiled tea, competitions featuring suits of armor, archery and touhu, an ancient game of throwing arrows into a pitcher, according to Wu.
"Hosting the event helps our tourist structure improve. Currently, 90 percent of the tourists to Yuntai Mountain are the post-1995 generation and post-2000 generation, especially during Huazhao Festival," Wu said, adding that the festival also plays a key role in boosting shopping and caters to spending in nearby areas.
Tang Xiaoyun, vice-president of the China Tourism Academy, said Huazhao Festival is lesser known, compared with major traditional festivals, like Spring Festival.
"Its resurrection reflects the change in young people's aesthetic orientation, emotional needs and consumption preferences, and indicates their recognition of excellent traditional Chinese culture," Tang said. "Behind that is the growing cultural confidence among young people."
Zeng Bowei, director of the tourism economy and policy research center at Beijing Union University, told China Tourism News that flower appreciation has long been a tradition in springtime outings.
The festival adds a cultural touch to the economy centering on flower appreciation, Zeng noted.
Most Popular