A cultural phenomenon
Share - WeChat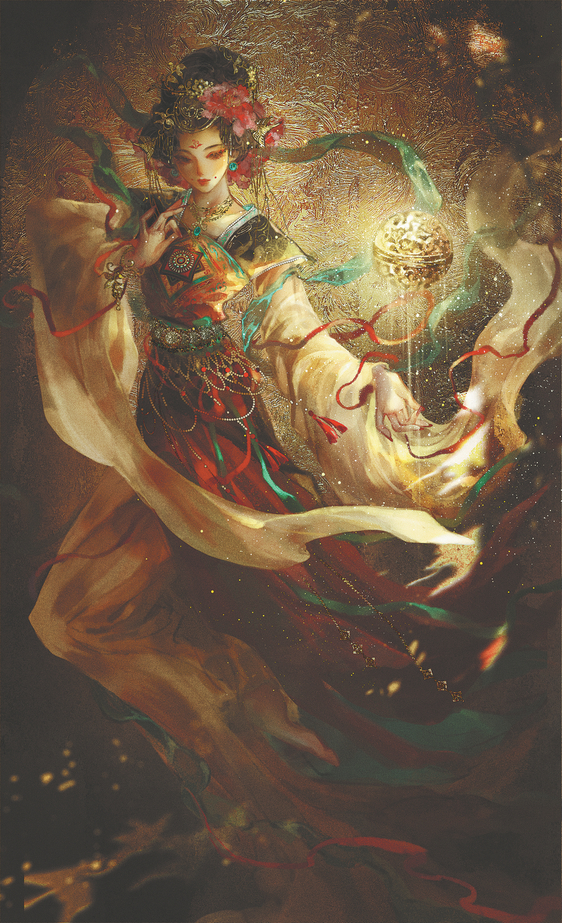 For the general masses, cultural artifacts may often seem antiquated and distant, yet a gifted few are able to exert their imagination and bring the objects vividly to life by capturing their essence through artistic expression.
Illustrator Wan Yue, as one of them, has found her own way of giving traditional cultural elements a modern touch with her ability to transform static objects into aesthetically pleasing characters.
From the different varieties of tea leaves, she sees a group of youths from ancient China, each with a unique appearance and personality. And from China's abundant resources of archaeological artifacts, she envisions ethereal, gallant or imperial characters, inviting viewers to explore their captivating stories, all grounded in Chinese history.
Known better as Yuyuqing on her social media accounts, she has been posting her digital illustrations, winning millions of followers and many requests for collaboration or to use her works in cultural merchandise, including China's well-received archaeological TV program National Treasure.
Wan says that, although she always loved animation and drawing from an early age, for years she kept her passion at bay and chose, instead, a stable job working in a bank.
In 2018, her son's kindergarten hosted a drawing competition. Helping her son with his entry rekindled her love for the art form, and she started taking courses in watercolor and portraiture.
She resigned from her job in 2020 with the goal of becoming a freelance illustrator, taking illustration courses and creating several series of paintings to accumulate experience and build her portfolio.
"Drawing a series of works on specific topics is a great way to practice my skills. These pictures use similar techniques, so I get to practice one technique intensively. Also, they feature different characters and allow me to exercise my imagination and creativity," Wan says.
So far, her subjects include tea, mythical creatures, ceramics and cultural artifacts, all representative elements of traditional Chinese culture.