Innovation takes museums into the future
Share - WeChat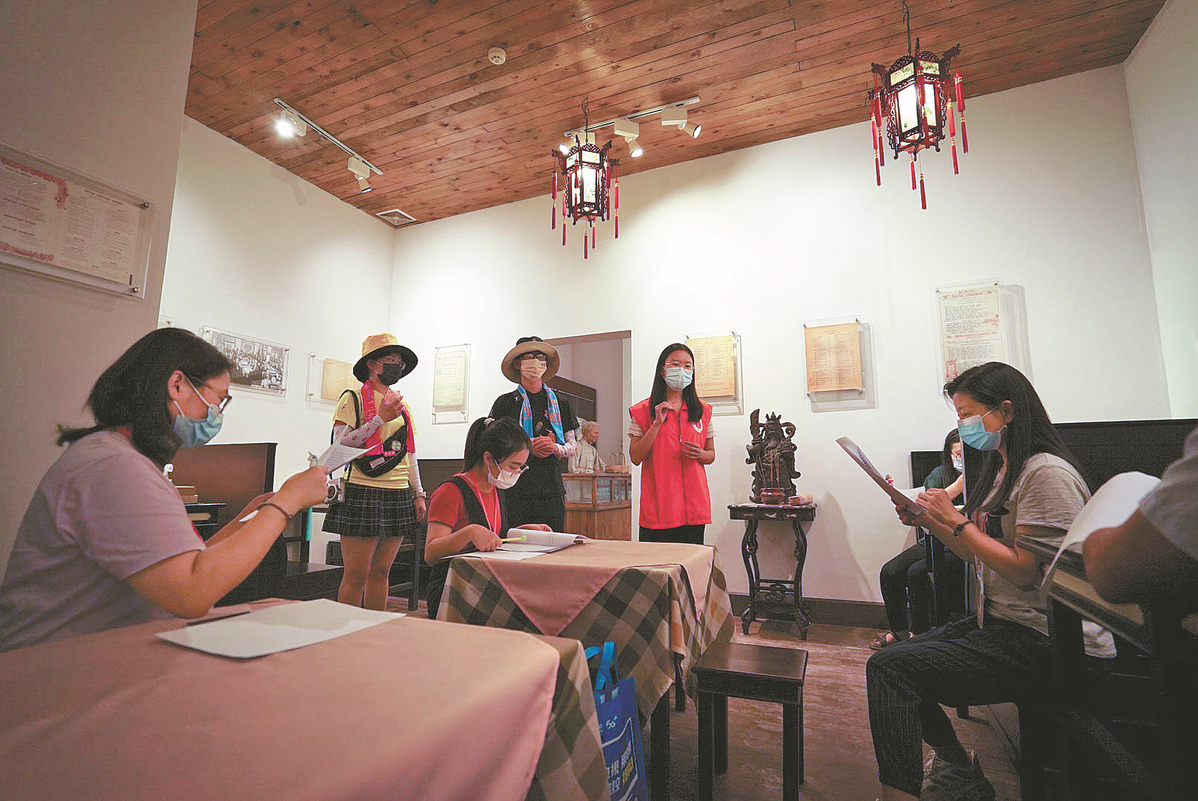 Digitization and mystery games help boost visitor numbers
Many people would jump at the chance to travel back in time, and now a museum in Jiangmen, Guangdong province, is giving them a chance to roll back the years.
An innovative mystery game introduced by the institution enables players to journey back to 1946 to experience the lives of overseas Chinese.
Aimed especially at the younger generation, players experience efforts by characters in the game to run businesses, and the deep affection they held for China in times of war.
In recent years, role-playing mystery games have become increasingly popular forms of entertainment among young people nationwide.
To attract more visitors, Jiangmen Wuyi Museum of Overseas Chinese, which boasts a rich collection of items from Chinese living abroad, has become one of the first museums in China to combine a mystery game with exhibits.
The museum is among those in the Guangdong-Hong Kong-Macao Greater Bay Area and across the country that are working to showcase their cultural assets and tell compelling stories about their exhibits.
The mystery game is based on a historical event. Before the People's Republic of China was founded, Situ Meitang, a patriotic overseas Chinese leader born in Jiangmen, planned to return to China to engage in politics as leader of the China Zhi Gong Party, which serves the interests of Chinese living abroad.
Those taking part in the game play the roles of Situ and four fictional characters living in a Chinatown in the United States. Participants search for evidence among replica museum exhibits to choose two players — one to accompany Situ to return to China, and the other to be the next leader of Chinatown.
Young people, who have greeted the game enthusiastically, keep making phone calls to the museum to ask about it. One person even rated the game as the "coolest "must-do activity in Jiangmen.
The setting for the game is a display area at the museum that has been transformed into a US Chinatown in the last century. There is a traditional Chinese medicine pharmacy, a newspaper office, a barber shop and a tailor's business. All props, including a table lamp, clothes on a hanger, and posters on walls, are in the style of the time.
Players hunt for evidence by visiting different rooms, where they look in every corner. They read newspapers and books carefully, and check under a table to see if they have missed anything. Every box and cabinet, including the small drawers of a medicine chest, are opened and checked.
The game's success has been a big surprise for Zhang Yizhi, chief architect of the innovative project, who heads the museum's promotion and cultural and creative products development department.
She said that although the museum has been in Jiangmen for a decade, few young people used to know of its existence. "This really shocked me, and I started to wonder if our content was too inaccessible for young people," Zhang said.
Since launching the game in the summer holiday last year, the museum has organized more than 100 such activities, attracting over 500 people, mostly younger participants.
In addition to the Chinatown story, the institution has introduced another script based on a fictional murder case in Jiangmen, and is also planning to launch other interactive games.
Chen Jianxiang, 25, a lead scriptwriter in Zhang's department, said that unlike some institutions that hire professional writers to work on scripts, both stories set in the Jiangmen museum were written by its employees, who believe that only those who are familiar with the institution can come up with really intriguing plots.
He added that nearly all the staff members, from the curator to the security guard, have taken part in scriptwriting, making props, and filming for the project. To increase the stories' appeal, comics were included in the second script for the game.
The Jiangmen museum's innovative work has inspired other institutions in the area. Zhang said a museum in Dongguan launched a similar mystery game this year that featured one of its exhibitions. She added that the authorities in Dongguan and Huizhou are also investing heavily in promoting cultural relics, and she believes that more such novel and interesting attempts will continue to be made in the Greater Bay Area.
Most Popular