Field of dreams
Share - WeChat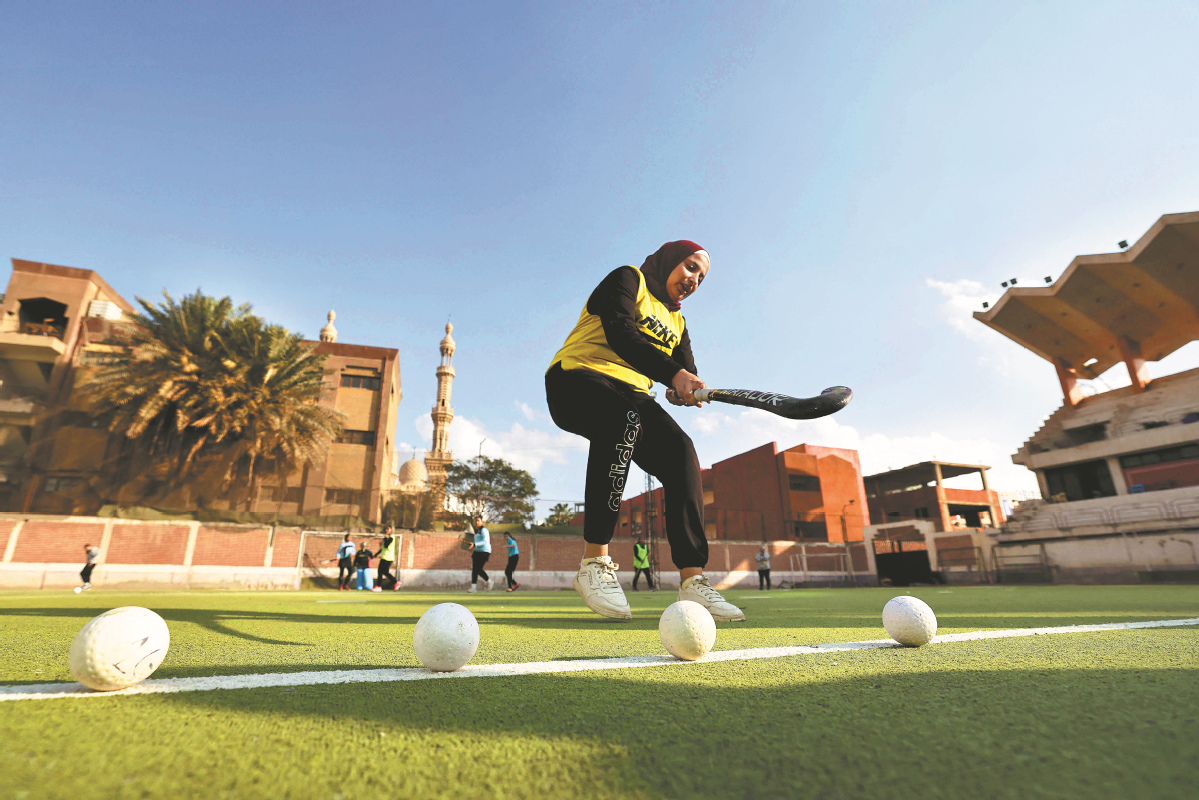 Egypt's fertile Nile Delta may not be the obvious destination for field hockey, but a women's team is blazing a trail in a region that lays claim to the sport's ancient roots.
While hockey may never sell out stadiums in soccer-mad Egypt, 24-year-old forward Donia Shaarawy says the governorate of Sharqiya has become the country's hockey hub, and a potential launchpad for her dreams of going pro.
"Hockey means Sharqiya, that's how we grew up," she told AFP, hopping off the practice field clad in a black jersey and matching hijab.
Women first took to the field in the region 100 kilometers north of Cairo in 1995, 30 years after the first men's team was established.
But according to Sharqiya Hockey Club supervisor Ibrahim al-Bagoury, the region's love for the sport goes back to ancient Egyptian times, when a similar game was played with a stick made of palm fronds.
"It was known to them as hoksha, and it was played in ancient cities such as Tel Basta" — located in what is now modern-day Sharqiya — as well as Amarna, Bagoury told AFP.
The national hockey federation's logo attests to this history, showing two ancient Egyptian figures sparring with sticks over a ball.
Family ties
Thousands of years later, the athletes of the Sharqiya women's team — which has won 25 out of 28 league tournaments in its history — dribble across the field to the sound of wooden hockey sticks colliding.
"No woman in Egypt has broken into the professional leagues yet, but I hope to be the first," Shaarawy said.
The Sharqiya team is the most decorated in Egypt, winning five out of seven national championships and taking the Africa Cup for Club Champions in 2019.
Despite having "no media support", according to team coach Mostafa Khalil, clubs in Italy and France have offered contracts to four members of his team — all of which were turned down.
One of the members could not leave her studies, while the three others were unable to accept the offers because they were married with children.
The coach chalks it up to Egypt's conservative culture, where young women and girls "can't travel alone" — a norm that Somaya Abdel Aziz, head of the club's division for women, says is "changing with time".
Shaarawy, the ambitious forward, said she would not accept "any potential partner who objects to my athletic career".
For team captain Nahla Ahmed, 28, marriage and children have been no object.
"I'm married, I have a daughter, and my husband plays hockey himself," she told AFP. She suggests "going pro in Egypt would be easier for women "than going abroad, as teams would be more likely to accommodate the athletes' family commitments.
Ahmed, who has played hockey for 18 years and was crowned the Egyptian hockey league's best player last season, has a bigger dream — "to become the best player in Africa".
Sparse support
Though the women of Sharqiya have proven themselves time and again, they have come up against both stubborn social norms and punishing economic woes.
"It's an expensive sport, and without media coverage, we don't get sponsors," coach Khalil said.
It was only in 2019 that an Egyptian company sponsored the team, he said, when Egypt hosted the Africa Cup for Club Champions.
At the far end of the pitch, eagle-eyed goalkeeper Nada Mostafa guards her post, face hidden behind her protective mask.
Mostafa — a college student and goalie for both Sharqiya and Egypt's national team — told AFP she chose her position "because you feel like you own the whole world".
"As they say, the goalkeeper is half the team," she continued.
A single imported hockey stick costs upward of $120, while a goalie's kit like Mostafa's can set the team back $2,100 — a steep cost in a country where the local currency has been on a continuous downward spiral.
There is little room for maneuver given the Sharqiya club's annual field hockey budget of between $160,000 and $190,000, according to club president Hamdy Marzouk.
But he remains undaunted, vowing instead to "preserve this bastion... (and) keep the game here".
"With over 150 national and continental championship wins, we can't throw that away," he told AFP.
"It's like samba and football in Brazil — everyone in Sharqiya has a hockey stick."
AFP
Most Popular
Highlights
What's Hot