Advisers call for greater protection of couriers' rights
Share - WeChat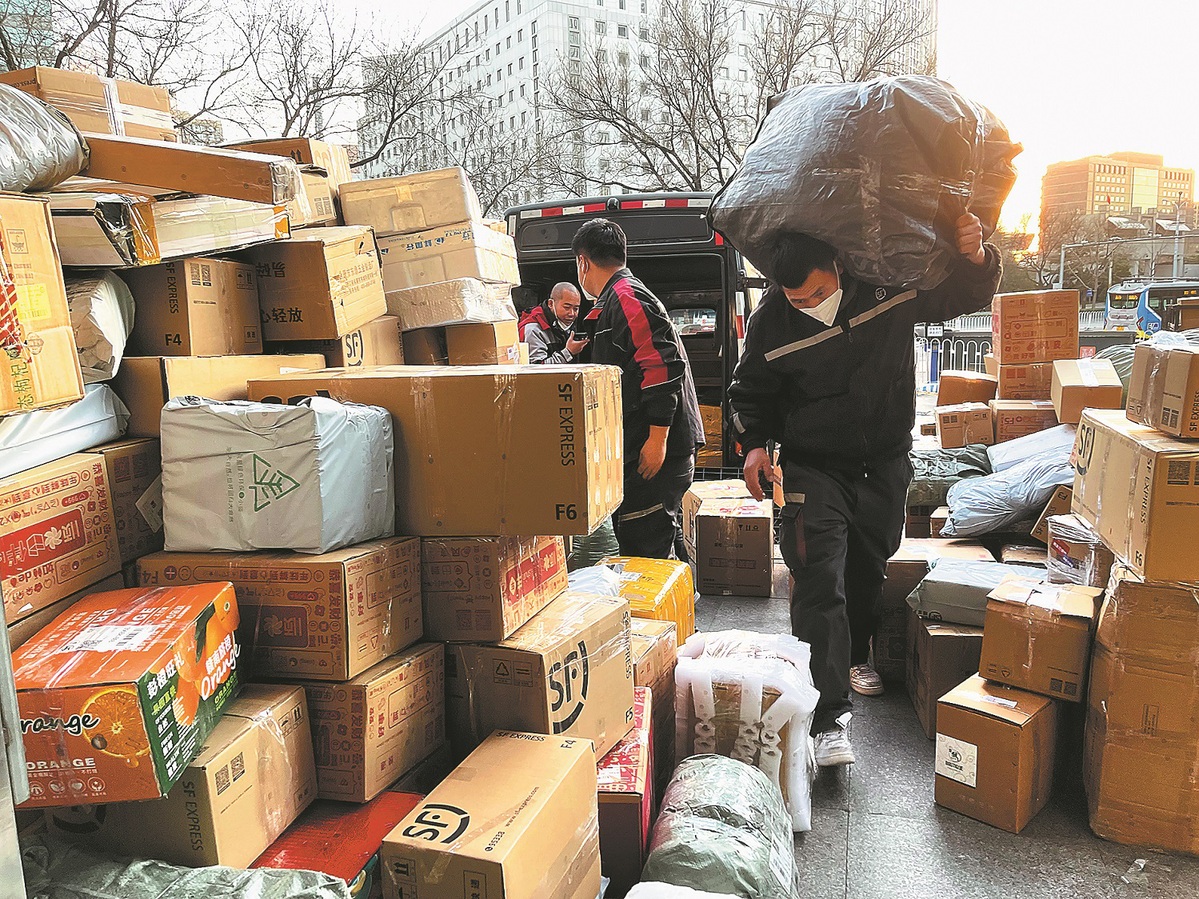 Greater efforts
Some parcel delivery companies have already taken action to protect the rights of front-line workers.
"Employers should make good use of insurance as a tool, and society should provide good insurance policies so people who work under the flexible employment model can be cared for when they are old and sick, and can make claims through their commercial insurance policies if bad things happen," said Cao Peng, chairman of the technology committee at e-commerce platform JD, who is also a member of the 14th National Committee of the CPPCC.
"JD has signed labor contracts with more than 300,000 front-line workers, such as couriers and sorters, providing them with five types of insurance, including commercial insurance and housing stipends," he said, calling on peer companies to pay more attention to couriers' legal rights.
Zheng Gongcheng, a deputy to the NPC and president of the China Society of Social Security, said he has always studied and paid attention to legislation in the sphere of people's livelihoods.
During the recent NPC meeting, he put forward a number of legislative proposals, such as promoting the compilation of a labor code, a proposed series of regulations to oversee employment issues. He also proposed reforming the work-related injury insurance system.
"The current work-related industry insurance system has become unsuitable for the development of new types of businesses and also increasingly unsuitable for the reemployment of retirees. Couriers and migrant workers have risky jobs. If they don't have work-related injury insurance, they cannot claim compensation if they are hurt at work. So, the system must change," he said.
Work-related injury coverage is one type of social insurance in China.
It is mandatory for employers to buy five types of social insurance — including work-related injury insurance — for their employees.
However, this often results in complicated employment relationships between couriers and parcel delivery companies. In the emerging industry, some couriers don't sign labor contracts with companies directly. Rather, they sign contracts with a third party, which encourages them to buy their own commercial insurance. However, many couriers prefer to save the money and take the risk.
"Work-related injury insurance can provide substantial protection for couriers. However, the design of such insurance is unsuitable for people who work under the flexible employment model," said Zhao Guoqun, director of the Post Service Development Research Center at Beijing University of Posts and Telecommunications.
"It greatly raises the companies' costs if they buy all the different types of social insurance for their couriers. China's parcel delivery sector has meager profits because of the cutthroat competition," she added.
"Companies are very sensitive to such costs. In addition, the courier group usually has high turnover, causing some companies to be more reluctant to pay extra costs for couriers' insurance."