Event to give performers a chance to show their talent for various dance styles
Share - WeChat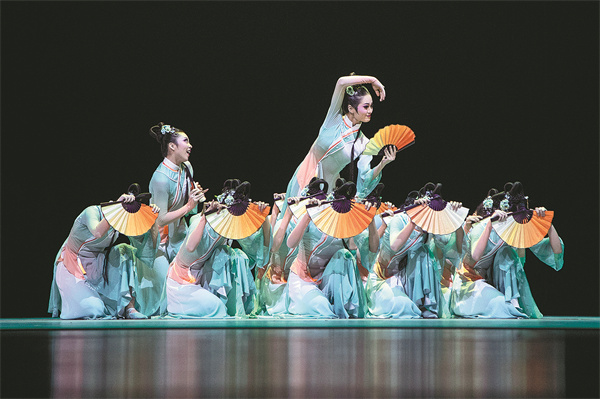 The Achievement Exhibition of the 13th "Taoli Cup" National Dancing Education Performance of China, the country's most recognized event for dance education, kicked off at the Beijing Dance Academy on Thursday.
Applications for the national event will be received from April 1 to May 15, according to the academy, the event's organizer.
Since 1985, the event, formerly known as the Taoli Cup National Dancing Competition, is held every three years. In 2016, the focus was shifted to an educational showcase, and the event was renamed.
This year, it will focus on students' dance performances, teaching displays and dance forums. A variety of dance styles will be covered, such as classical Chinese dance, ballet, contemporary dance and Chinese folk dance.
"Over the decades the Taoli Cup has built a large fan base in the country and is known as the biggest and most important dancing event, which promotes dance education and young talent," says Ba Tu, Party secretary of the Beijing Dance Academy.
"Some of the students who have participated in the past events have become top dancers in China. Some have become teachers. We will keep this tradition going on," he says.
One of the dancers is Wang Qimin, a principal dancer at the National Ballet of China. She participated in the Taoli Cup in 1997 and won the top prize in the youth group for ballet dancers.
"It was the first time that I had participated in a national competition, and I still remember how nervous I was. I am very grateful to my former teachers, who helped me with intensive training and my selection of dance pieces and costumes for the competition," recalls Wang.
She graduated from the academy in 1999 and started dancing with the National Ballet of China the same year. Wang danced as a soloist a year later.
"The valuable experience with Taoli Cup also taught me how to prepare myself for the following international ballet competitions that I went to, not just physically but also psychologically," says Wang, who won a top prize at the Moscow International Ballet Competition in 2001.
Zhang Han, a dancer specializing in traditional Chinese dance, who is now with the China Oriental Performing Arts Group, also stood out among his peers during the Taoli Cup when he participated in the event in 2016. As a graduate of the same academy, Zhang says the process of preparing for the competition allowed him to be creative.
"As a young dancer, I was keen on displaying my skills onstage. The event allowed me to be seen," says Zhang, who rose to fame as the leading dancer in the Chinese dance drama Poetic Dance: The Journey of a Legendary Landscape Painting, a production that has been staged for nearly 300 times since its premiere in 2021.
According to the Beijing Dance Academy, this year's event will also explore some new fields in the dance scene, such as street dance, musicals and dance videos.
Most Popular