Young costume designer shows beauty of Tang and Song dynasties
Share - WeChat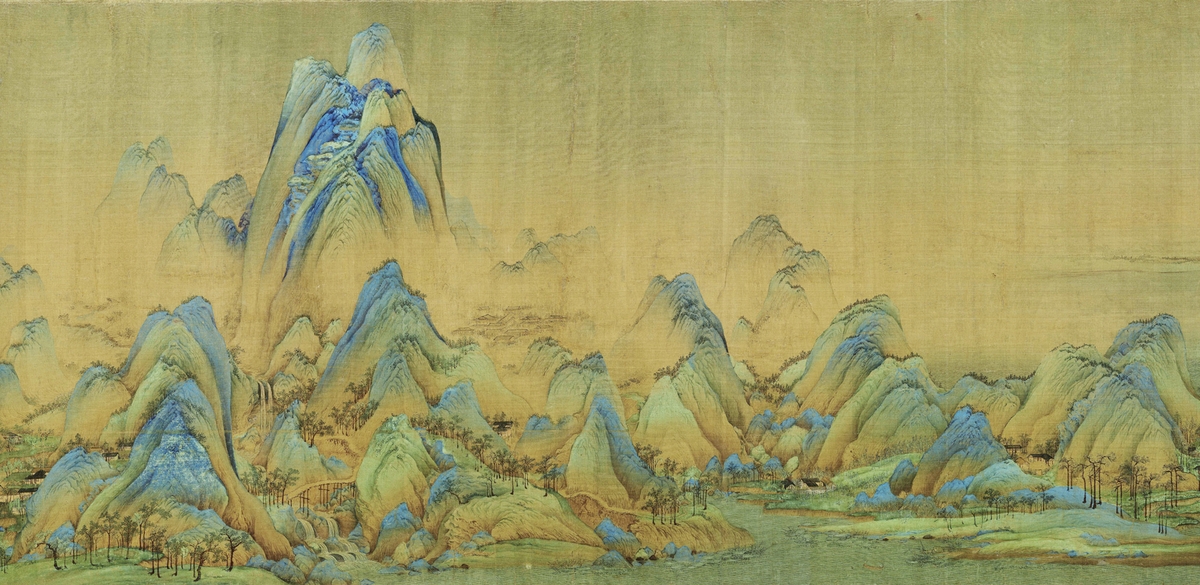 The poetic dance "The Painting Journey – The Legend of a Panorama of Mountains and Rivers" started touring recently. One of the dance excerpts was shown at the Spring Festival Gala in 2022. Behind this is a designer named Yang Donglin, the chief costume designer at the China National Opera and Dance Drama Theatre.
With the advancement of landscape painting during the Song Dynasty, Chinese painting attained a new level of sophistication. The painting style known as "shan shui" – "shan" standing for mountain and "shui" for the river – became well known in Chinese landscape art.
"A Panorama of Rivers and Mountains" is a masterpiece by Wang Ximeng, an ancient painter who lived during China's Northern Song Dynasty (960-1127). The poetic dance "The Painting Journey – The Legend of a Panorama of Mountains and Rivers" is inspired by his painting and uses various artistic techniques to transform the imagery of the landscape into dance art.
As their movements change, the dancers resemble mountains and rivers. Such stunning images are underpinned by strong costume design. Yang Donglin said his team used mineral green and blue as the base colors to make the dancers' sleeves look like rolling mountains when stacked together.
The poetic dance bears a strong Chinese aesthetic, so it is more elaborate in terms of fabrics and colors. "We also chose the traditional Chinese ramie fabric. When you look at the costumes up close, the folds of the dress resemble 'a thousand-mile ravine.' There are both deep and shallow areas, which create a unique charm," said Yang. Ramie is a fresh and resistant fabric, which can last a long time, and the colors won't fade as much, even with severe sun exposure.
Clothing was generally more conservative during the Song Dynasty (960-1279). The designer said that in order to give the audience a better sense of traditional Chinese beauty, the team continued to study traditional Chinese culture and deconstruct its clothing aesthetics.
Yang discovered that people in this era dressed in a way that mirrored the more simple aesthetics of the Song Dynasty, and this transformation is the result of the cultural revival. The most noticeable feature of the Song Dynasty is the parallel straight collars with side slits. The sleeves can be wide or narrow, and the length can be to the knees and ankles. Also, the colors are usually pure and less bright, representing the Song people's different aesthetics of simplicity, calmness, and elegance.
In contrast, the fashion and aesthetics popular during the Tang Dynasty (618-907) reflected the economic prosperity of that period, with more attractive styles, gorgeous colors and elaborate patterns, Yang explained.
Most Popular