Back in the fast lane
Share - WeChat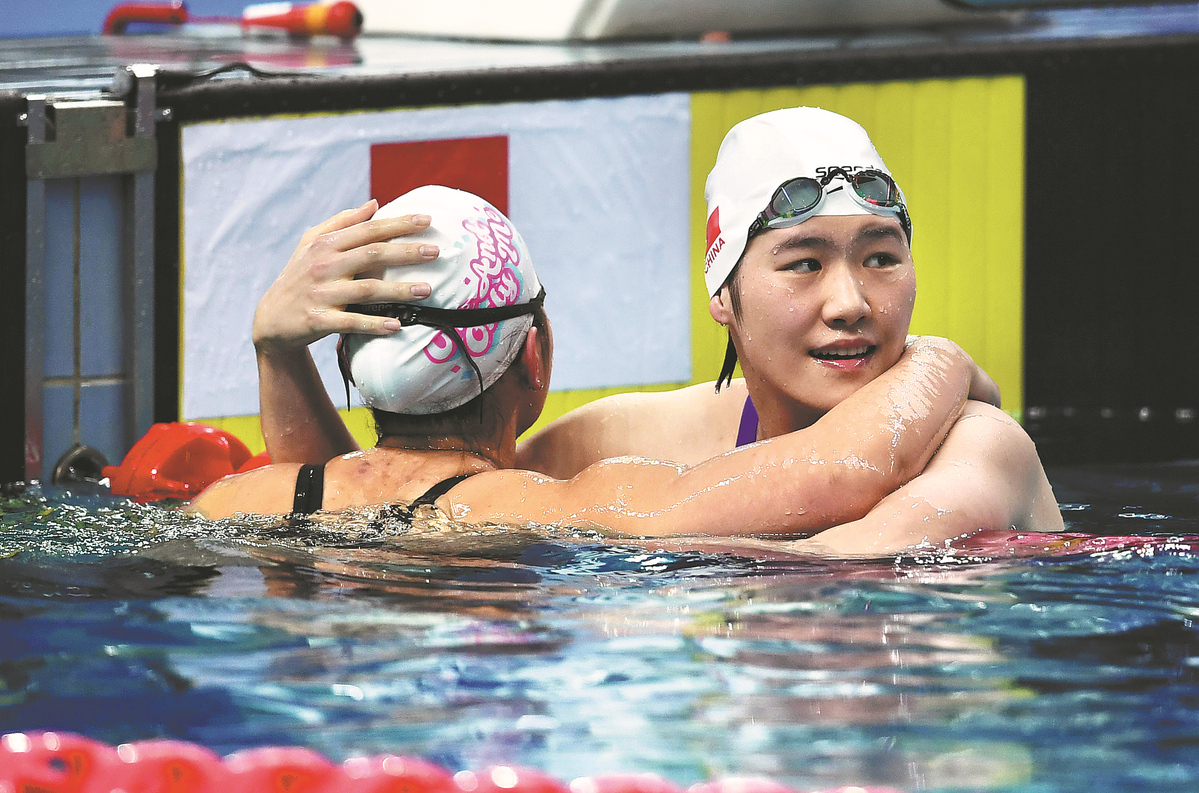 Women's duo impress
Also making impressive returns in Qingdao were two-time women's individual medley Olympic champion Ye Shiwen and backstroke star Fu Yuanhui. Like Wu, both are Hangzhou natives and both are targeting spots on China's Asian Games roster.
Ye, the winner of the 200 and 400m IM at the London 2012 Games, proved she still has plenty left in the tank by finishing second in the 200m IM in 2:10.55, 0.59 seconds behind 17-year-old winner Yu Yiting. Yu was competing in her first official race since the 2021 National Games.
Ye's gradual return to the pool while studying full-time at Tsinghua University over the past two years has helped her rekindle her passion for the sport after seeing her career slump following her sensational breakout in London at just 16.
Attributing a wiser, more mature outlook on swimming to her college life, Ye said she handles pressure and expectations much better at 27 than she did as a teenager.
"The experience of just being a college student really helped me better understand the sport and cope with everything that comes along with it better," said Ye, who is still working on her graduation thesis at Tsinghua's School of Law.
"The biggest change is that I've learned to enjoy swimming itself, rather than caring too much about the results."
"I returned to training less than two months ago, but I improved my backstroke most of the time. I was satisfied with my results and feel I have a chance to qualify for the Asian Games," added Ye, who will compete in the 200m breaststroke on Thursday.
In another notable comeback effort in Qingdao, former world champion Fu Yuanhui won a bronze medal in the women's 50m backstroke in 27.87 sec on Monday, giving her return from an injury-plagued break a boost.
"I came back for the Asian Games despite suffering from multiple injuries over the past two years," said Fu, who won the 50m back at the 2015 worlds and became a household name in China after winning bronze at Rio 2016 to become the first Chinese woman to finish on the Olympic podium in the sprint event.
"The Asian Games competition pool is just 10 minutes from my home. I really want to be there for this once-in-a-lifetime opportunity," said the 27-year-old national record holder.
Most Popular
Highlights
What's Hot