Perez prevails as season shapes up into Red Bull shootout
Share - WeChat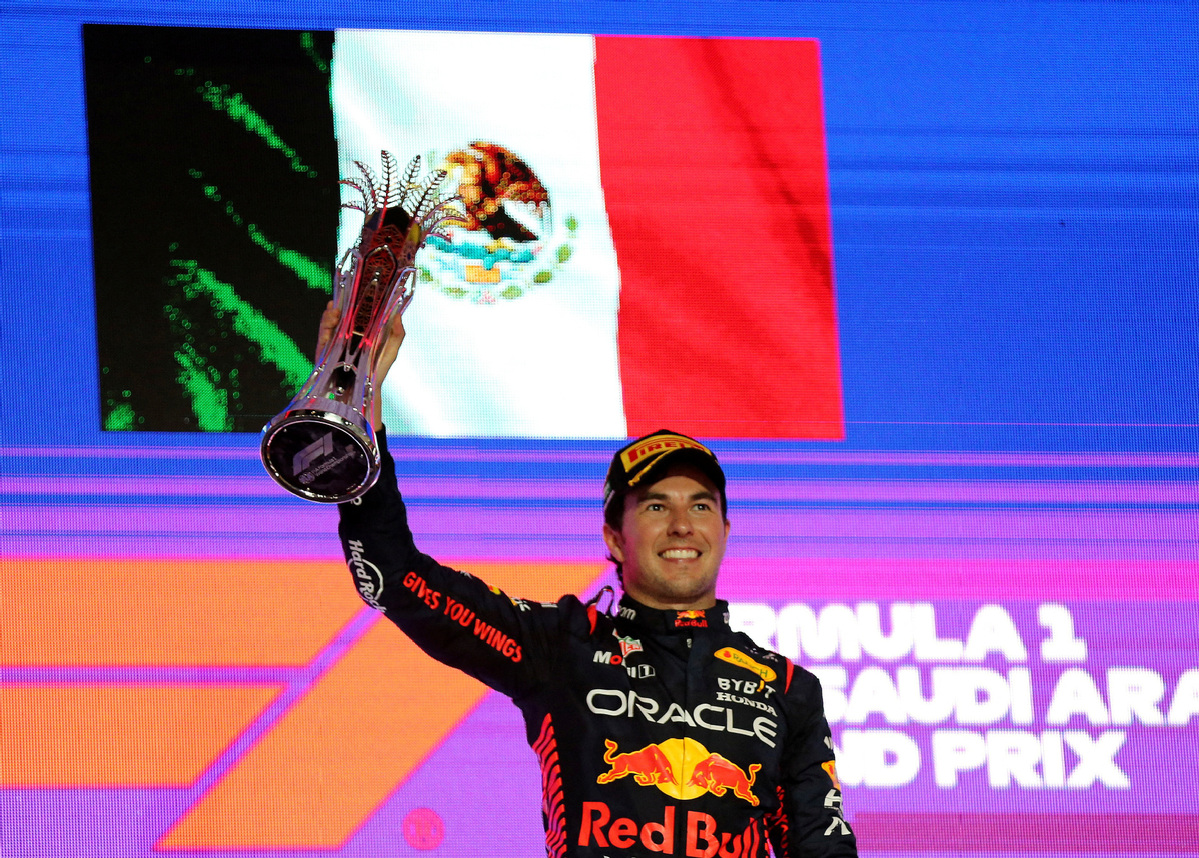 JEDDAH, Saudi Arabia — Sergio Perez won the Saudi Arabian Grand Prix and Max Verstappen drove from 15th to second to give Red Bull a 1-2 finish on Sunday in what is already shaping up to be a runaway season for the reigning Formula 1 champions.
And there have only been two races so far.
"Nice job guys an excellent result for the team," said Perez, who finished about five seconds ahead of Verstappen.
Through the first two races of the season it has been two Red Bull wins, two 1-2 finishes, and an air of desperation from everyone else on the grid.
Verstappen is chasing a third straight title and isn't worried if it goes down to a straight fight between him and Perez.
"The best one will finish in front," the Dutchman said.
Perez feels he's yet to peak.
"I'm not sure if it's my best weekend with the team, Melbourne will be even better," he said, looking ahead to the next race in Australia on April 2.
Fernando Alonso finished third for the second consecutive race for his 100th career podium. He celebrated with the Red Bull drivers, but he was later handed a 10-second penalty for what the FIA said was incorrectly serving an earlier penalty and that dropped him to fourth.
The podium finish was then handed to George Russell of Mercedes, who called the penalty on Alonso "harsh". But Aston Martin appealed and, hours after the race concluded, the penalty was reversed to reinstate Alonso's 100th career podium finish.
But even as the Spaniard enjoys a renaissance with his new Aston Martin team, Alonso acknowledged he has little chance of beating Red Bull.
Verstappen won a record 15 races last season and a second consecutive F1 title, and Perez added another two victories as the 17 total wins in 23 races easily gave Red Bull the constructors' title. There have been no signs of an offseason drop in performance and Russell predicted after the season-opener that Red Bull would win every race this season.
Lewis Hamilton finished fifth as Mercedes went fourth and fifth just three days after the seven-time F1 champion said the team would need three rival outfits to drop out for Mercedes to have a shot at winning a race. "We are not where we want to be but we will get there," Hamilton told his team.
Verstappen overcame a mechanical problem in qualifying that forced him to start 15th, and he quickly worked his way up the grid. The Dutchman set the fastest lap of the race on the final lap to retain his hold atop the F1 points standings.
"Great recovery, Max, that was a really good drive at the end," Red Bull boss Christian Horner radioed Verstappen.
Verstappen felt the late push was worth the risk. "I gave it a go at the end and luckily it worked out," he said. Red Bull has now finished 1-2 in three consecutive races dating back to last year's finale.
It was the fifth career win for Perez. He briefly led the championship standings until Verstappen slipped ahead by logging the fastest lap. "Let's keep it up, let's keep pushing," said the Mexican.
Perez started on pole with Alonso on the front row alongside him and Alonso jumped out to a quick lead, but was promptly penalized for being in an improper starting position. He thought he served the five-second penalty, but the race stewards docked him another 10 seconds post podium celebration.
"I think it's more of an FIA poor show today more than disappointment for ourselves," Alonso told broadcaster Sky as he awaited results of the Aston Martin appeal. "You can't apply the penalty 35 laps after the pit stop. They had enough time to inform us."
Perez soon regained the lead while Verstappen and Charles Leclerc — starting from 12th because of a 10-place grid penalty — chewed up the cars ahead of them.
When both Ferrari cars pitted for new tires, Verstappen was in fourth.
The 6.2-kilometer circuit beside the Red Sea is the quickest street track in F1 with average speeds exceeding 250 kph, which suited Verstappen. It took him only a few seconds to pass Russell and Alonso didn't last long, either, making it a Red Bull shootout.
Perez held firm and Ferrari had another race to forget, with Carlos Sainz Jr. placing sixth ahead of Charles Leclerc in seventh. At least Leclerc finished, after retiring in Bahrain, but he wasn't happy.
"Being behind like this is really (expletive), I don't know what to do," Leclerc said as he trundled behind traffic.
Frenchmen Esteban Ocon and Pierre Gasly were eighth and ninth for Alpine, with Haas driver Kevin Magnussen in 10th.
Alonso's teammate Lance Stroll retired on lap 18, leading to a safety car restart that suited Verstappen.
Alex Albon retired his Williams and his teammate Logan Sargeant, the rookie American driver, started last and finished 16th. McLaren struggled again with Oscar Piastri 15th and Lando Norris down in 17th.
Reuters