Sculpting an appreciation for the arts
Share - WeChat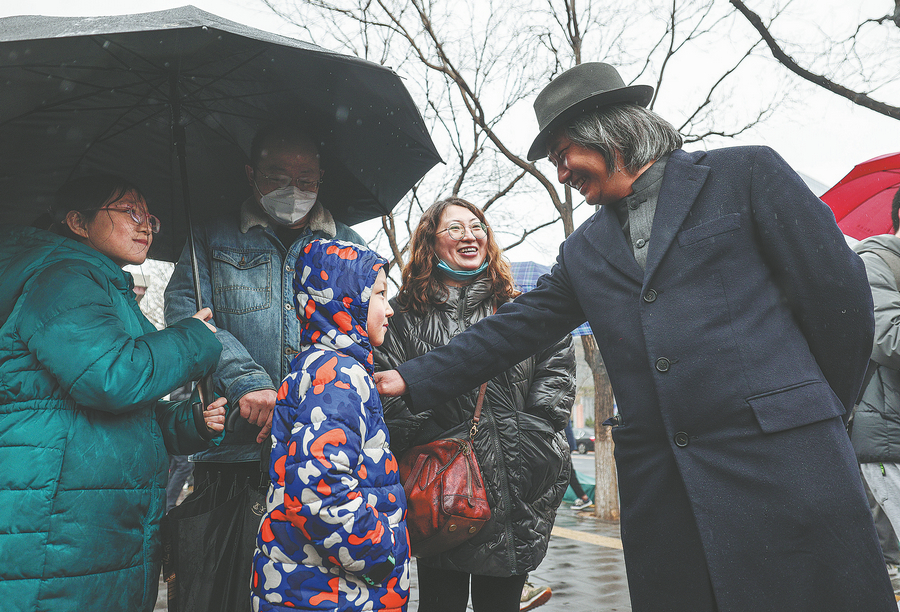 Artist, CPPCC member and museum director, Wu Weishan reiterates the importance of nurturing wider public interest in pursuits of an aesthetic nature, Lin Qi reports.
Long queues of visitors formed outside the National Art Museum of China on a Sunday afternoon, despite Beijing being engulfed in the chills of early February, and people having to hold umbrellas to shelter from falling sleet. They all came for the same exhibition, Beauty in Greatness Through Details, which occupies all of the museum's halls and comprises 1,000 paintings, prints, watercolors and sculptures of smaller sizes. Some are from the collection of National Art Museum of China and are representative works of preeminent figures of the 20th-century Chinese art.
Wu Weishan, the museum's director and a noted sculptor, joined the people waiting in line and engaged in conversation with them, asking such questions as: "Are you from Beijing?" "Do you visit the National Art Museum of China often?" "Do you have any suggestions to improve our services at the museum?"
Mounting a curated exhibition to celebrate the Chinese New Year, which normally runs from January through March, has been a routine at the museum in recent years under Wu's stewardship. The show consistently draws an influx of visitors from across the country, especially on weekends and public holidays. Wu says it is good to see that people are willing to devote their precious time to viewing the selected works of the State's collection, which is diverse and immense.
"What I have felt is people's rising need for aesthetic and arts education, and that comes as both a pressure and encouragement for us working at museums, to make the best of the nation's collection of art and to stage as many quality shows as possible," he says.
To utilize the rich resources of a public museum, or artists, for the greater good of people and the country has been a focus of Wu's duties as a museum administrator, a sculptor and also a member of the Standing Committee of the National Committee of the Chinese People's Political Consultative Conference, the nation's top political advisory body.
"I have seen a recent trend toward cultivating people and developing culture with the aid of arts education in a comprehensive manner. Many cities, such as Shanghai, Chongqing, Chengdu (Sichuan province) and Shenzhen (Guangdong province) put a lot of value on the integration of art in the course of boosting their respective images," he says.