This year's growth target is easily achievable
Share - WeChat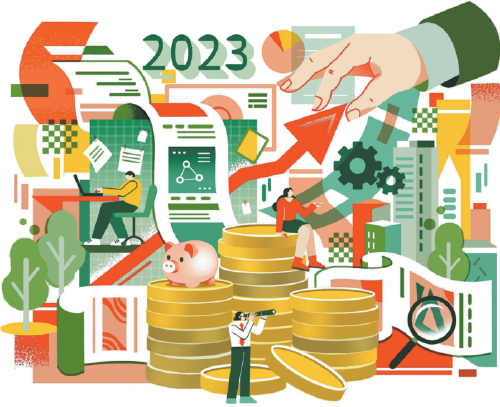 The Government Work Report delivered by Premier Li Keqiang at the ongoing two sessions sets this year's China GDP growth target at around 5.0 percent. While largely in line with market expectations, this target is on the side of prudence in terms of achievability and is easily achievable.
This is first attributed to a so-called technical rebound. Indeed, the 5.0 percent represents a strong rebound of growth from last year's actual 3.0 percent. But noting that the 3.0 percent has been the second lowest annual growth since China started its GDP statistics, just higher than the 2.3 percent for 2020, the initial and most devastating year of COVID-19, a strong rebound is a high certainty. This is just a technical rebound, meaning a rebound from a trough led by removals of the special factors causing the trough, which is both inevitable and sizable by nature.
2022 was the year in which COVID-19 still raged and brought down GDP growth to the trough with a series of strict prevention and control measures, but the situation changed from December 2022 with control measures becoming mostly lifted and COVID–19 infections surging but peaking swiftly so that COVID–19 had basically came to an end by the end of January 2023. As such, with the special factor that caused the growth trough last year being removed, this year's growth is expected to rebound strongly. Recalling that GDP growth hit as high as 8.1 percent in 2021 following the growth trough of 2.3 percent in 2020, the strength of the technical rebound is evident.
Policy support is also critical for the growth rebound. The Chinese government has been pursing accommodative economic policies to stabilize economic growth over the past years, particularly during the past 3 years of COVID-19. The accommodative polices are set to continue or strengthen this year to support the growth rebound, which can be clearly seen from the Government Work Report. With regard to economic work this year, the report stresses, firstly, to pursue growth while ensuring stability; secondly, to strive to expand domestic demand, tanking consumption recovery as priority while accelerating fixed assets investment; thirdly, to enhance the proactive fiscal policy with greater intensity and better performance, raising the fiscal deficit-to-GDP ratio by 0.2 percent from last year's 2.8 percent to 3.0 percent; and fourthly, to make the prudent monetary policy more precise and powerful, matching the growth in broad money supply and social financing with nominal GDP growth.
It is worth mentioning that the raising of the fiscal deficit-to-GDP ratio from 2.8 percent to 3.0 percent is a clear sign of a more expansionary fiscal policy and expected to have a sizable effect on the growth rebound through a so-called fiscal multiplier. According to market research, the fiscal multiplier for China is currently sits over 2.0 percent, as compared to 0.7-1.3 for developed economies and 0.5 on average for developing ones. Hence, only this raising would add more than 0.4 percent to GDP growth this year.
In regards to external environment, market sentiment was very negative in late last year, but has been improving since. A downturn in global economic and trade growth would remain inevitable but the degree of the downturn has become lower than previously thought. The IMF in its January 2023 report upgraded its global GDP growth forecast for 2023 from the previous 2.7 percent to 2.9 percent given the new developments in the US, China and other economies, dispelling the fears of an economic recession for many economies including the US. Meanwhile, it can be reasonably expected that global trade growth, which is in nominal terms, will be higher than the 2.9 percent global GDP growth, which is in real terms, with the widely anticipated continuing high inflation, and China's export growth will not be lower than the global trade growth given the commonly recognized competitiveness of Chinese products despite the US suppression and the relocations by some firms from China to other countries. In view of such, China's export growth this year would not match last year's 10.6 percent but is poised to remain positive and expected to be around 5.0 percent. As a result, the external sector would pose a drag but is unlikely to change the course of the growth rebound dictated by domestic demand this year.
Against this background, China's GDP growth is forecast to exceed 5.5 percent in 2023, comfortably surpassing the 5.0 percent target growth. As for a precise forecast, any number between 5.5 percent and 7.0 percent would be possible at this stage. Among them, 7.0 percent is preferred as it would make the two-year average growth for last year and this year to reach the lower limit of the potential growth range of 5.0-6.0 percent excluding the COVID-19 impacts, and hence facilitate a so-called retaliatory economic recovery in the sense that it would not only restore the potential growth level but also make up the growth loss caused by COVID-19 last year.
The author is the chief economist of Chongyang Institute for Financial Studies, Renmin University of China and the chief expert of Global Governance Research Centre,Renmin University of China.
The views don't necessarily reflect those of China Daily.
If you have a specific expertise, or would like to share your thought about our stories, then send us your writings at opinion@chinadaily.com.cn, and comment@chinadaily.com.cn.
Most Viewed in 24 Hours
China Views