Hungary PM backs China's peace proposal on settling Ukraine crisis
Share - WeChat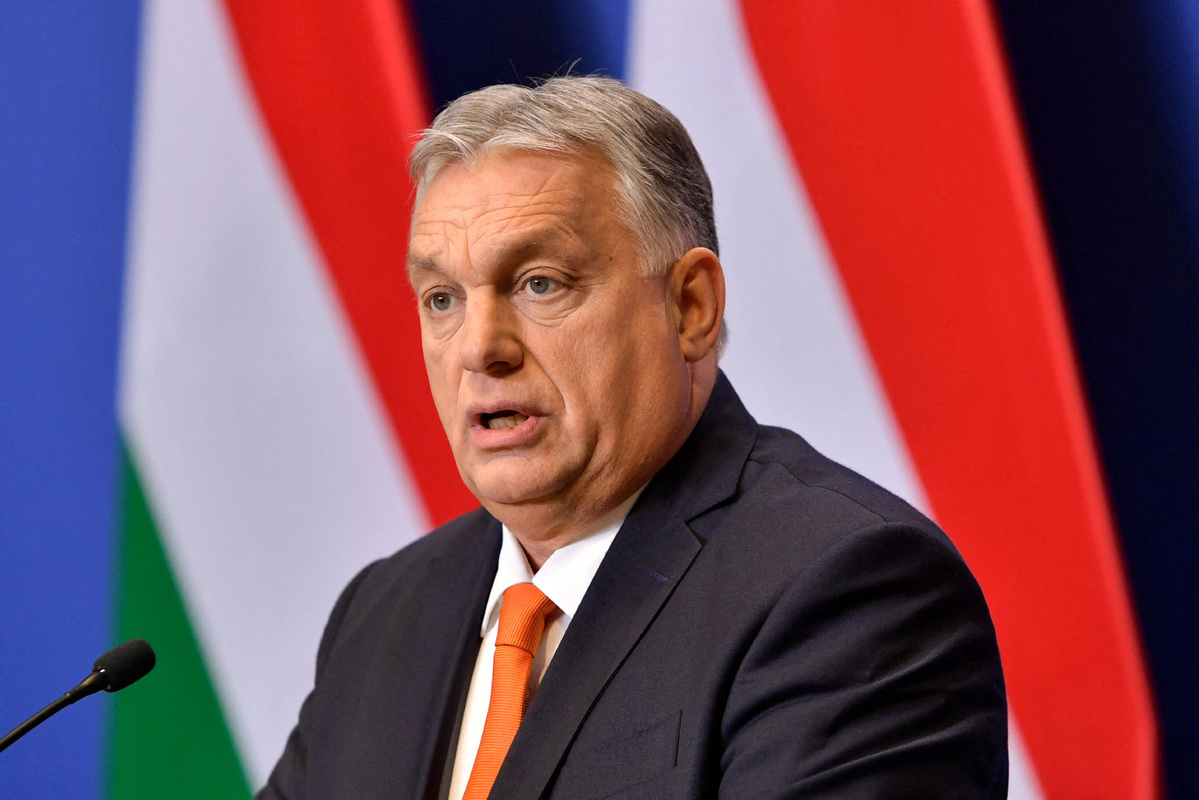 Hungarian Prime Minister Viktor Orban has voiced his support for China's 12-point proposal for a political settlement in the Russia-Ukraine crisis issued on Friday, the one-year anniversary of the conflict.
In his opening speech at Parliament's spring session on Monday, Orban said "we need a cease-fire and the start of peace talks".
"I see that most states support peace, and Hungary cannot isolate itself from most of the world.… We consider China's peace plan important, and we support it," he told lawmakers.
Orban, who won a fourth consecutive term in April and is the country's longest-serving prime minister, said his government is concerned about the European Union's efforts to arm Ukraine with tanks and possibly fighter jets. He warned that "the whole of Europe is sliding step by step toward a war".
He called on the lawmakers to advocate for peace. "They want to drag us into this war, but I am calling on you not to yield to provocation," he said.
Orban has expressed his opposition to arms supplies, escalation and sanctions, posting on Twitter: "If the #RussiaUkraineWar goes on, more and more people will die. If the war goes on, the threat of hyperinflation and economic turmoil will continue to haunt us. If the war goes on, it can spread around the world. The solution:#ceasefire #PeaceTalks."
His positive response to China's position stands in contrast to comments from leaders of the United States, NATO and the European Union, who cast doubt on the proposal.
'Good' efforts
French President Emmanuel Macron has also welcomed the proposal.
"I think the fact that China is engaging in peace efforts is good. I myself will go to China in early April," he said on Saturday.
Ukrainian President Volodymyr Zelensky has said he agrees with some points in the Chinese proposal, while the Kremlin spokesman Dmitry Peskov said on Monday that "any attempts to develop plans that will help transfer the conflict to a peaceful course deserve attention".
China's peace proposal for Ukraine represents the "perspective of a majority of the world's population", which nominally supports Ukrainian territorial integrity while wanting a cease-fire and an end to sanctions, Ian Bremmer, president of the Eurasia Group, a political risk consultancy in New York, tweeted on Friday.
Nathan Robinson, the New Orleans-based editor of Current Affairs magazine, said that the US claims "we follow Ukraine's lead on terms for ending the war, but Ukraine gave a positive reaction to China's peace plan while the US dismissed it". "US would prefer continuation of the conflict over a peace brokered by China," he said in a tweet on Friday.
Georgi Gotev, a former Bulgarian diplomat, and now senior editor of the Euractiv news website, wrote Monday that "if Ukraine and Russia are to end up at the negotiating table, China could indeed be a precious partner".
"It is also in the EU's interest if China could succeed, sometime soon, in bringing together interlocutors who would never sit at the same table in other circumstances," he wrote in a newsletter on China's proposal.