Fresh round of curbs approved
Share - WeChat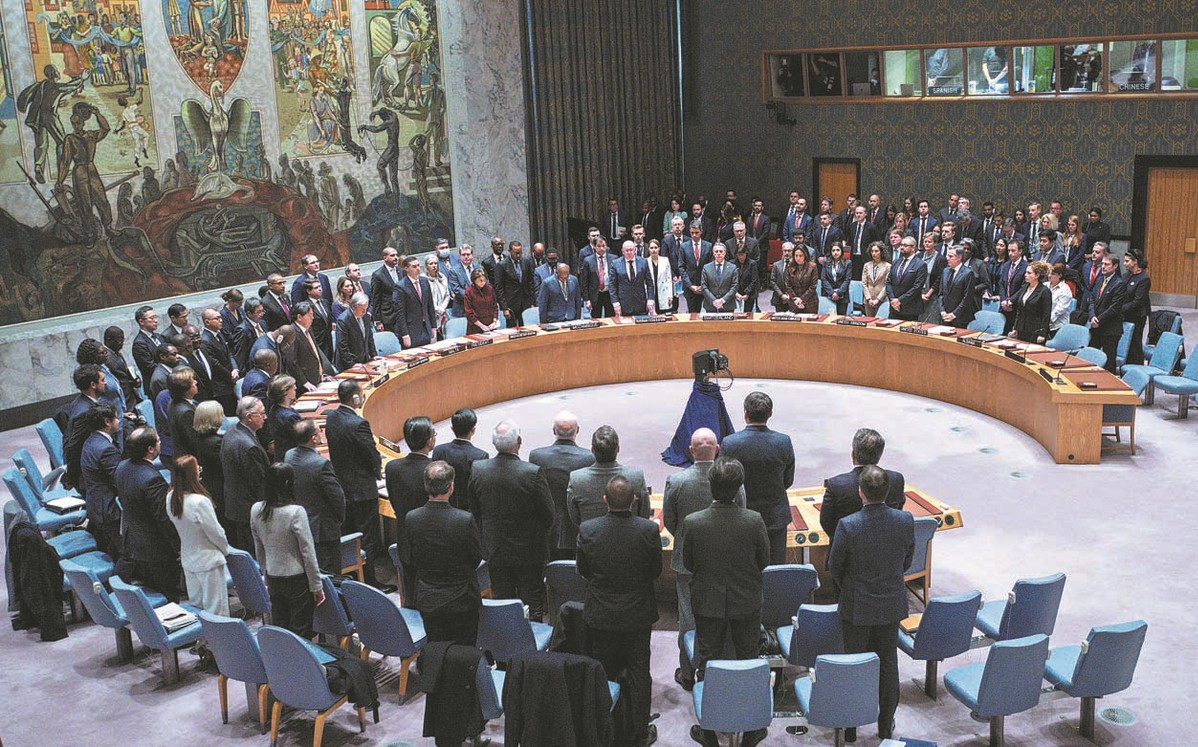 Russia says sanctions won't work as protests in Europe call for end to conflict
The European Union has approved its 10th round of sanctions against Russia after long haggling as demonstrations took place across Europe calling for peace talks and an end to the yearlong Russia-Ukraine conflict.
The EU approval was announced by the Swedish presidency of the EU Council on Friday less than two hours before the end of the one-year anniversary of the conflict.
"Our support for Ukraine is stronger than ever," the presidency said in a statement. "With its 10th sanctions package, the EU continues to show decisiveness by adopting several robust measures that hit Russia's economy and military capacity hard."
The new sanctions include expanding export restrictions on technological and industrial products regarded as vital to Russia's economy and military capability, including further export bans worth more than 11 billion euros ($11.6 billion).
Three Russian banks have been added to the list of entities subject to an assets freeze and a prohibition on making funds and economic resources available to the country.
The new sanctions also step up enforcement and anti-circumvention measures, including a new reporting obligation on Russian Central Bank assets. It also targets Iran's Revolutionary Guard for its alleged military aid to Russia.
The sanctions also ban two additional Russian media outlets, namely Arab-language subsidiaries of Russia Today and Sputnik, which the EU alleges are disseminating disinformation and propaganda.
There was heated debate among member states about whether the new sanctions should include a tougher ban on Russian synthetic rubber and sanctions on the country's nuclear industry, but all issues on which no agreement was reached were dropped from the new sanctions list so it could be adopted by the end of Feb 24, something the European Commission had promised.
All 27 member states must approve the sanctions for them to take effect.
The announcement of the EU sanctions came shortly after the US said it was imposing fresh sanctions targeting more than 100 entities in Russia and elsewhere.
On Friday the US Defense Department announced additional security assistance to Ukraine that includes several new unmanned aerial systems, a counter-unmanned aerial system to bolster Ukraine's defense and electronic warfare detection equipment.
Anatoly Antonov, the Russian ambassador to the United States, said the sanctions would have no impact.
Antonov said the new sanctions were "thoughtless" and designed to make Russia suffer.
As the West has ramped up pressure on Russia, Dmitry Polyansky, the country's first deputy ambassador to the United Nations, accused the West on Sunday of "cowboy" methods and "arm twisting" of some countries during a vote of the UN General Assembly last week demanding that Russia withdraw its troops from Ukraine.
The General Assembly called for a "comprehensive, just and lasting peace" and for Russia to withdraw its troops, with 141 votes in favor, 32 abstentions and seven objections.
"The methods of achieving the result are again 'cowboy'," Polyansky said.
A number of representatives from developing countries complained to the Russian mission about pressure from their Western colleagues who are allies of Kyiv, he said.
"According to our calculations, almost 30 pairs of arms were twisted."
While there is no end in sight to the Russia-Ukraine conflict, protesters in European capitals rallied at the weekend to demand peace in Ukraine.
Thousands of people demonstrated in Berlin on Saturday to condemn the government's supply of arms to Ukraine and called for peace talks to end the conflict.
Sahra Wagenknecht, a lawmaker of The Left party in Germany, said there was no place for neo-Nazis at the rally, but that anyone who wanted peace "with an honest heart" was welcome. She accused the German government of seeking to "ruin Russia" and said Moscow should be made an "offer" so peace talks could resume.
Some participants at the rally held banners with the slogan "Americans go home".
The author Alice Schwarzer, with Wagenknecht one of the organizers, said that it was time to look beyond Left and Right. The two women have launched a petition said to have garnered over 645,000 signatures.
Protesters jeered whenever Schwarzer and Wagenknecht mentioned the name of German Foreign Minister Annalena Baerbock, who has pushed for arms supplies to Ukraine.
Berlin police put the number of protesters at 13,000 at the Brandenburg Gate but organizers said 50,000 people had taken part.
A similar protest under the banner of Europe for Peace and Solidarity was held on Sunday afternoon in the center of Brussels, where both EU and NATO headquarters are located. Participants called for "active peace diplomacy".
"All diplomatic means must be deployed to initiate a de-escalation and bring the warring parties to a cease-fire with a view to talks leading to a just and lasting peace," the organizers said in a position statement.
Agencies contributed to the story.