Sanctions slowing aid to Syrian quake victims
Share - WeChat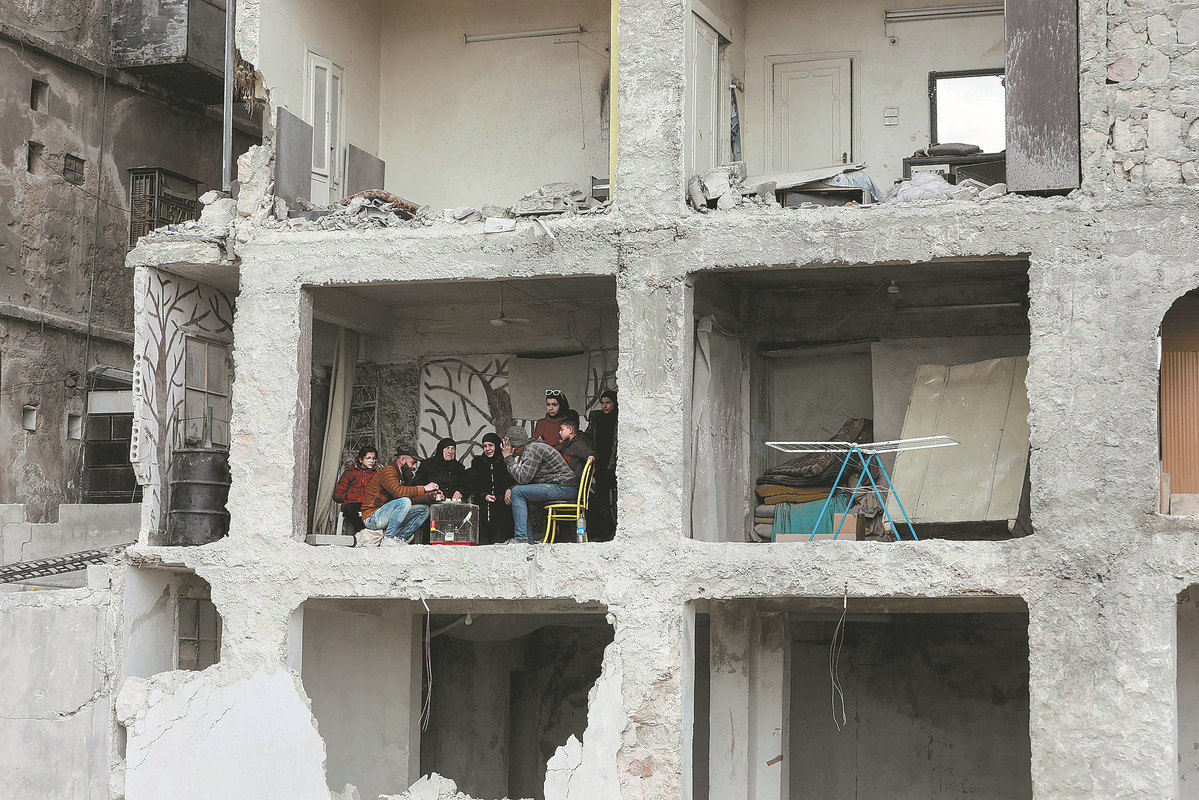 More than 200 Syrian organizations have urged the UN and key donors to draw up an emergency response plan for Syria in 2023, emphasizing that sanctions targeting government officials should not affect ordinary citizens or the delivery of humanitarian aid.
They also joined in demanding an investigation into delays in the delivery of aid and compensation to quake survivors in northwestern Syria in the first 140 hours after two catastrophic earthquakes jolted the country and Turkiye on Feb 6.
In a Feb 21 statement, the Syrian civil society organizations said the quakes were not only a humanitarian catastrophe but also could develop into a "political cataclysm "that could further exacerbate the response in Syria.
They also said the "abject failure "to deliver any emergency aid had cost countless innocent lives, which could have been avoided by early intervention.
Thirty-five NGOs made a similar call on Feb 14, demanding "unfettered access and a massive scale-up" of the humanitarian response in Syria. Two days earlier, the UN's chief humanitarian aid coordinator, Martin Griffiths, tweeted that the world had "failed the people in northwest Syria", and he vowed to "correct this failure as fast as we can".
After meeting with United Nations officials on Feb 13, Syrian President Bashar al-Assad agreed to allow UN aid to pass through the country's rebel-held northwest using two new border crossings for three months.
Some have blamed politicization and Western sanctions for the slow humanitarian response. Syria has been engaged in civil war and divided into enclaves since 2011.
Bad weather conditions and impassable roads have also compounded the challenges facing relief operations.
Kinan Diab, coordinator for the Voices for Displaced Syrians Forum, a collection of more than 40 Syrian civil society organizations operating in Syria and refugee-hosting countries like Lebanon, Jordan, Turkiye and Iraq, said delays in the international response to Syria's plight were unprecedented.
Some people were yet to bury loved ones when two more quakes struck the region this week, and the freezing weather has not helped, especially for families with children who have been protecting themselves "from the war, collapsing buildings, and frostbite", said Diab, who is based in the United Kingdom.
Two fresh temblors jolted southern Turkiye and northern Syria late on Monday.
Psychological support
Hassan Jenedie, executive director at Bousla Development and Innovation, a nonprofit organization in Turkiye, told China Daily that there have been deaths, injuries, displacements and even disappearances of relief workers in Turkiye and Syria.
Yet the Syrian aid workers in Turkiye "are rushing to respond while dealing with its aftermath", he said. "In the communities where we work, ... due to fears of a repeat of the earthquake or aftershocks, residents slept outside their homes.... Due to the terror that residents are experiencing, psychological support may be needed."
Syria's Foreign Ministry issued a statement on Jan 16 that condemned the United States for imposing new sanctions that hinder Syria's import of medical equipment and spare parts.
Syrian Arab Red Crescent President Khaled Hboubati has also called for the lifting of the US and other Western sanctions on Syria to facilitate much-needed relief efforts.
On Feb 9, the US announced a six-month sanctions exemption for transactions aimed at helping disaster relief in Syria. However, Washington's ongoing tensions with Assad's government raise doubts as to how effective the aid efforts will be on the ground, observers said.