Tibetan New Year marked with joy and hope
Share - WeChat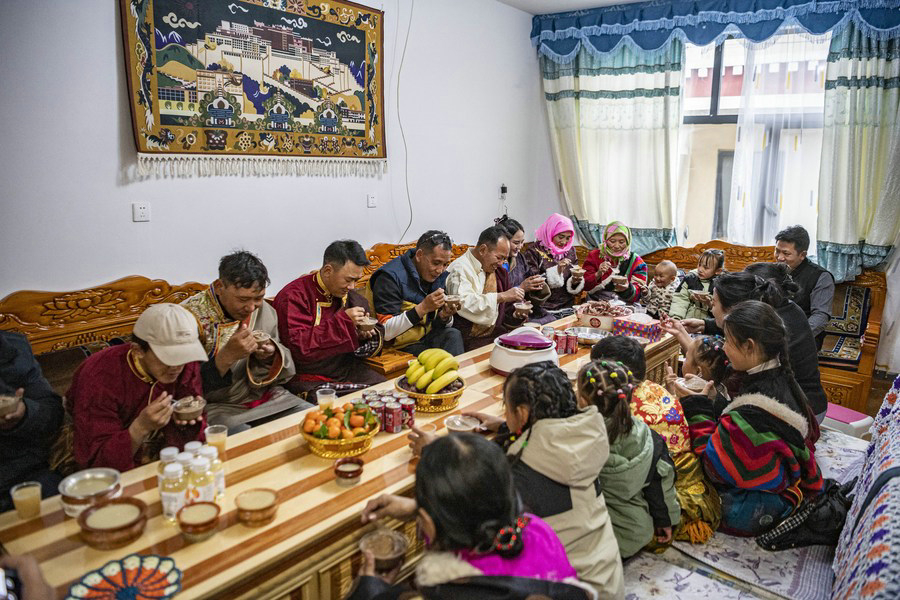 "It is the Tibetan New Year Eve tomorrow. The family and relatives will be gathered together and welcoming a warm new year at the new home," Tsewang said on Sunday.
For 46-year-old Li Xijun, from northwest China's Gansu Province, celebrating Tibetan New Year with his wife Drolma Tsering has become a part of his life after living in Tibet for 26 years.
"We celebrate both Spring Festival and Tibetan New Year at home," he said. Li started his commercial trade business in Tibet after retiring from the army in 1997. He met his wife in 2000, and has since settled in the border county of Yadong to take care of Drolma Tsering's parents and younger sister.
It is the third Tibetan New Year for Yuan Yubing from Shanghai. Yuan came to Tibet to learn Thangka painting in 2017 and married Losang Samkhar, her studio teacher, the following year.
"I was more of a spectator when I first celebrated the festival," Yuan said. But after years of living here, Yuan has already known all kinds of customs of the Tibetan New Year.
Yuan and her mother-in-law have cleaned up the windows at home, and all the new year's goods are ready. She has even replaced her mother-in-law to cook for the family for new year's eve.
"Coming to Tibet makes me feel that my heart has found a home," she said.