Bassino edges Shiffrin as Italy goes 2-for-2 at ski worlds
Share - WeChat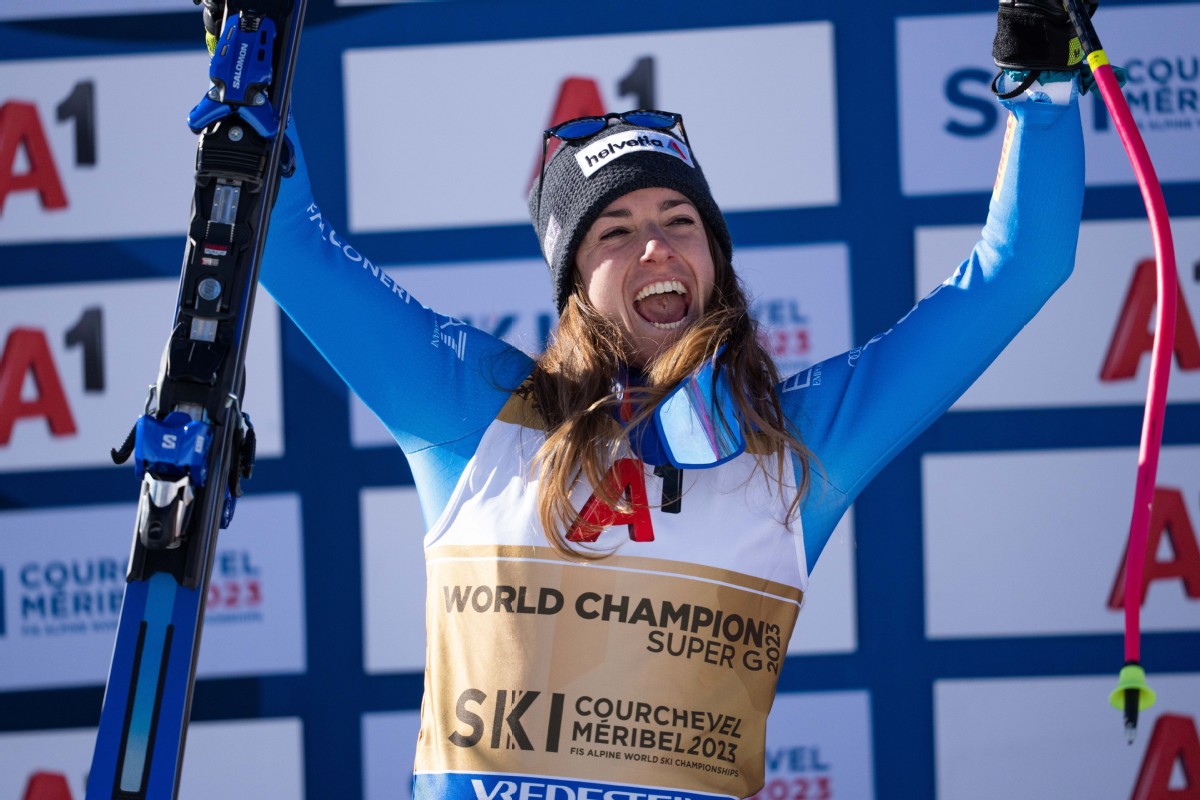 MERIBEL, France — Two days after Federica Brignone won the gold medal in the combined to open the skiing world championships, Italian teammate Marta Bassino added another in the super-G by edging Mikaela Shiffrin.
And Sofia Goggia will be a favorite for yet another Italian victory in Saturday's downhill, with Elena Curtoni a strong contender, too.
Italy sure is looking good so far, even before Bassino tries to defend her title in the parallel race and she and Brignone go for gold in the giant slalom.
"Federica had a great performance. It was something that inspired me a lot, because a lot of times she inspires me. The attitude to attack the slope and push every turn," Bassino said.
"I was thinking, 'We are teammates, we work together, I can do the same thing.'" Shiffrin had to settle for silver in the super-G on Wednesday, two days after she didn't finish the second leg of the combined. Goggia finished 11th.
"Great, now the pressure is on me," Goggia said. "First Fede, then Marta and, and, and let's see." Later Wednesday, the Italian team went into mourning after Elena Fanchini, whose career was cut short by a tumor, died at 37.
Goggia dedicated her downhill win in Cortina d'Ampezzo, Italy, last month to Fanchini.
Fanchini last raced in December 2017. She was cleared to return to train nearly a year later but never made it fully back and her condition grew worse in recent months.
Fanchini won a silver medal in downhill at the 2005 world championships and also won two World Cup races in her career — both in downhill.
Bassino earned her second gold medal at the world championships after sharing victory with Austrian skier Katharina Liensberger in the parallel event at her home worlds two years ago.
She became the second Italian skier to win the women's super-G world title. Isolde Kostner won back-to-back golds in the mid-1990s, while Deborah Compagnoni won the Olympic super-G title in Meribel at the 1992 Albertville Games.
Bassino has yet to win a super-G on the World Cup circuit, but did finish third in two races in January.
"I'm speechless. It's my first win in super-G, and here at the world championships. It is something I have to realize," Bassino said.
"Today I just did a great last part because I lost a lot of time in the first part. I was really suffering watching all the other girls coming down. I'm really happy and confident in myself. It's really a great result for me."
In the super-G portion of the combined, Bassino showed that she was at ease on the bumps of the Roc de Fer course. She went out of the race because of a mistake, but before that she had been among the fastest.
"I had everything right in my head," Bassino said. "I'm really happy. The gold in parallel two years ago was nice, but today it's something extra, something bigger. It's incredible. I'm really happy with myself and at the same time amazed that I did the race so well." Shiffrin said she expected Bassino to do well after seeing her shortly before the race.
"I could see her in the start, she looked in the right zone," Shiffrin said. "I could see she has the flow and I (was) like: Now I have to focus on myself and stop looking at Marta."
Shiffrin, who won super-G gold in 2019 and bronze two years ago, led Bassino by three-tenths of a second at the second split but couldn't match the Italian's pace in the last part of the course and finished second, 0.11 seconds behind.
Cornelia Huetter of Austria and Kajsa Vickhoff Lie of Norway tied for third, 0.33 seconds behind, to share the bronze medal.
"I'm so happy with my run, and emotional, because I don't really feel like I should be winning a medal in super-G right now. There are so many women so strong and so fast," Shiffrin said.
"There was one moment where I thought I lost everything but then I could keep it rolling until the finish." The silver is Shiffrin's 12th medal in 15 career world championship races, giving her outright second place on the all-time list for the most medals won by a woman at the worlds, trailing only German skier Christl Cranz, who won 15 in the 1930s.
Shiffrin had been heading for a possible medal in the combined event on Monday before straddling the third-to-last gate in the slalom portion.
"I felt like I learned from the combined that I have to be much more aggressive with my skiing and with my tactics," said Shiffrin, who was sixth in Monday's super-G run. "
Also, this hill is difficult and it deserves respect for the terrain. You have to push the limit but if you go over the limit, it's even worse. So I was trying to be really strong, really aggressive and just also a little bit smart."
Shiffrin has 11 wins on the World Cup circuit this season to take her overall tally to 85 — breaking Lindsey Vonn's women's record of 82 and moving within one of the overall mark set by Ingemar Stenmark in the 1970s and 80s.
Many pre-race favorites, including defending and Olympic champion Lara Gut-Behrami and Swiss teammate Corinne Suter, led Bassino by several tenths of a second before losing substantial time in the technically demanding middle section of the course, which was partly shadowed.
American racer Tricia Mangan skied through a gate and crashed, breaking her right ski, but she appeared to escape serious injury.
Before the race, French air force aerobatics squad Patrouille de France performed a demonstration of formation changes and crossovers with eight jets.
AFP
Most Popular
Highlights
What's Hot