US urged to end trade tactics
Share - WeChat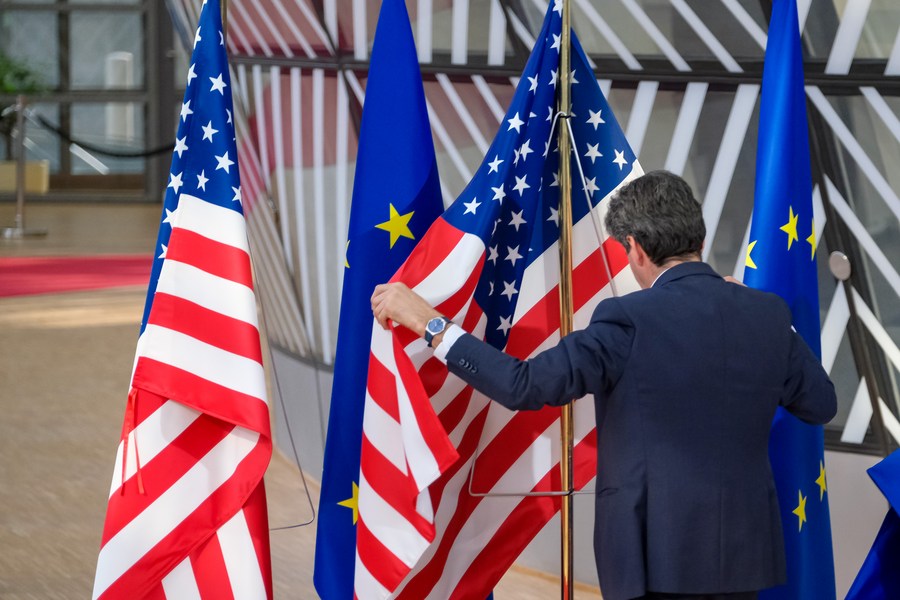 Ministers from France, Germany call for halt to 'aggressive' aspects of IRA
The economy ministers of France and Germany will request that the United States refrains from using what have been described as "aggressive" tactics to lure European businesses to the US as part of the Biden government's new green economic initiative, the Inflation Reduction Act, or IRA.
Under the legislation passed by the Senate last August, $370 billion of government support is being made available to encourage investment in cleaner technology, such as solar panels and electric vehicles, but politicians across Europe have said this makes for an uneven trading playing field, amid reports of European companies being enticed to relocate their business across the Atlantic to access the funding.
At the end of last year, France's President Emmanuel Marcon became the first world leader to be hosted for a state visit in Washington by President Joe Biden, and he was quick to raise the issue, saying "the choices of the past few months, in particular the IRA, are choices that will fragment the West … we need to coordinate and re-synchronize our policy agendas".
This week, France's Bruno Le Maire and Germany's Robert Habeck are making a joint visit to the US capital for further talks, underlining the wider concerns of European Union countries about the potential damage being done to trade relations, after reports that economic groups from several industrial states in the US have been touring Europe talking up the benefits of the program.
Nominally, the European Commission looks after EU trade policy, but the visit of national representatives from two of the bloc's biggest powers will give them a chance to explain the challenges posed at a national level across the 27-member group.
The Financial Times quoted an unnamed French official as saying "what we're looking for are not only exemptions, but also to have a mutual understanding to avoid a subsidies race and also to avoid aggressive tactics involving the US administration going to see European companies to ask them if they want to move their factories to the US … you don't do that among friends".
Le Maire told the AFP news agency that there should be "transparency on subsidy and tax breaks amount levels … so that there is fair competition", while Habeck said he welcomed the program's green aims and spoke optimistically of the potential for "a green bridge across the Atlantic, in particular when it comes to industrial policy".
The FT claims that the original purpose of the legislation was to counter the increasing dominance of China in the green technology sector, but it has instead ended up causing tensions across the Atlantic, at a time when Europe has been grappling with the impact of rising energy prices and supply challenges caused by the Russia-Ukraine conflict, an issue which has had less impact in the US, making it a more attractive place for industries to operate.