James poised to make NBA scoring history
Share - WeChat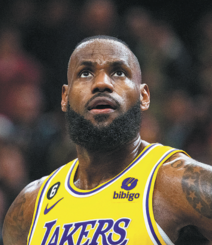 One of the oldest records in American sport is set to fall this week when LeBron James finally eclipses Los Angeles Lakers legend Kareem Abdul-Jabbar as the most prolific scorer in NBA history.
For the best part of four decades, Abdul-Jabbar has owned the NBA's all-time scoring record of 38,387 points, a mark that many thought might never be beaten.
Yet after a dazzling 20-year career, the 38-year-old James stands just 36 points away from finally passing Abdul-Jabbar.
Given he has averaged 30 points per game this season, the only question is where and when Abdul-Jabbar'a record will fall.
The Lakers host Oklahoma City on Tuesday and the Milwaukee Bucks on Thursday before hitting the road to take on the NBA champion Golden State Warriors.
The most likely scenario is that James will claim the record at some point in the Lakers two midweek home games.
James has spent much of the season insisting that he has not been obsessing over the record, emphasizing that his priority remains helping the Lakers turn around a campaign which is threatening to end outside of playoff contention for a second year running.
Lakers coach Darvin Ham reflected that mood while acknowledging that breaking the record would be "an amazing feat."
"When it happens, kudos to Bron for all his longevity and not just longevity, but longevity at the top of the list at an elite level," Ham said on Thursday.
"But our day-to-day, we hardly ever discuss it unless we're asked about it. For us, it's just, how can we get our team in the best position to make a run?"
However, four-time NBA champion James has been slightly more expansive in recent days as the record hoves into view.
James said on Thursday beating Abdul-Jabbar's mark would be comparable to breaking the baseball home run record.
"I think it's one of the greatest records in sports in general," James said. "I think it's up there with the home run record in baseball. It's one of those records that you just don't ever see or think that would be broken."
Indeed, the NBA's scoring record has changed hands just once since 1966, when Abdul-Jabbar overtook another Lakers icon, Wilt Chamberlain, on April 5, 1984.
One area of intrigue surrounding James' record chase has been his relationship with Abdul-Jabbar himself.
The two basketball icons have had an icy relationship, which traces back to Abdul-Jabbar's public criticism of James.
Abdul-Jabbar has taken aim at James for issues ranging from the COVID-19 vaccine to his on-court conduct.
Abdul-Jabbar has walked back many of those criticisms in the past year, issuing an apology last April in which he said his remarks had been well-intentioned and misconstrued.
"We may not always agree, but I want to whole-heartedly apologize to LeBron and make it clear to him that I have tremendous respect for him," Abdul-Jabbar said.
AFP