Sabalenka serves up a victory fueled by new found self-belief
Share - WeChat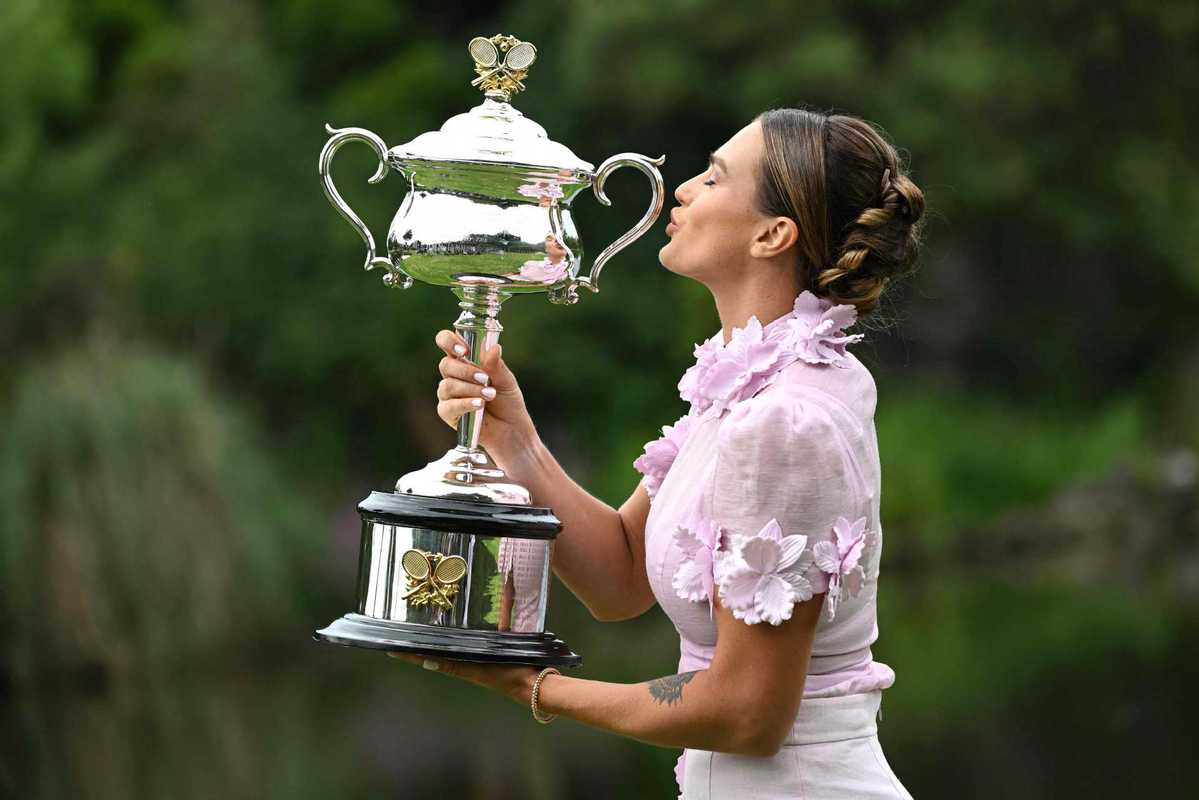 Aryna Sabalenka's Australian Open championship is about persistence.
It's about the value of confronting, not ignoring, problems.
It's about putting in the time and the effort required to get better.
And, to hear Sabalenka and her team tell it, it's as much about the way she reconfigured her self-belief as it is about the way she reconfigured her serving technique.
"I always had this weird feeling when people would come to me and ask for a signature. I would be like,' Why are you asking for (my) signature? I'm nobody. I'm a player. I don't have a Grand Slam,'" Sabalenka said. That last phrase no longer applies following her defeat of Elena Rybakina 4-6, 6-2, 6-3 in the final on Saturday night.
"I just changed how I feel. I started to respect myself more," Sabalenka continued, between celebratory sips of bubbly. "I started to understand that, actually, I'm here because I work so hard and I'm actually a good player."
That goes a long way, especially when the going gets tough under the bright lights and on the big stage of a major tournament.
"Every time I had a tough moment on court," the 24-year-old from Belarus said, "I was just reminding myself that I'm good enough to handle all this."
There were plenty of those moments against Rybakina, who won Wimbledon last year and was the first woman in 22 years to beat three Grand Slam champions to get to the Australian Open final.
There was the double fault on the very first point, the double fault nearly two-and-a-half hours later on Sabalenka's first — of what would be four — match points and the loss of the first set, among others.
But Sabalenka's retooled serve ended up producing 17 aces, more than enough to outweigh seven double faults, and her 51 winners helped propel her to three pivotal breaks.
A year ago in Melbourne, Sabalenka double-faulted 15 times in a fourth-round exit. That set the tone for a season in which she led the tour with 400 double faults, sometimes more than 20 in a match.
"She was kind of, like, afraid just to talk about it," said her coach, Anton Dubrov.
He and Sabalenka's fitness coach, Jason Stacy, kept trying to get her to reconstruct her serve. She resisted. Things got tough. Dubrov thought about quitting, but they all stuck with it. Sabalenka agreed to see a biomechanics expert who was part of the five-day project to change her serve just three weeks before the US Open began last August.
She made the semifinals before losing to No 1 Iga Swiatek, the eventual champion. That continued a pattern: Sabalenka was 0-3 in the final four at Grand Slam tournaments until this week.
But now things are different. She is not as stressed out about her serve. She is not as reliant on others to help her self-esteem and is no longer employing a sports psychologist. "I'm my psychologist," she said with a laugh.
"There are a lot of seeds we have been planting for several years that have been slowly growing over time," Stacy said.
"Last year, she faced a lot of humility and fear, and instead of avoiding it or trying to go around it, she went right through it, hit it head-on.
"I think going through that process has helped her realize, 'oh, the best way, really, is actually what everyone always says: to face your fear.' I think it's given her more of this internal belief that, 'OK, even if this particular game or this moment in a match is tough, just keep going and it will all come back together.'"
That perfectly describes what happened in Saturday's final.
Now it will be fascinating to see how far Sabalenka can go and what she can accomplish.
She is 11-0 in 2023. As of Monday, she's moved up to No 2 in the world rankings, one place behind Poland's Swiatek.
And she is always, and forever, a Grand Slam champion. That ought to help the self-belief.
Xinhua