Tanks for Ukraine spark Russian fury
Share - WeChat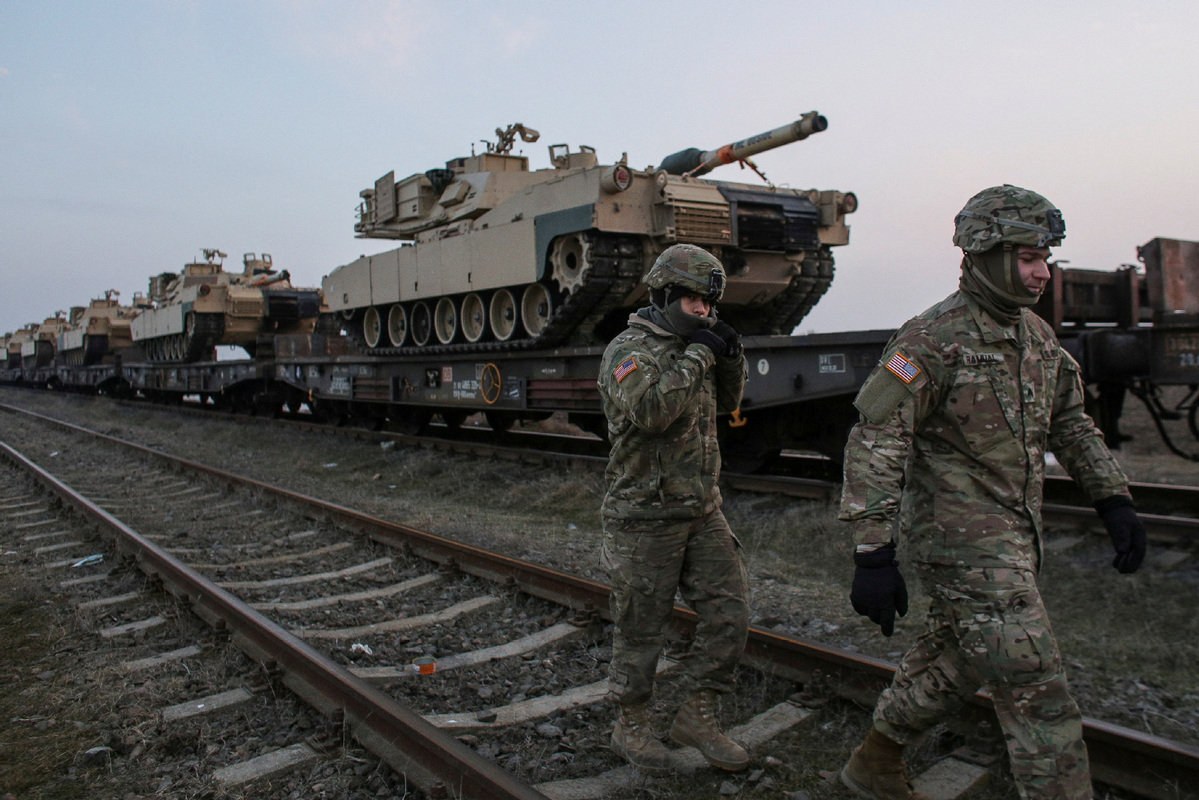 Kremlin slams West's decisions on armor as direct involvement in conflict
WASHINGTON/MOSCOW -Russia has decried the West as the United States said on Wednesday that it will send 31 M1 Abrams tanks to Ukraine, mirroring a similar move by Germany and fulfilling a long-running request from Kyiv.
Kremlin spokesman Dmitry Peskov said on Thursday that the decision by Western countries to supply Ukraine with modern tanks meant that they were party to the conflict, after Berlin and Washington approved the weapons for Kyiv.
"European capitals and Washington constantly give statements that sending various types of weapons, including tanks, in no way means their involvement in hostilities. We strongly disagree with this. In Moscow, this is perceived as direct involvement in the conflict and we see that this is growing," Peskov said.
He earlier predicted "these tanks will burn down just like all the other ones. ... Except they cost a lot, and this will fall on the shoulders of European taxpayers".
Russian Foreign Ministry spokeswoman Maria Zakharova said in a Telegram post that the move was confirmation of Germany's involvement in "a war planned in advance" against Russia.
Ukraine- which had pleaded for heavy Western tanks for months -welcomed the twin announcements, with President Volodymyr Zelensky urging they be delivered quickly.
The provision of the M1 Abrams is "not an offensive threat to Russia", US President Joe Biden said in his remarks announcing the move, which represents a significant reversal after defense officials repeatedly described the tanks as ill-suited for the task at hand.
Washington's pledge came hours after Germany — which reportedly sought a US commitment of tanks before agreeing to send its own -approved the long-sought delivery of its Leopard 2s to Ukraine.
"This extremely dangerous decision takes the conflict to a new level of confrontation," said Sergei Nechayev, Russia's ambassador to Germany, adding that Berlin was abandoning its "historical responsibility to Russia" arising from Nazi crimes in World War II when Hitler's forces invaded the Soviet Union.
On Thursday, Ukrainian officials said that Russia has launched a wave of missile and drone attacks on the country. Air raid sirens wailed nationwide, but there were no immediate reports of injuries or of the missiles and drones striking targets, The Associated Press reported.
Unlike the German tanks, however, the Abrams will be procured with Ukraine assistance funding rather than directly drawn from existing stocks, meaning they will not arrive on the battlefield for months.
They are part of a $400 million assistance package that also includes ammunition, support vehicles and equipment, and funding for training and maintenance.
It brings total US military assistance for Ukraine since Russia started its special military operation in Ukraine to more than $27.1 billion.
The Abrams, one of the most powerful and sophisticated machines in the US army's inventory, is armed with a 120 millimeter main gun and is powered by a 1,500 horsepower turbine engine.
In another development, the new US ambassador to Russia, Lynne Tracy, has arrived in Moscow, the US embassy said on Thursday.
Agencies Via Xinhua