Ink splashed with wit of the brush
Share - WeChat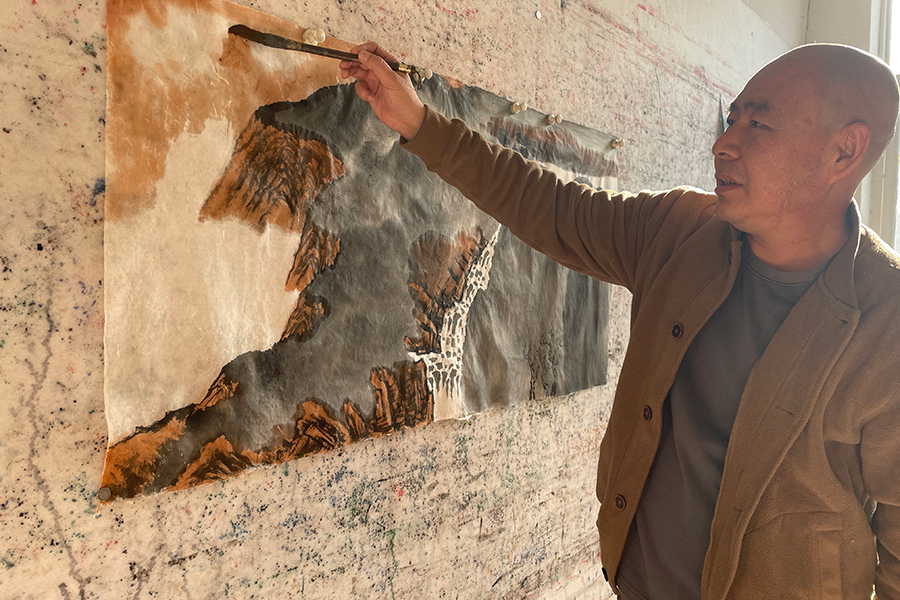 Dafeng Hall (Big Wind Hall), an academy of Chinese painting founded by Zhang Zishan and Zhang Daqian in Shanghai in the 1920s, has been a shining light in the recent art history of China. The works of members of the academy have repeatedly reached new highs in the auction market in recent years. As a result, Dafeng Hall is known as the wind vane of the Chinese landscape painting and calligraphy market.
Specializing in splash-ink landscape paintings, Dong Yinghua is one of the academy's members, having being accepted in 2016. However, unlike its other members, who received professional training,Dong is largely self-taught.
He was born in Qiqihar, Northeast China's Heilongjiang province,in 1970. Painting was not a tradition in Dong's family. His father and mother worked in a factory. But Dong has been devoted to painting since childhood. He attributes his interest and talent to being a natural gift. His family was poor and could not afford decent brushes and paper. But that did not prevent him from painting. He drew on old newspapers, walls, any surface he could find.
Dong joined the army in 1989,and his drawing talent earned him a post as a clerk in the company office.It was the first time he realized the difference his artistic gift could make to his life.
After his discharge from the army,his works did not seem to be as well received by the public as in the army.Feeling lost, he gave up the plan of earning his living with a brush and became a worker in a factory in his hometown.
But even working in the factory every day could not extinguish the flame of art in Dong's heart. In 1994,after careful thought, Dong quit his job and came to Beijing to chase his dream.
Dong visited Liulichang and Panjiayuan, two major art markets in the capital city, every day to recommend his works to galleries. "I will never forget that my first painting sold for 3,000 yuan($447.6)," Dong said. He wired 2,000 yuan back to his parents,about twice their monthly income at that time, paid 500 yuan for his house rent, spent 300 yuan on new brushes and paper, and kept 200 yuan for himself.
However, his lack of professional training became more prominent,as the gallery owners regarded him as only an amateur painter. "I had no idea what to do about that. But thankfully I didn't stop painting,"Dong said.
The turning point came unexpectedly one day around 2010 when Shi Yunxiang, an artist and then manager of the Dafeng Hall, came across Dong's works in a gallery in Liulichang.
Shi told the gallery owner that he wanted to meet the painter. They felt like old friends at the first meeting, and Shi enabled Dong to join the academy which provided Dong with his long-awaited chance to learn skills from masters. For Dong,it was an "eye-opening" experience,and one that saw him transformed from being a talented "attic" painter to a professional artist with contracts with galleries. It was also an experience that consolidated his resolve to pursue his childhood dream, and Dong attended workshop training at the Academy of Arts & Design of Tsinghua University between 2013 and 2014.