China's solar companies shine in Europe
Share - WeChat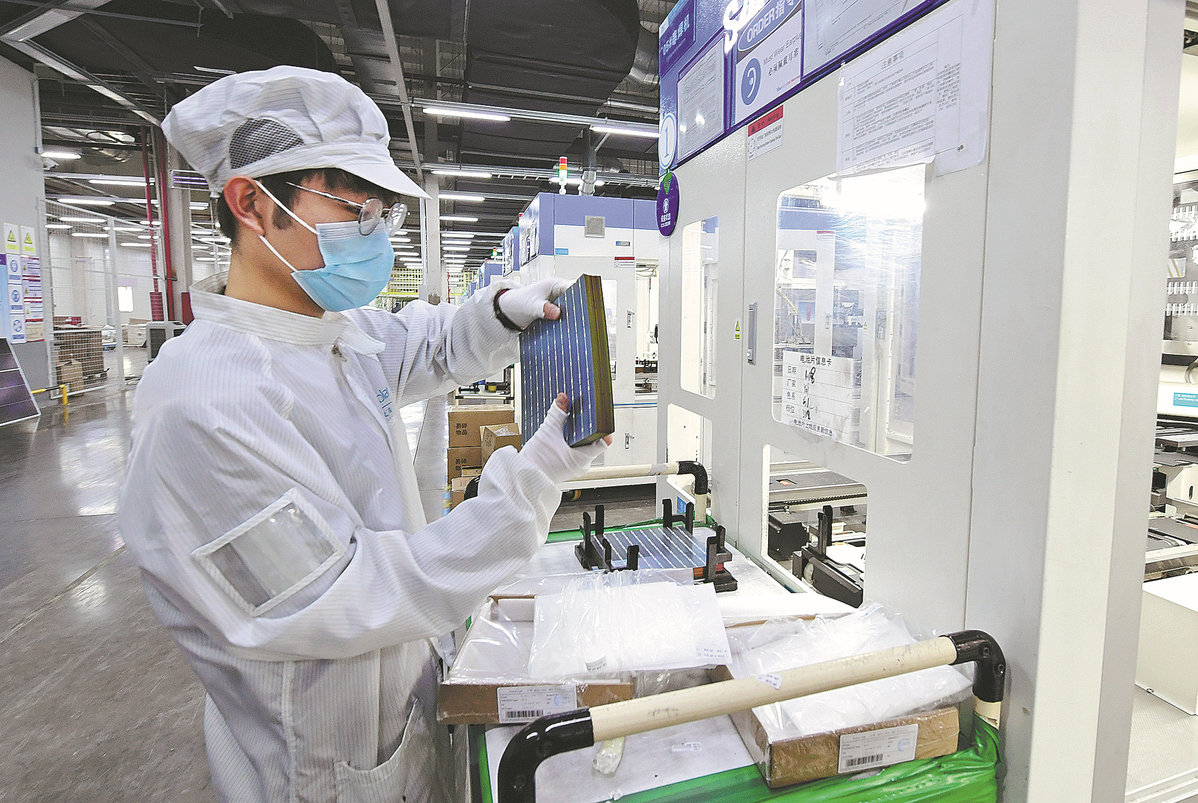 Europe has become the largest buyer of Chinese photovoltaic products in the world. Despite the rising prices in the solar supply chain, the number of PV modules exported by China to Europe has been growing every month.
The reason behind it is that China, which boasts the world's biggest production capacity in solar energy equipment and related goods, has found a matching buyer in Europe, a continent where advanced markets have accelerated ambitious energy transition goals after Russia-Ukraine tensions created energy inflation and energy insecurity, which in turn increased the demand for PV energy.
The European Commission introduced the REPowerEU Plan in May, pledging to accumulate 320 GW of installed PV capacity by 2025, and 600 GW by 2030. The plan also states scrutiny will be stepped up gradually, mandating all public and regular buildings to install rooftop PV systems.
Germany has also ramped up renewable energy development amid the Russia-Ukraine conflict, aiming to fulfill 100 percent of its electricity need with renewables by 2035 and to add 20 GW of installed PV capacity every year from 2028 onward.
Small wonder then that Europe places increasing orders for Chinese energy goods despite the ever rising supply chain prices. PV InfoLink, a market research company, forecasts that Europe's module demand this year will reach 49 GW. The figure will likely be even higher at 55 GW in an optimistic scenario.
There is no country that can serve Europe's needs better than China, which is currently the most cost-competitive location to manufacture all components of the solar PV supply chain. Costs in China tend to be 10 percent lower than in India, 20 percent lower than in the US and 35 percent lower than in parts of Europe, according to the International Energy Agency.
Solar investment in China during the first four months of 2022 had also increased more than 200 percent year-on-year to $4.4 billion, while the country is expected to install up to 108 GW of solar power this year, nearly double the 54.88 GW deployed last year, according to the country's National Energy Administration.
It's hard to imagine that decades ago, solar energy in China was only a source of power to help remote rural areas that were off the main power grid. The clean energy has fundamentally changed the economics of solar power all over the world and China today dominates nearly all aspects of solar use and manufacturing markets.
This achievement is a kind of marvel made possible by the combination of a highly efficient government, which has built up the world's largest solar manufacturing industry to make it the price leader in most aspects of the global market, and the firm determination to tackle the then pollution problems in the country. That combination has added momentum to efforts to invest in clean energy and wean the country's and the world's electricity markets off coal.
After years of development, China's PV industry has gained a historic foothold in Europe for being the most reliable and resilient supplier of solar panels.
While demand for PV products has reached a new high, driven by surging natural gas prices amid the Russia-Ukraine conflict and the damaged Nord Stream pipelines, Chinese solar panels will only be gaining more popularity among European consumers in the years to come.