Marine technology makes Greater Bay Area greener, safer
Share - WeChat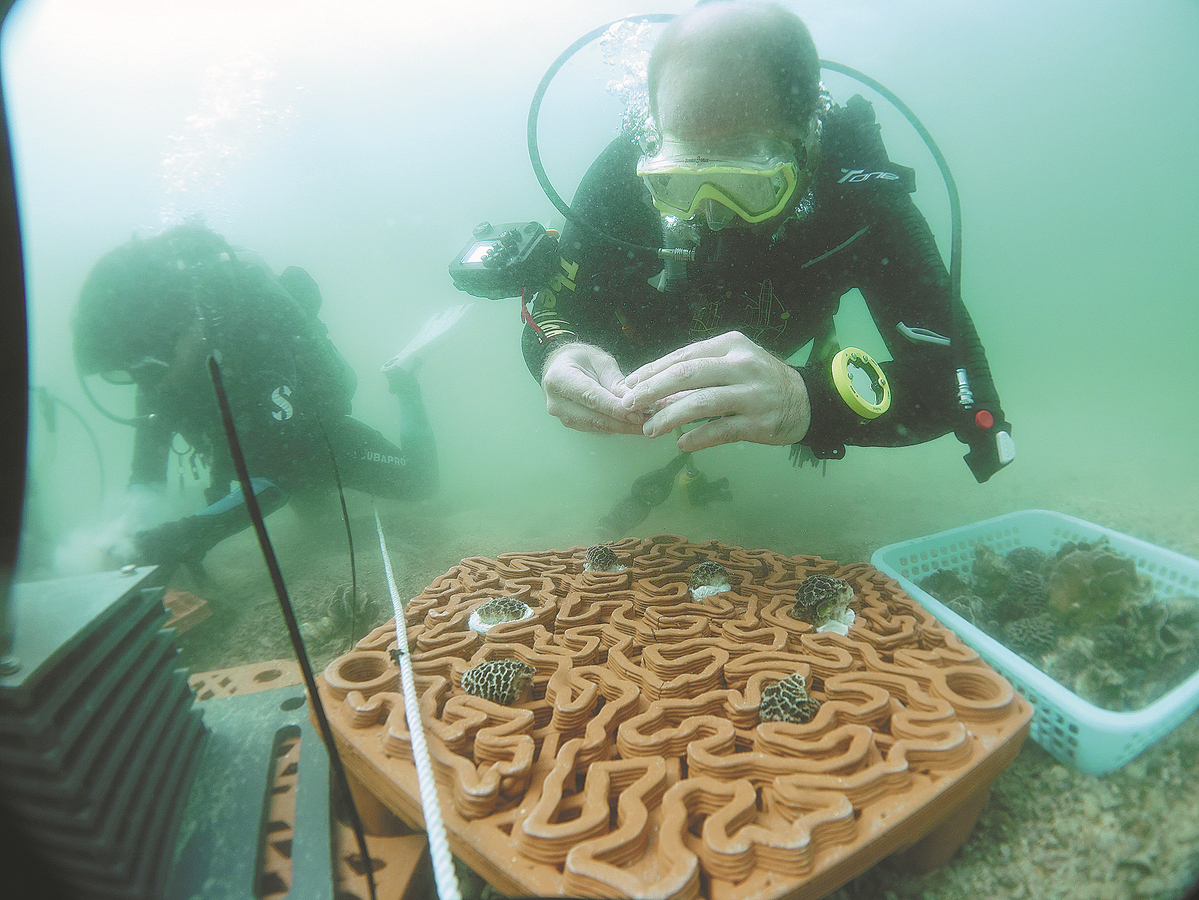 Tech 'windows'
With mainland companies tapping Hong Kong's scientific research resources to develop their marine technology products, the city's marine scientists view cities in the Greater Bay Area as "windows "for technology commercialization.
In 2016, a research team from HKUST developed a butenolide antifouling coating for vessels and fishing nets that resulted in reduced toxicity to the marine environment. The university listed the product as a key technology transfer project.
Three years later, two companies in Hong Kong and Shenzhen, both funded by HKUST, won the exclusive right to this technology. They were chosen because they were considered the best candidates to use the GBA's industrial chain to propel the antifouling coating's commercialization.
Traditionally, this coating is applied to vessels to prevent marine organisms and microbes from clinging to their hulls at sea.
Ma Ye, CEO of Ocean Science (Hong Kong), one of the companies that obtained HKUST's license, said toxic materials are traditionally added to the antifouling coating to kill organisms and microbes attached to the hull. She added that these toxins are released into the ocean, polluting the water and marine life.
However, without an antifouling coating, marine organisms easily attach themselves to the hull of a vessel, slowing its speed by up to 30 percent and increasing its fuel consumption by a maximum of 40 percent, which in turn impact the cost of marine transportation, Ma said.
The team from HKUST uses biological methods and compounds extracted from deep-sea microbes to prevent organisms from attaching themselves to ships' hulls or other objects in the water. The scientific discoveries behind this technology won the university a second prize at the 2016 National Natural Science Awards.
Ma and her colleagues also refined the technology and applied it to fishing nets. She said traditional antifouling coatings are usually developed for hard materials such as steel, aluminum alloy and glass fiber that are commonly used to build ship's hulls, but marine life also attaches itself to items such as fishing nets.
When organisms grow on top of a fishing net, they reduce the exchange of water and oxygen and harm the catch, Ma said. But as antifouling coatings are generally toxic, they are inappropriate for use on such nets, as the coating will harm fish and other creatures in the net, she added.
For fish to survive longer in the nets, they are often fed antibiotics, which may harm the health and quality of the fish, as well as those consuming them, Ma said.
Developing coatings for items such as fishing nets is a new challenge for Ma and her team. The aim is to strengthen the coating's flexibility and adhesion so that it does not easily flake off the net, Ma said. Ocean Science has research and development bases in Zhuhai and Shenzhen, Guangdong. Ma said the GBA's mature industrial chain makes it easier to produce coatings and conduct experiments.
"The environmentally friendly antifouling coating has broad market prospects, as more people in China realize the importance of protecting the marine environment," Ma added.
Currently, 1 kg of the antifouling coating produced by Ma's company costs thousands of yuan, far more expensive than a traditional coating that costs several hundred yuan per kg.
The initial cost of the coating was more than 10,000 yuan ($1,436) per kilogram, significantly inhibiting its application in the market. Ma's next step is to further reduce the cost by improving the manufacturing process.