Cup's cute companion scores with Chinese fans
Share - WeChat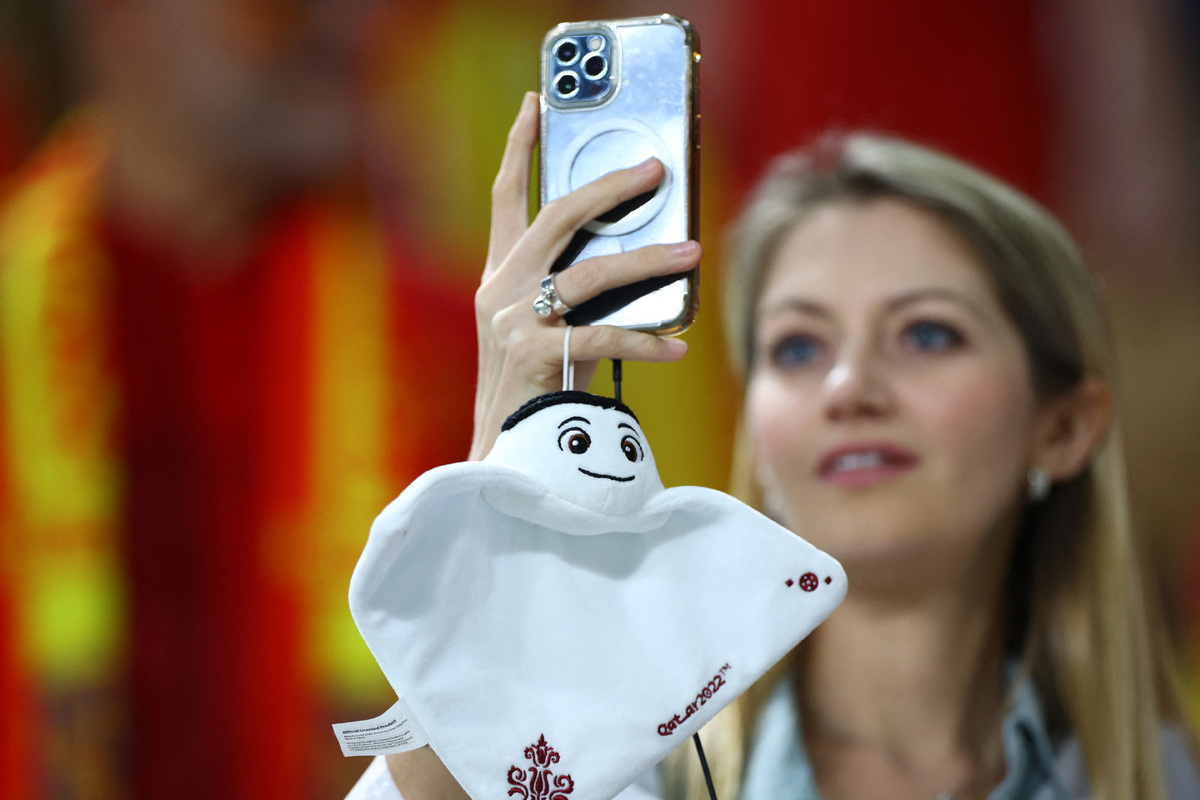 Do you remember your first World Cup mascot? Mine was probably Pique, the sassy, mustachioed jalapeno pepper with the maracas and a massive sombrero, which dominated the marketing for the 1986 World Cup in Mexico.
He was everywhere — in cereal boxes, on soda cans and as a series of small plastic toys in Kinder Eggs, among many other places.
Then along came Italia '90, by which time I was deep into my teens, and the weird, football-headed stick figure, named Ciao, apparently, didn't quite grab my imagination in the same way. Perhaps it was because I was older, but he did not resonate with me as much as the epic Pavarotti-sung theme Nessun Dorma did.
Other than Striker, the dog from USA '94, I can't put a name to, nor do I have any real recollection of, some of the nightmare-inducing mascots that followed. In fact, watching last week's opening ceremony for Qatar '22 was akin to enduring a hallucinatory fever dream — colorful, oversized plush monstrosities staring at me through my TV screen in pin-sharp high-definition.
It occurred to me, that, in many people's consciousness, there is a sweet spot where a World Cup mascot retains its appeal. They are predominantly aimed at kids, I suppose, and that's why Pique remains the pinnacle of puppets in my mind, but Ciao might enjoy a similar affection from someone younger.
However, the power of the mascot seems far more compelling to a wider range of age groups here in China.
Bing Dwen Dwen, the cuddly panda representing the 2022 Beijing Winter Olympic Games, caused a frenzy earlier this year, when star-struck fans couldn't get their hands quickly enough on merchandise featuring the character, resulting in rocketing prices and a whole Bing Dwen Dwen black-market industry. Yet, he was ubiquitous on my WeChat 'Moments' timeline, and those posing with their space panda swag were all adults. It seemed like a cultural touchstone, which is why even I have one, right here, by my desk…
Last week, I saw the same social media clamor as La'eeb, the mascot for this World Cup, took his global bow.
Seemingly a cross between Casper the Friendly Ghost and an untethered kite, La'eeb is actually based on the keffiyeh and agal, the main elements of traditional Arab head dress.
I watched as my 30-year-old girlfriend cooed over the cartoon figure, and spent most of the opening ceremony laughing at memes and cute posts on microblogging site Weibo. This was further fueled by images of a young Qatari, gesticulating wide-eyed at his nation's poor opening-game performance, being captured by the cameras of CCTV5. Almost instantly, comparisons between the young Arab and the equally cherubic mascot, started springing up all over the place, propelled by quick-witted Chinese social media users.
Such is the draw of the mascot, here, that people in my WeChat contacts, who have no interest in football most of the time, are sending me La'eeb stickers in chat groups and messages.
So, where did all this mascot malarkey start? For that we have to go all the way back to the 1966 World Cup in England.
World Cup Willie (stop giggling at the back), a Union Flag-emblazoned Lion was, arguably, the first ever official mascot to grace a global sporting event.
The first official Olympic Mascot didn't make its debut until Munich in 1972, eight years and two World Cup companions later. Willie was conceived by freelance children's book illustrator Reg Hoye, and was featured in his own comic strip leading up to and during the event. He appeared on a myriad of products, creating a whole new World Cup merchandising industry. He even had his own song, originally sung by Scottish skiffle artist Lonnie Donegan.
Four years later, he was given a makeover and, wearing a sombrero, became the mascot for the England team heading to the 1970 World Cup in Mexico.
So, depending on whether you're a fan of these cutesy companions, or find them a detestable distraction from the important business of watching your team play, you can thank — or curse — the English.
Given the way Group B's final fixtures ended, I would be lying if I said I wasn't choosing to do the latter anyway.