A musician's masterful touch
Share - WeChat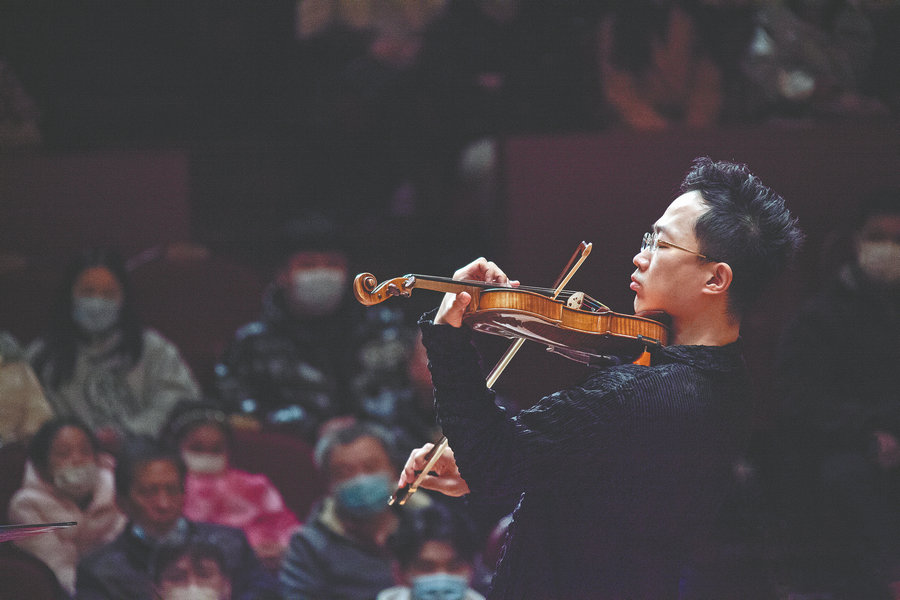 Violinist Yang Xiaoyu brings the passion of great composers to life on stage, Cheng Yuezhu reports.
Violinist Yang Xiaoyu took a rare approach in his recital by performing a master composer's series of sonatas in the order they were originally compiled, hoping to faithfully present the composer's thoughts to the audience.
At the Nov 19 recital at the Beijing Concert Hall, titled The Passionate Strings, Yang performed Belgian violinist Eugene Ysaye's seven sonatas for solo violin.
"It is very rare for violinists around the world to perform the complete set of sonatas written by Ysaye in one recital," he says. "By performing the whole set, the audience gets to hear the less well-known pieces, which are just as beautiful."
In addition to Ysaye's famous Six Sonatas for Solo Violin, Op. 27, the recital also marks the first performance in Beijing of his Sonate Posthume. In 2017, French violinist Philippe Graffin discovered the manuscript for the piece at the Royal Conservatory of Brussels and finished the sonata's incomplete third movement, introducing to the world one of Ysaye's lost masterpieces.
Yang says that the recently discovered work manifests to him Ysaye's efforts in the later stages of his life to constantly seek breakthroughs in musical expression.
"The life experience and worldview embodied in his sonatas are beyond our imagination. These seven works represent the essence of his composition and the life attitude that he wanted to show the world," he says.
Last month, Yang gave a recital at the National Library Arts Center Concert Hall, where he performed Italian violinist Niccolo Paganini's 24 caprices.
"Playing a complete set of works allows me to follow the master's train of thought. Those pieces less performed at concerts seem to me a record of their emotions throughout life," Yang says.
Rather than playing solitary movements, especially at an encore, where musicians often play at a faster tempo to showcase their dexterity, Yang feels that playing a complete set of works presents a narrative, with waxing and waning sentiments — he compares music to a kind of literature written with sound.