Kenyans express mixed reactions over lifting of GMO ban
Share - WeChat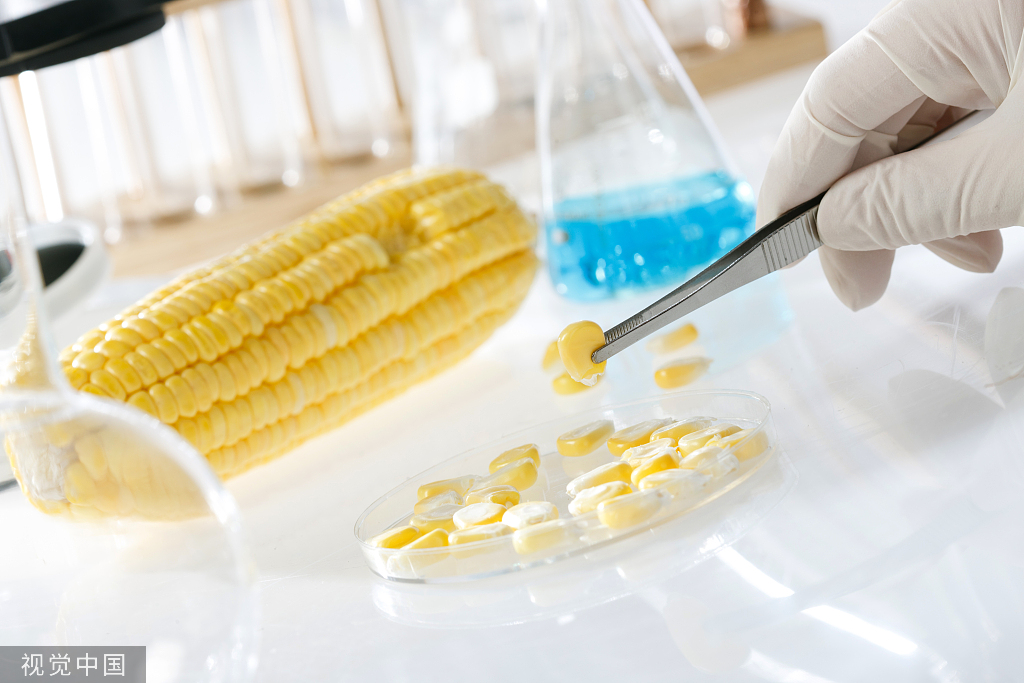 A debate on whether to accept open cultivation and importation of genetically modified organisms to fight food insecurity is heating up in Kenya following the lifting of a decade-old ban by President William Ruto on Oct 3.
While some leaders and experts view the decision as a good measure to fight recurring hunger due to climate-induced drought, others perceive it as potentially harmful to people's health and environment.
The Kenya Agricultural and Livestock Research Organization welcomed the decision, saying scientifically, GMO is proven to be safe for food, feed and the environment.
The state corporation said Kenya has a fully robust and functional policy and legal and institutional framework for governing the use of GMOs.
The corporation, in partnership with the African Agricultural Technology Foundation, plans to distribute 11 MT of certified seed to be planted by farmers on 500,000 acres across mid-altitude agro-ecological zones during the 2023 March-May rainy season as demonstration pending full commercialization by private companies.
Speaking at a webinar on Monday on whether Kenya is ready for GMO, Roy Mugiira, the chief executive officer at the National Biodiversity Authority, said Kenya was ready for GMOs when it signed the Cartagena Protocol on Biosafety in 2000, the protocol that governs the global transfer, handling and use of GMOs.
Mugiira said in response to the lifting of the ban, the authority has developed a step-by-step document that outlines how imports, exports and even transit of material containing GM commodities will be conducted.
Richard Oduor, the acting registrar of research, innovation and outreach at Kenyatta University, said GMO technology is openly judged and all people see is risks.
He refuted claims GMOs cause cancer and other diseases, noting the statements are meant to cause fear.
"Let's not fear GMO because it's new. Let us look at it in terms of the merits and be assured the technology has far-reaching expectations. If we give it time, we will realize we are in a position to save this country," he said.
Anne Maina, the national coordinator of the Biodiversity and Biosafety Association of Kenya, said Kenya is not ready for GMO, noting there are ethical issues linked to the technology that need to be addressed.
She said one of the challenges raised about genetic modification is its linkage with increased use of toxic pesticides, herbicides and insecticides, one of the most controversial one being glyphosate.
She said over 80 percent of GM crops grown worldwide are engineered to tolerate glyphosate herbicides.
Glyphosate was patented as a metal chelating and pipe cleaner in 1964 and later as an herbicidal agent in 1974 and an antibiotic agent in 2010. In 2015, the World Health Organization classified glyphosate as probably carcinogenic to humans.
Maina said there has been increasing liver and bile duct cancer cases linked to GMO and glyphosate.
She termed loss of biodiversity, impacts on non-target organisms like butterflies and bees, impacts of agricultural waste on fauna and flora in water bodies, and creation of superweeds and superpests as the environmental risk concerns of GMOs.
"The government of Kenya needs to put more money into local research to avoid our researchers accepting money from promoters of this technology and ensure they work objectively," Maina said.
On Sunday, Raila Odinga, the opposition leader, called on President Ruto to rescind the decision, noting allowing GMO in response to drought amounts to sabotaging local institutions and establishing bio-technology corporations at the expense of local ones.
Odinga said local institutions have demonstrated the capacity to develop safe and trusted food, but they are struggling due to inadequate financing.
He said the country has sufficient stocks of maize because farmers in the Rift Valley, the country's grain basket, are harvesting.
"Farmers are worried their maize will lose a market due to GMO maize that is being imported into the country," Odinga said. "Our institutions and farmers need resources and political goodwill to come through for the nation."
In an interview with NTV on Tuesday, Francis Mulaa, an associate professor from the University of Nairobi, said GMO is not about food security or anything being debated currently but about trade.
"Seed is big business, and whoever controls seed controls agriculture. America has made it clear they want to be a superpower and one of the areas to control is agriculture and the easiest way to control agriculture is through seed," he said.