Rich in flora, fauna and history, Zhangjiajie welcomes visitors
Share - WeChat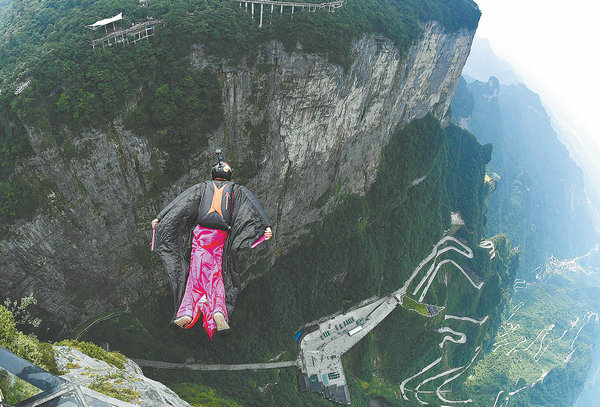 Zhangjiajie in Central China's Hunan province has wowed scores of visitors with its spectacular natural peaks which have become famous globally for inspiring the scenery featured in the Hollywood sci-fi blockbuster Avatar.
Boasting geographical diversity and picturesque landscapes such as fantastic mountains, streams, towering trees, deep valleys, caves and forests, the city is home to more than 300 tourism attractions and 31 national 3A-grade or higher scenic spots. They include world natural heritage sites, a world geopark and China's first national forest park.
Former secretary-general of the United Nations Ban Ki-moon said Zhangjiajie was the most beautiful place in the world when he visited it in 2019.
Over the years, Zhangjiajie has won many honorary titles awarded by both domestic and foreign authorities such as one of "the 15 most beautiful places in the world", among "China's top 10 most popular scenic spots for photographers", and one of "the top 10 cultural tourism destinations in China".
Located in northwestern Hunan, the city has a population of 1.51 million and covers a total area of 9,533 square kilometers. It serves as a window for provincial opening-up and as a name card of beautiful China to the world.
Zhangjiajie is also listed among the 25 key tourism cities to boost national development in the sector during the 14th Five-Year Plan (2021-25).
The city is a model of ecological civilization practice, with the proportion of days recording good air quality hitting 99 percent in 2021. It has been selected as a national health city, national forest city and excellent city in practicing ecological civilization development.
As the hometown of He Long (1896-1969), a Chinese military leader, and a departure place of the Long March in 1934, Zhangjiajie has become one of the country's most-visited Red tourism destinations with several related cultural resources.
The Red resources showcase a rich revolutionary spirit and tell profound stories about the country over a century since the founding of the Communist Party of China, experts said.
In addition to its ecology, the diversity of Zhangjiajie is reflected in its ethnicities. The city has 32 ethnic groups, accounting for 75 percent of its total population. Each group has its own distinctive folk culture, helping the city be in possession of 818 intangible cultural heritage items.
As a tourist city, Zhangjiajie has convenient transportation combining airplanes, bullet trains and highways. Lotus International Airport, for example, is the second-largest airport in Hunan. It now runs two overseas cargo routes and 88 national and international routes. High-speed trains also connect Zhangjiajie with more than 50 cities across the country.
In 2019, Zhangjiajie received nearly 81 million tourist visits, including 1.37 million made by foreign travelers from more than 100 countries and regions. The flourishing industry has brought the city revenue of more than 90 billion yuan ($13 billion).
In 2021, it was listed among the 10 Chinese cities with the highest overseas cultural and tourism influence. Beijing and Shanghai were also on that list.