Book prize spotlights uniqueness
Share - WeChat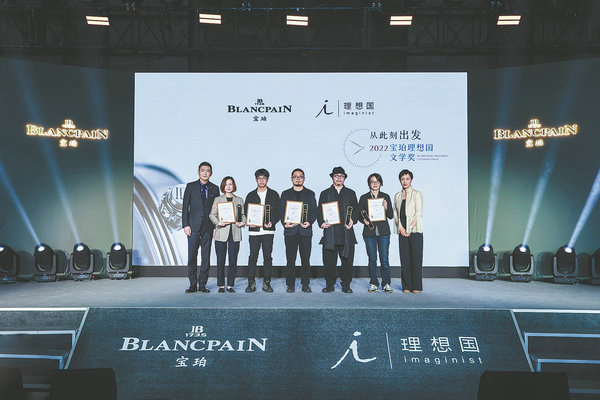 Writer Lin Zhao, 38, won this year's Blancpain-Imaginist Literary Prize on Nov 9 with her work Chao Xi Tu (Picture of Tide).
Sponsored by Swiss luxury watch brand Blancpain and Chinese publisher Imaginist, the annual prize was established in 2018 to award novelists younger than 45.
The winner was given a cash prize of 300,000 yuan ($42,000) and a Blancpain watch.
"The prize aims to offer a stage and a spotlight for young writers, so that more people will get to know them and read their works," says Jack Liao, vice-president of Blancpain China.
Over the past five years, the prize has received more recognition, and the list of winners has become an important guide for young readers choosing books.
According to Liao, the videos released about the prize this year have been broadcast more than 4 million times, speaking to its growing importance.
The evaluation committee this year was composed of scholar Liang Yong'an, writer Lin Bai, critic Liu Zheng, Luo Xiang, a professor at China University of Political Science and Law, and literary historian David Der-wei Wang.
Lin's Chao Xi Tu was selected due to its weaving of whimsical imagination and historical realism, as well as its playful use of dialects of South China that have only a marginal presence in the literary world. The book depicts a giant frog's 19th-century journey from Guangdong through Macao to the heart of European empires.
Along the way, she meets various characters, all of whom see her in a different light - to fishermen in the Pearl River, she is a supernatural spirit, to a Scottish naturalist, a scientific specimen, and to spectators in an imperial zoo, a freakish curiosity. As her physical body floats across the oceans from East to West, her identity remains in constant flux.
"(The story) reflects and retrospects the breakthroughs and limitations in the turning points of history. Lin Zhao ... has formed a unique narrative style in her work and made a major contribution to modern Chinese literature," says Lin Bai on behalf of the judging panel.
Critic Yang Qingxiang noted how closely the tale followed the historical struggle faced by 19th-century China to redefine itself in the face of imperialism.
"The wandering of and interaction between heroes in the book actually reflects the history of interaction between China and Western countries in culture, economy and politics," he says.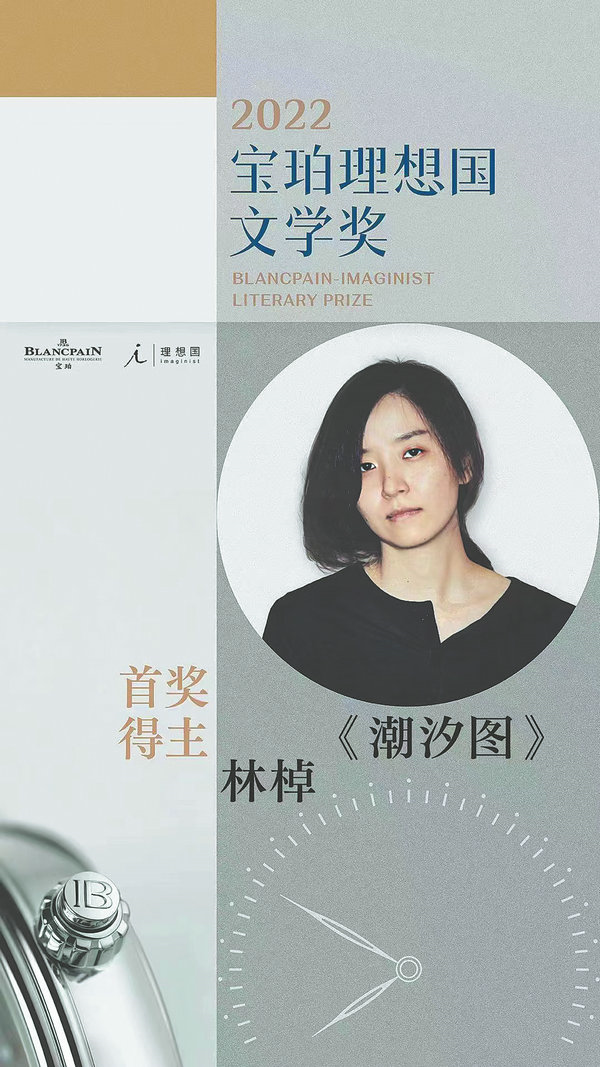 This is Lin Zhao's second fulllength novel. She was previously a finalist for the 2020 Blancpain-Imaginist Literary Prize with her first work Liu Xi (Flowing Creek).
Other shortlisted competitors include Guo Shuang, Huo Xiangjie, Wei Sixiao and Zhou Yuyang. Each of them were awarded 20,000 yuan as encouragement for their future efforts.
Luo says that in the works of all these writers he "read many things related to human nature, about how we can answer questions at the bottom of our hearts in this fast-changing and unpredictable era".
Liang praised the five writers' works, joking that he wished he could award them all first prize.
"(In the works) I can see young people's literary growth, and the new culture they derive from their own ideas of existence, rather than simply following the elder generation," he says.
Speaking about her future writing, Guo says: "I hope to be more courageous and have fun ... I believe fiction is a great game, and only if writers have fun can readers have fun as well. That's what attracts me to write novels."
Liu Ruilin, the founder of Imaginist, says: "The prize shows a clear map of young writers' literary creation in this era, through which we can see how they record the times they live in, consider problems and attempt to offer their answers. We can also see their understanding of themselves, and the possibilities ahead of them.
"We believe novels can ... play a large role in this era. Novelists are observers and analysts of society. We have every reason to expect more young novelists to release greater and greater literary power."