Expo boosts biz for Italian helicopters
Share - WeChat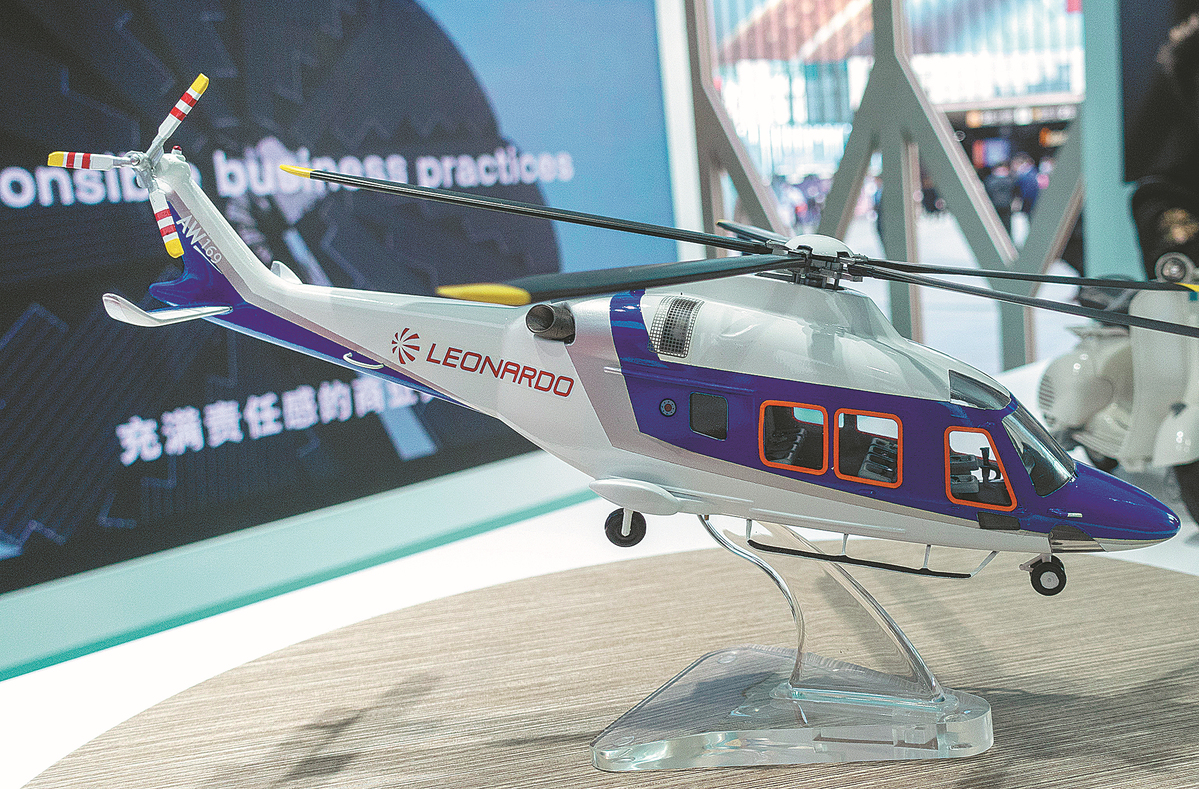 Leonardo, a Rome, Italy-based global player in the aerospace sector, has made significant investments in China through its helicopter division and deeply explored the potential of the China market since it participated in the first China International Import Expo in Shanghai in 2018.
Four years ago, the company demonstrated its super-medium, twin-engine helicopter AW189 during the first CIIE and after that, Leonardo signed sales contracts with local Chinese partners for eight AW189 helicopters.
Beijing police placed an order for two AW189 helicopters for law enforcement, search and rescue, and firefighting purposes in the Beijing metropolitan area. The other six AW189 helicopters will be delivered to the rescue and salvage bureau of the Ministry of Transport.
The fifth CIIE, which was held at the National Exhibition and Convention Center in Shanghai from Nov 5 to 10, witnessed the delivery of the first AW189 to Beijing police for firefighting and rescue purposes, and all of the above-mentioned AW189 helicopters will be delivered within 2023, Leonardo said.
Currently, various government and civil operators in China fly more than 120 Leonardo helicopters, and those aircraft are mainly used for law enforcement, firefighting, offshore services, emergency services, and search and rescue, it said.
Leonardo considers China as one of the most important and strategic helicopter markets in the world, the company said. It has developed a local service network to provide proximity to Chinese operators with a team of localized customer support managers and technicians.
In 2020, the establishment of Leonardo's subsidiary in China — Leonardo China — showed its willingness to deeply invest and grow in the country, and the subsidiary will help expedite the response speed to local customers.
Leonardo has also established a bonded warehouse to provide spare parts for all kinds of helicopter models in the China (Shanghai) Free Trade Zone, satisfying a growing demand for spare parts in the country. Leonardo is also evaluating the possibility of establishing a training academy in China, which will provide local training services to Chinese customers.
For maintenance and technical support, Jiangxi Changhe Agusta Helicopter Co Ltd, a joint venture between Leonardo and Jiangxi Changhe Aviation Industry Co Ltd, serves as the authorized service center of Leonardo in China. It has been a qualified maintenance organization acknowledged by domestic operators and can provide integral customer support services. Since the first CIIE, the joint venture has extended its repair and maintenance capabilities to all series of Leonardo helicopters, including the recently delivered model AW189.
With robust demand for helicopters in China and relatively small fleet size, investment from foreign helicopter operators has continued to pour into one of the last underdeveloped industries in the country.
Currently, major foreign helicopter manufacturers operating in the Chinese civil turbine market also include US-based Sikorsky Aircraft Corp and Bell Helicopter Textron Inc, European aircraft manufacturer Airbus, as well as Russian Helicopters JSC, according to business aviation consultancy Asian Sky Group.