CIIE exhibitors transition to investors
Share - WeChat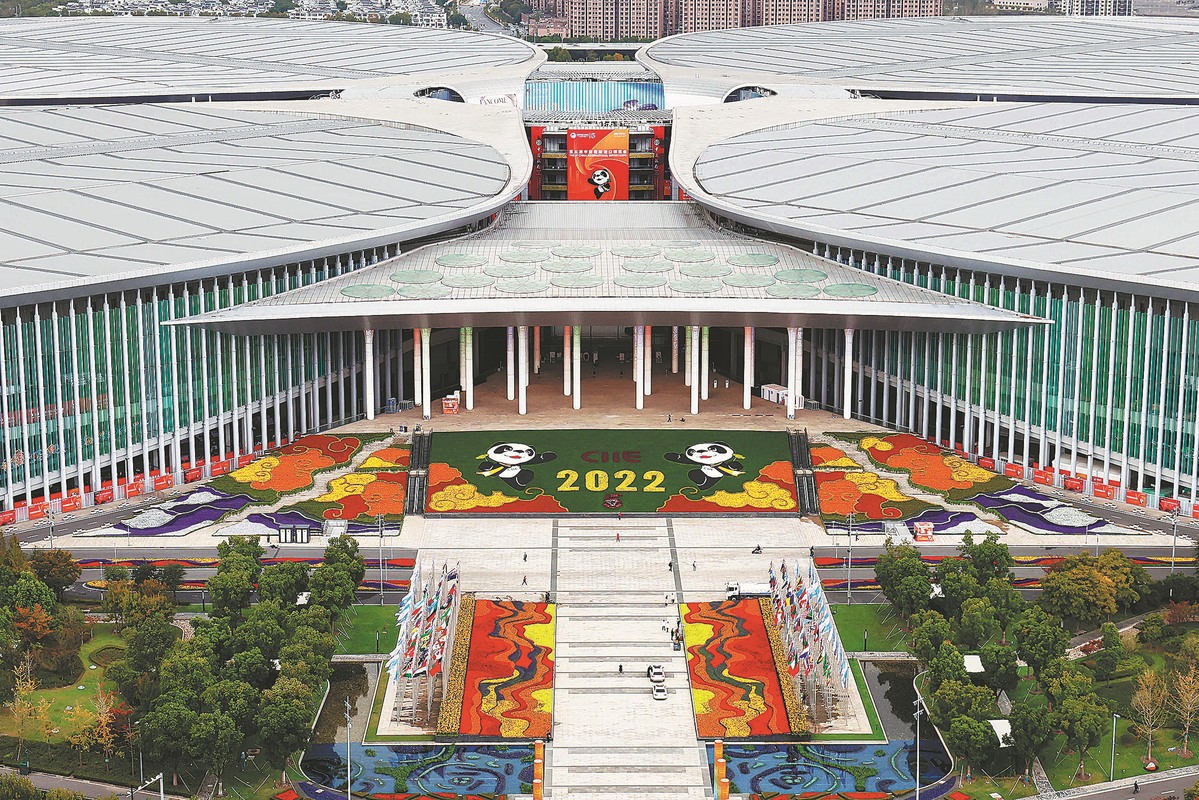 Companies find opportunities to grow business thru partnerships, agreements with help from event
A specially themed space has been set up at the 360,000-square-meter business exhibition area for the first time at the fifth China International Import Expo in Shanghai, reflecting the transition from exhibitors to investors.
German pharmaceutical company Boehringer Ingelheim will be present in the special exhibition area. Given its successful participation at the CIIE since 2019, the company landed a rehabilitation project in Chengdu, capital of Sichuan province, this March. The total investment of the project is estimated to be 80 million yuan ($10.93 million), according to information released by the local government.
According to Felix Gutsche, president and CEO of Boehringer Ingelheim China, the CIIE has exhibited the dynamics of the economic and trade activities in China. The company has not only been able to display its latest products and solutions but has reached more business partners and discovered new cooperation opportunities in the country.
"A large number of our new ideas and projects are embodied in China with the help of the CIIE," he said.
Multinational conglomerate Honeywell has been present at the CIIE for five years in a row. It has showcased nearly 100 new technologies and products during the first four editions. The 116-year-old North Carolina, a United States-based company, is also present at this year's specially themed area, as its new research center featuring a distributed automatic control system, intelligent factory safety management solutions and smart-sensing technology — in which it inked a cooperation agreement with the China (Tianjin) Pilot Free Trade Zone at last year's show — started its trial run in late July. The investment value of the project is around $25 million.
"We consider the CIIE as a one-stop platform via which companies can demonstrate their frontier technologies and solutions, debut their new products, increase investment in China and expand partnerships," said Yu Feng, president of Honeywell China.
There are many more similar examples of companies benefiting from their participation at the CIIE.Italian helicopter maker Leonardo SpA, which took part in the first CIIE, signed a strategic cooperation agreement with Shanghai-based Zenisun Group before the first edition of the CIIE wrapped up. In June 2019, the two companies set up a helicopter production center in Pinghu in East China's Zhejiang province, with a total investment approaching 12.8 billion yuan.
At the second CIIE, Zhejiang-based Tianneng Group Co Ltd reached a cooperation agreement with French battery maker Saft — a wholly owned subsidiary of French oil company TotalEnergies — to build a high-power lithium battery project. Located in Changxing of Zhejiang province, the project attracted 10 billion yuan in investment. A groundbreaking ceremony was held in early November 2020, when the third CIIE was ongoing.
Hong Kong-based Gumpert Apollo, which is now renamed Apollo Future Mobility Group Ltd, took part in the CIIE for the first time in 2020. It signed a framework cooperation plan with Shanghai Jinqiao Group at the exhibition to launch the Apollo all-electric supercar project in Shanghai. The investment is expected to exceed 2 billion yuan.
"For five years, the CIIE has not only served as the optimal choice for multinational companies to make global debuts of their new products and frontier technologies, but also witnessed many participants' transition from exhibitors to investors," said Sheng Qiuping, vice-minister of commerce.
Yang Changyong, a researcher at the Academy of Macroeconomic Research at the National Development and Reform Commission, said the transition from exhibitors to investors has demonstrated CIIE's increasing influence in the global market. The exhibition has better connected the domestic and international markets over time, Yang said.
The transition has also reflected the rising appeal of the Chinese market. Foreign companies are investing in China mainly due to its market potential, expanding domestic demand, the country's strong economic resilience and dedication to continued opening-up, he said.
Once the transition from exhibitors to investors is consolidated, these foreign companies will come with more trade and investment demand, which will better facilitate China in strengthening its economic and trade ties with other economies via the CIIE, Yang added.