2022 World Ocean Week to wrap up string of fruitful meetings and forums
Share - WeChat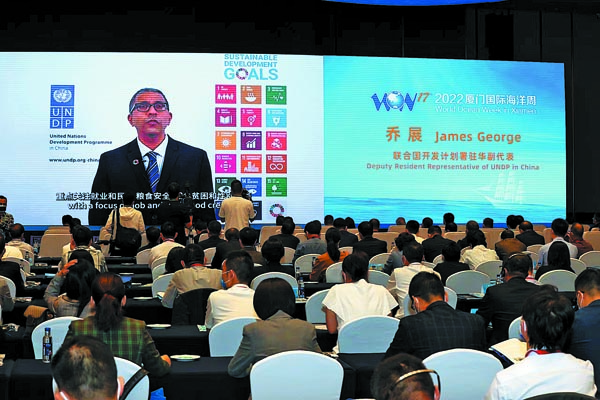 The main activities of the 2022 World Ocean Week in Xiamen conclude on Wednesday in the coastal city in East China's Fujian province, with organizers having staged 40 events including forums, exhibitions and ocean culture carnivals.
Representatives of 16 international organizations and nearly 800 companies have participated in the activities to discuss approaches to advancing high-quality ocean development.
Those include the 2022 China Seafood Summit which opens on Wednesday, and the fifth International Diving Salvage and Marine Engineering Equipment Exhibition, which is to kick off on Friday. They are expected to help Xiamen's marine industry attract investors' attention, officials said.
Li Junhua, United Nations undersecretary-general for economic and social affairs, praised the host city's achievements in coastal pollution control at the ocean week's opening ceremony and the Xiamen International Ocean Forum.
"Ocean sits at the nexus of addressing the triple planetary crisis of climate change, pollution and biodiversity loss … Ocean also holds the key to bringing sustainability and prosperity together," he said.
"Offshore renewable energy, green shipping, marine aquaculture and other sustainable blue economy sectors offer immense opportunities for economic growth and employment, while making net-zero carbon and resilient economies possible.
"In this connection, I wish to commend Xiamen for its achievement in transforming polluted waterfront into a model for ecological and economic success, through cycles of integrated coastal management," Li said.
Athill Dean Jonas, minister of social transformation, human resource development and the blue economy of Antigua and Barbuda, said the World Ocean Week in Xiamen is a platform for connecting global ocean policies, technologies, decision-making and actions.
It provides a great venue for international cooperation and dialogue for governments of coastal cities, marine scientists, international organizations, intergovernmental organizations, and maritime businesses and institutions from across the globe, he noted.
Most Popular