Passing the baton
Share - WeChat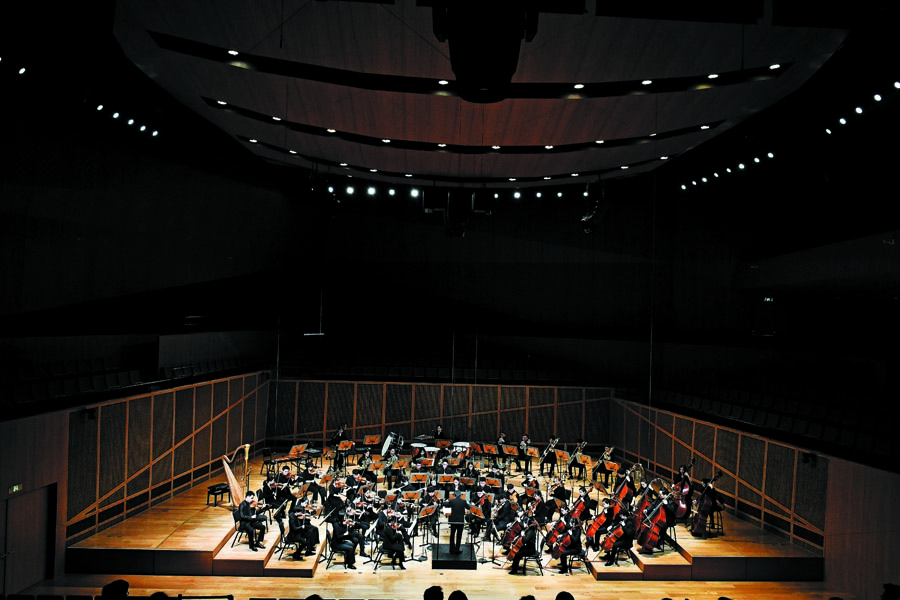 Resident conductor of the Tianjin Juilliard Orchestra, Ken Lam, is tapping into his vast professional experience to help nurture the next generation of exceptional Chinese musicians, Chen Nan reports.
As the inaugural director of orchestral studies and resident conductor of the Tianjin Juilliard Orchestra, Ken Lam led the student orchestra of Tianjin Juilliard School in kicking off the new season with a concert featuring Franz Schubert's Symphony No 8 (also called Unfinished Symphony) and Beethoven's Symphony No 2 on Sept 25 in the school's concert hall.
Throughout the new season, the orchestra will perform symphonies by composers, including Johannes Brahms, Hector Berlioz and Pyotr Ilyich Tchaikovsky. There will also be contemporary music works, including the world premiere of A Jiangnan Overture, composed by the school's faculty member Niccolo Athens, and Fanfare for Sam, composed by David Serkin Ludwig, who is the dean and director of the music division at the Juilliard School in New York.
The school's music festival, titled Festival Connect, will take place in January 2023, which will celebrate Igor Stravinsky and two contemporary composers: Joan Tower from the United States and Guo Wenjing from China. The program will feature Stravinsky's The Firebird, Tower's Made in America, which won a Grammy Award for best classical contemporary composition in 2008, and Guo's Zhudi (bamboo flute) Concerto No 2, Ye Huo, featuring Chinese bamboo flute soloist Tang Junqiao.
"We want to challenge our students technically and musically with works from different eras and by composers of diverse backgrounds," says Lam, adding that the performance season is designed with the goal of preparing students for their future professional careers. "They not only need to play their own parts, but also need to listen to one another."
For Lam, who only arrived in Tianjin about two months ago, working with the school is a new chapter.
Born in Hong Kong, he lived and worked in the US for decades. He played piano and violin as a child, as well as sang in his school choir. Before launching his career as a conductor, Lam studied economics at Cambridge University and was an attorney specializing in international finance for 10 years.
He says he has benefited from studying multiple majors and gaining working experience besides conducting.
"As an attorney, I had to deal with a lot of people such as clients, especially demanding clients. So I learned to work with them. Those skills also work for me as a conductor, because my job is to inspire the orchestra and enable them to communicate with their musical instruments," he says.
Most Popular