Couple finds travel helps them see new horizons for humankind
Share - WeChat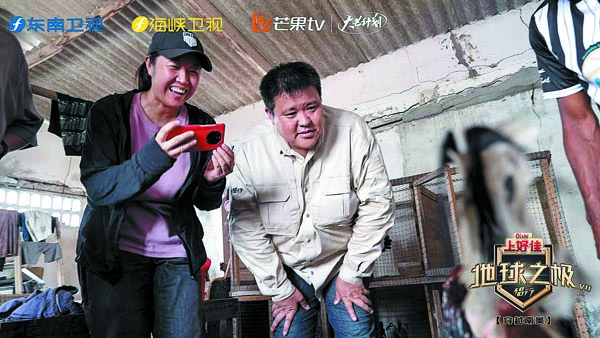 Following the adventures of a Chinese couple in exotic places in South America, the new season of the documentary Top Land is airing on the video-sharing platform Mango TV.
Zhang Xinyu, 45, and his wife Liang Hong, 43, used to be businesspeople in Beijing, but set off on a round-the-world cruise in 2013.This was recorded in their debut reality show On the Road.
It proved to be a phenomenal success, obtaining a stellar 9 points out of 10 on the review site Douban.
They continued to document their journey around the globe and film their unique travel experience in follow-up shows to On the Road.
As their journey has progressed, they started to feel a stronger sense of responsibility for the well-being of humankind as a whole, Zhang says.
For instance, the Bamiyan Buddhas in Afghanistan had been destroyed by war when they arrived in 2015, so they helped to create digital images that were projected on the remains of the original site at night.
Moreover, they felt the urge to produce a new series to help broaden the horizons of Chinese youngsters. In 2018, the documentary Top Land premiered.
"I hope that the documentary will enable children to see the colorful outside world and that they will understand more about the cultural diversity on our planet," says Zhang.
Most Popular