A deeper dive into Dunhuang
Share - WeChat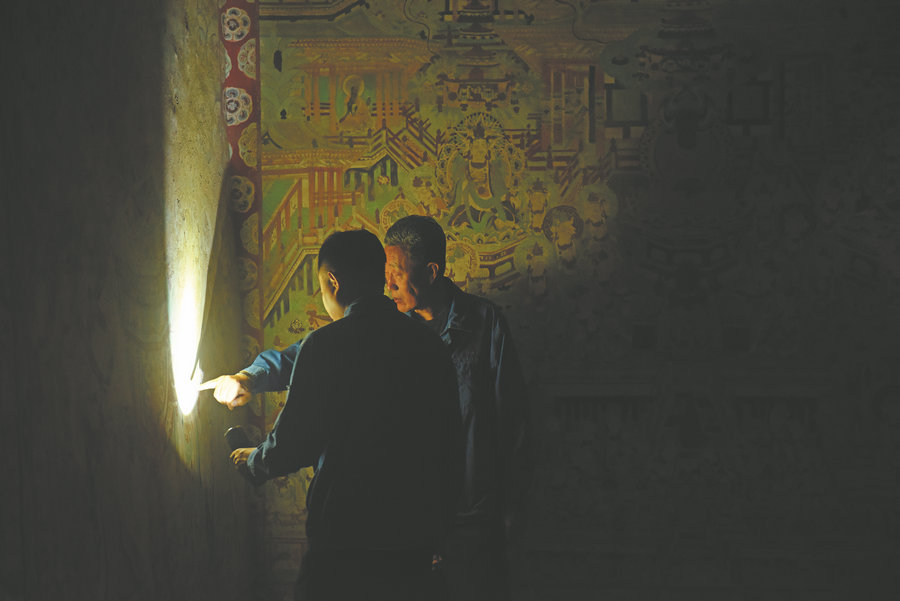 Documentary goes behind the scenes to show the work undertaken at world-famous site, Xu Fan reports.
Unlike most of her fellow postgraduates, who landed jobs in big cities such as Shanghai, Zhang Xiaoyang chose to work at Dunhuang Academy when she graduated from her archaeology major at Zhejiang University three years ago.
Despite being the world's largest treasure trove of Buddhist art, living conditions in Dunhuang, which sits in the Gobi Desert in Northwest China's Gansu province, are harsher than in China's metropolises.
Zhang, who is in her late 20s, has an intense routine. Assigned two stressful tasks, she spends most of the day battling sand and wind with the excavation team in Tianwangtang, the relic site of a Buddhist tower that is located on a hill at the Mogao Caves in Dunhuang.
At night, she writes academic reports on the discoveries in Cave 254, which was created during the Northern Wei Dynasty (386-534) and is one of the oldest caves in Dunhuang.
However, the biggest challenge for the young archaeologist is not the workload. It is trying to obtain some academic achievements within her three-year tenure at Dunhuang, a goal she set when she decided to take the job.
Her story is featured in The Master of Dunhuang, a three-episode documentary, currently available on the streaming site Tencent Video, which has garnered a lot of attention online.
Jointly produced by Tencent News and Dunhuang Academy, the project has turned the lens on three pairs of experts at the academy, respectively specializing in artifact restoration, archaeological research and digital recording of the grottoes.
Yang Ruichun, the project's initiator and producer, says that the production team was originally drawn to the splendid artworks in the Mogao Caves, but, after traveling to the far-flung site six times, their interest shifted to those who are devoted to protecting Dunhuang's 1,600-year-old legacy.
For director Li Zhenya, the documentary marks the project he has undertaken that examines the work at Dunhuang, following the celebrity-hosted documentary, The Great Shokunin, and the cultural show, The Mystery of China.
This time, however, Li and his team encountered an unexpected obstacle while attempting to interview the experts.
Recalling that most of the experts seemed shy and reluctant to engage, Li jokes that the production crew must have seemed like wolves harassing a warren of nervous rabbits.
"Dunhuang is surrounded by the vast Gobi Desert, making it more isolated than the most of the country's famous ancient sites, such as Sanxingdui (an archaeological site in Sichuan province) and the Yinxu ruins (located in Henan province)," says Li.
He explains that they believe the distinctive geographical environment makes the experts and craftsmen working at Dunhuang more focused on their work and immersed in their own archaeological world.