French far-right party elects its new president
Share - WeChat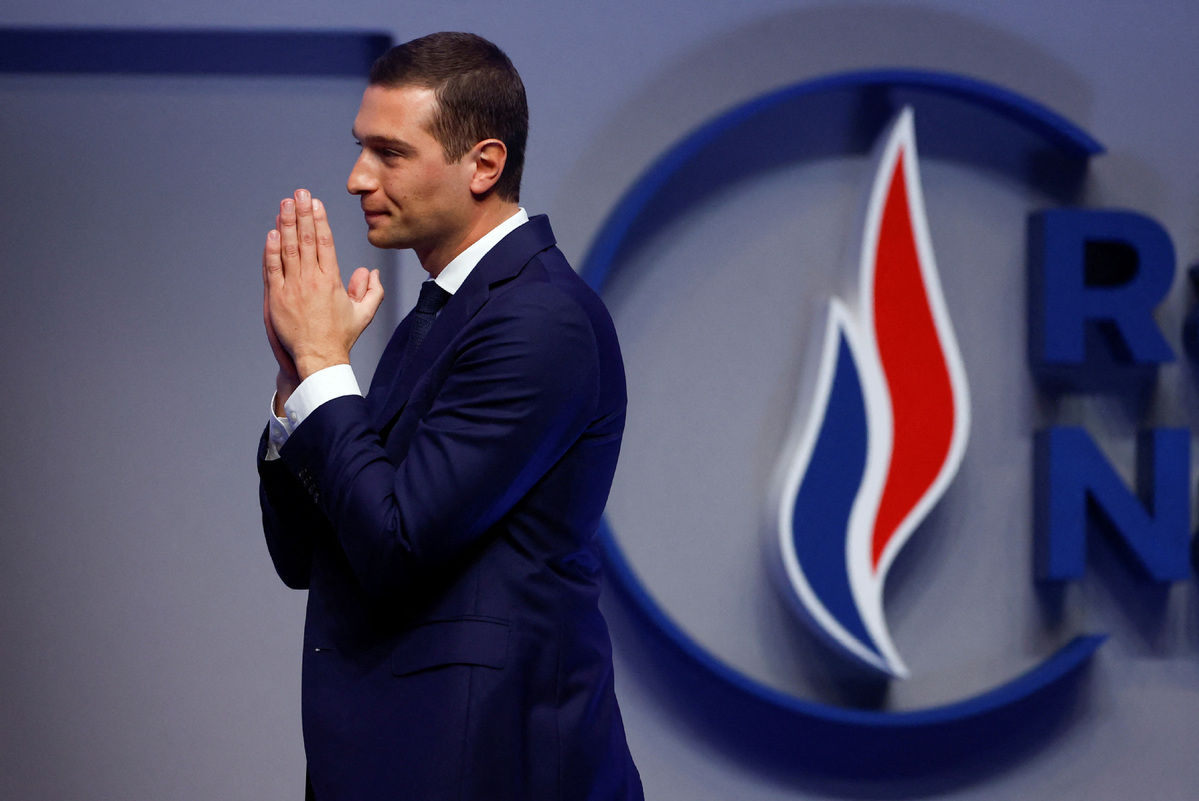 For the first time in its history, France's far-right Rassemblement National (RN) party will be led by someone other than a member of the Le Pen family, after 27-year-old European Parliament member Jordan Bardella was overwhelmingly elected as its new president.
Bardella replaces Marine Le Pen as head of the party formerly known as the National Front, after she spent 11 years as its leader, having in turn taken over the top job from her father, Jean-Marie Le Pen, who had run it for four decades.
Bardella had been acting president since September 2021 when Le Pen chose to focus her efforts on trying to win the presidency, going on to lose out to incumbent Emmanuel Macron in April's polls by a margin of 58.5 percent to 41.5 percent.
His only leadership rival, who he beat with 85 percent of the votes, was Louis Aliot, mayor of the city of Perpignan in the southwest of the country, but despite the symbolism of the change of leaders' name, Bardella said he was not planning any radical overhauls, quite the opposite.
"I am a continuity candidate, with the aim of building on the incredible legacy that Marine is handing over," he told the Agence France-Presse news service before the contest.
"Without Jean-Marie Le Pen, the National Front wouldn't exist, but without Marine it wouldn't still be here… she transformed it from having a protest culture to having a culture of government."
At the conference where Bardella's appointment was confirmed, Le Pen made it clear that she was not leaving the political stage. "I am not leaving RN to take a holiday. I will be there where the country needs me," she told supporters.
Bardella is thought to support Le Pen making a fourth bid for the presidency in 2027, after her encouraging performance in April was followed by her playing a high-profile role in June's parliamentary election, where RN enjoyed its greatest success yet and won 89 seats to become the biggest opposition party in the lower house of parliament, the National Assembly.
Bardella was raised by an Italian immigrant single mother in a tower block in an area of Paris with a bad reputation for crime, and said he was motivated to take an interest in politics by riots he witnessed in 2005, which were largely the result of tensions between the police and North African youths.
"I got involved in politics very early because I didn't want the whole of France to resemble what I had experienced," he told party members at the meeting where he was voted in.
Bardella is firmly Eurosceptic, calling the recent victory of Giorgia Meloni's right wing Brothers of Italy party in its national elections a "lesson in humility for the European Union", although under Le Pen, RN had toned down any talk of France leaving the EU.
He was also widely criticized when earlier this year he referred to the western Parisian suburb of Trappes as an "Islamic Republic "within France.