A good doctor's deeds that saved thousands
Share - WeChat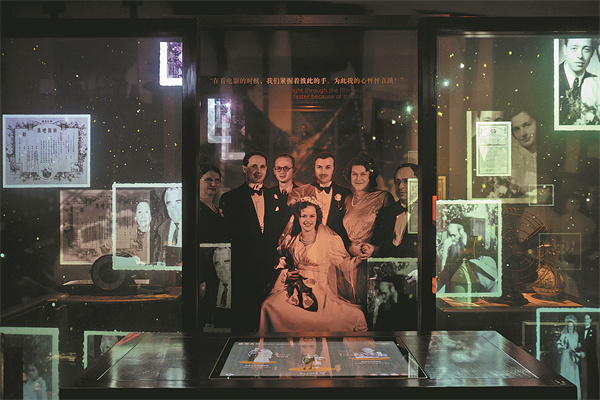 In 1939 Miriam Brookfield's life in Germany took an unexpected turn. The 14-year-old's father was arrested by Nazi authorities, and he was told he would be released only if he presented emigration documents proving he and his family were leaving the country.
"If we could leave Germany within the next two weeks or something like that, then they wouldn't have to put him in a concentration camp," Brookfield told China Daily recently. "They would let him go."
Her mother found out about a steamship departing for Shanghai and bought tickets for the family. Most countries were limiting Jewish migration or had closed their doors completely, and the free port of Shanghai became a haven for nearly 20,000 Jews fleeing the persecution in Germany that would later turn into the horrors of the Holocaust.
"It saved my life," Brookfield, now 97, says. "It gave me experiences that I'll never forget."
The plight of many Shanghai refugees such as Brookfield's were a central part of an exhibition titled "Hidden History: Recounting the Shanghai Jewish Story", in the Holocaust Museum LA that ran from April until the end of August.
"We called the exhibition hidden history, because we felt this was an important story to tell that needed to be uncovered, needed to be told," says Jordanna Gessler, vice-president of education and exhibits at the museum, which calls itself the oldest such museum in the United States.
The exhibition pieced together a compelling tale of struggle and survival of resettled Jews in Shanghai during World War II. It explored a chapter in history that is little known to Jews and non-Jews in the US, Gessler says.
"Most people who learn about the Holocaust think about it being in Europe, think about Poland, they think about Germany," says Gessler, who curated the exhibition. "So we felt that this history was hidden, that it was uncovered, that people didn't know it."
Although the exhibition has ended, it drew so much public interest that the museum decided to make it "virtual and streaming", she says, putting up web pages dedicated to the exhibition so people can view many of the artifacts.
As a result of inquiries from other museums, staff are also redesigning the exhibition so it can be put on display in other places.
Today's Top News
Editor's picks
Most Viewed