Grandma Ni shows she's still got game
Share - WeChat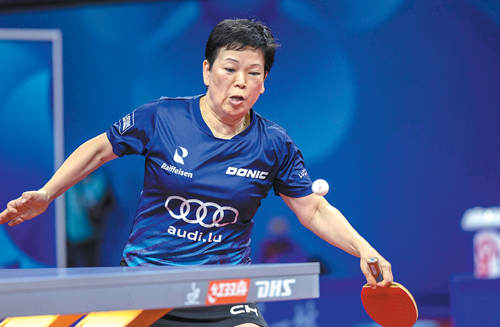 Evergreen 59-year-old adds to legend by shining at team world championships
As by far the oldest player at the World Team Table Tennis Championships, 59-year-old Ni Xialian again proved she remains a serious force in the sport.
Representing her adopted country of Luxembourg in Chengdu, Ni led her squad into the knockout stage of the team worlds by registering three wins and one loss to top the five-team Group 4.
Ni's 5-1 group-phase record over four days in Chengdu, where she twice had to play two matches a day, speaks volumes about her competitiveness — even against opponents of her grandchildren's age.
Her unwavering love for the sport, which Ni began to learn in the 1970s in her native Shanghai, has carried her through an evergreen career rarely seen in other sports.
"I am still playing because I still feel happy when playing in competitions," said Ni, who started her career with the Chinese national team and was a member of China's team and mixed doubles world champion squads at the 1983 worlds in Japan.
"My style of play that combines technical skill and experience over long rallies allows me to still play competitively at my age," Ni said after beating 17-year-old Elina Rahimi, 3-1, in Luxembourg's 3-0 win against Iran on Sunday.
Now no one can write off "grandma" as Ni targets more surprises in the knockout phase.
"I have nothing to lose, and what I want from a match is just to enjoy the process which makes me even more dangerous," Ni said.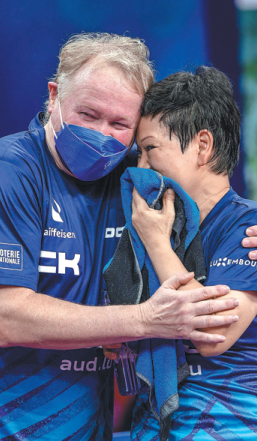 After playing internationally for almost four decades, Ni's passion and excitement for the game are as strong as ever. Following her 3-1 opening win against South Korea's Jeon Ji-hee in Chengdu, Ni jumped in jubilation like a kid and rushed to the sideline to kiss her husband and coach, Tommy Danielsson.
Beginning her competitive career with Shanghai's women's team in 1978, Ni was called up to the Chinese national team the following year and helped China claim the women's team title at the Tokyo worlds in 1983 when table tennis wasn't yet an Olympic sport. Ni also won the mixed doubles gold with Guo Yuehua and a doubles bronze with Cao Yanhua.
She moved to Germany in 1989 and settled down in Luxembourg two years later, where she met Danielsson, the then Luxembourg national team coach.
Traveling around the world for competitions together, their player-coach relationship eventually blossomed into a romance and led to marriage. They have a son and a daughter.
For Ni, the Chengdu championship is more of a homecoming event.
"I was born in China and received systematic training in Shanghai, which developed my solid skills and ability to read games — which is absolutely crucial, a lifetime treasure," Ni said.
"Even though I don't represent Team China anymore, I'm still widely supported by the Chinese fans, my compatriots. I appreciate it so much that I played beyond my level today."
Although busy managing a hotel with her husband in Luxembourg, Ni still isn't considering hanging up her paddle.
"I play a traditional Chinese fast-attacking game with a penhold grip and apply pimpled rubber on my paddle, which helps as you grow older.
"My style doesn't require too much strength and running in near-table play, so that allows me to play smart," Ni said.
After 30 years living in Luxembourg, she has represented the European country five times at the Olympic Games since 2000, including Beijing 2008. Last year in Houston, Texas, she reached the podium at the World Table Tennis Championships for a record fifth time, pairing with Sarah de Nutte to win a bronze in the women's doubles event.
Earlier this year, Ni was awarded the Luxembourg Government Commendation "Chavenlier" Medal (Oak Crown Medal) in recognition of her outstanding contributions.
"In competitions, I represent Luxembourg, and in Luxembourg, I represent the Chinese. I think that's very meaningful," she added. "I love the game and will never give up."
Xinhua contributed to this story.