Olympic champion Ren still leading by example
Share - WeChat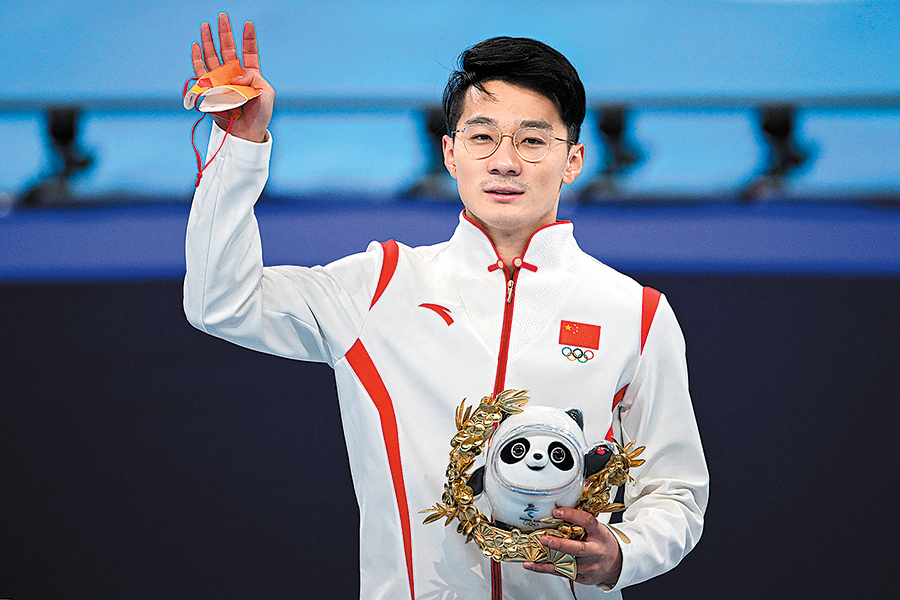 Olympic short-track speed skating champion Ren Ziwei can't remember how many times he has crossed the finish line. But there is one "line" that he knows he should not cross.
"I'm fond of playing computer games," the two-time Beijing 2022 gold medalist told Xinhua. "But when I'm training, I only switch on the computer on Sundays, as I know intense training awaits me the next day and I need to feel in good shape."
Ren has just completed his tuneup for the new season, which begins in late October, at a national short-track training camp.
"Every day you need to execute training plans laid out by your coach. Things go in a different way for different people, and they will benefit differently from training," he said.
Ren has hailed the influence of new head coach Zhang Jing, who previously worked with the Hungarian national team.
"She has brought us some training regimens that she carried out in Europe. You can see that I have lost some weight these days. Every day after I finish my training, I can feel the progress myself," said Ren.
Having taken up the sport at the age of 7, Ren has never considered himself a gifted athlete.
"I don't stand out in any aspect really, yet I'm still continuing to pursue my golden dream," he said.
Recalling the Beijing Winter Olympics, Ren said his most unforgettable moment was standing on the podium, seeing the Chinese flag hoisted and hearing the national anthem played.
"I had dreamed of this moment many times in my childhood. But when you finally make it, it's totally different from what you had imagined," he said.
"It's quite difficult to sing the national anthem there. You're just choked with sobs and emotion because the years of hard work have finally paid off."
Maybe it's surprising to some that, despite winning the 2,000m mixed team relay and men's 1,000m gold medals, Ren gives his Beijing 2022 campaign just a seven-out-of-10 rating.
"For me, it felt like starting on a high note and then ending low. We had a good start, but things didn't go as we expected," he explained.
"Reflecting on the Olympic journey, we discovered our weaknesses and we hope to make up what we missed out on in Beijing over the next four years.
"It was a tough 2,000m relay. Many unexpected things occurred during the race, but we managed to come through."
Ren won a 3,000m relay gold and a 1,500m bronze at the world junior championships in March 2014 — his first international appearance before he was promoted to the senior ranks in October that year.
"Starting from the world juniors, I moved forward step by step to the Olympic gold medal. Everyone is on their way to pursuing dreams. As long as we persist, we will eventually achieve good results," said Ren, who attributed his success at Beijing 2022 to his consistency during the buildup to the Games.
"I didn't have many drastic ups and downs, and I didn't let up much over the previous four years, so I could feel myself steadily improving every day."
Looking forward to the 2026 Winter Olympics in Milan and Cortina d'Ampezzo, Ren shrugged off the notion that being the defending champion is a burden.
"I just hope to unleash my full energy. My competitive level could go down during this Olympic cycle, but if it does I can adopt a different role by helping younger teammates develop."
Indeed, Ren is keen to stress how passing on the baton to the newbies is a key element of the short-track team's DNA.
"I hope to see a new generation of athletes stand out and shoulder their responsibilities. Maybe they are a little inexperienced now, but I want to help them grow fast and display their competitiveness in the years ahead," he said.
For now, Ren hopes he can stay healthy and help his young teammates grow over the next two years, and then focus more on his own performances in the second half of the Olympic cycle.
"I will continue to strive for gold with my teammates," he said. "Whenever possible, I also hope to promote this sport and involve more people in it, which means not only watching races but also participating in the sport and having fun."
Apart from traditional powerhouse South Korea, Ren expects the Netherlands, Hungary and Canada to be strong at the Milan Games.
"No one can be assured of winning the title as there are possibly five or even 10 athletes who have a chance of winning," he said.
"Details, therefore, become even more important. Whoever executes well on details will have a better chance."
And, at least for now, Ren is putting any thoughts of retirement on the back burner. "I have many reasons to quit, but I want to contribute to this sport and my country," he said. "This is the only reason for my persistence now."
He is also leading by example off the ice. During his vacation, he volunteered to help the anti-epidemic fight in his hometown Harbin, the capital of Northeast China's Heilongjiang province.
"I hope to do my utmost to help people around me," he said. "I wanted to do something that I usually don't have time to do such as the volunteering work and helping people in difficulties."
Xinhua