An epic bulwark
Share - WeChat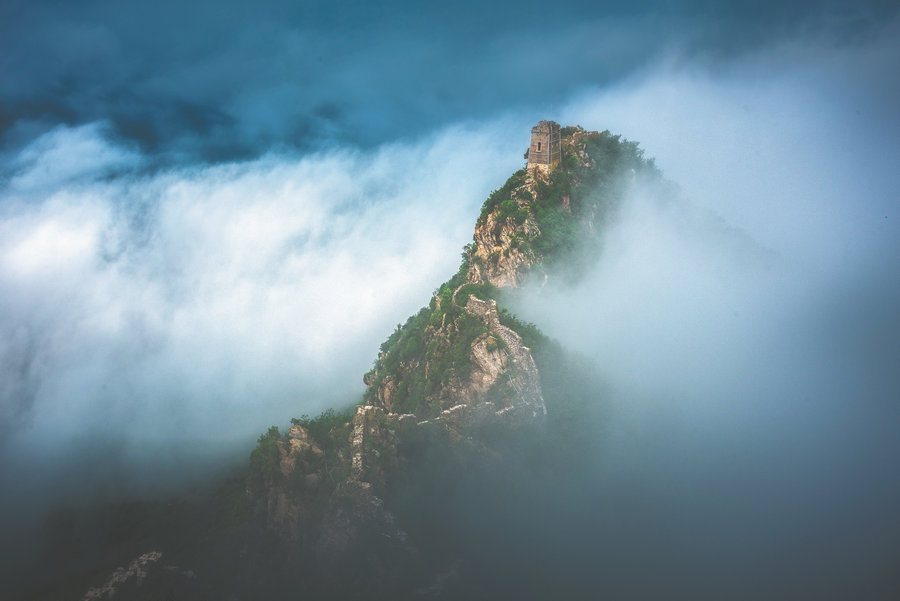 The Great Wall's military use has faded, but its unparalleled architecture continues to symbolize the nation's cultural strength, Yang Yang and Yuan Hui report.
China is home to 56 UNESCO World Heritage sites. To find out how these natural and cultural gems still shine and continue to inspire the nation in this new era of development, China Daily is running a series of reports covering 10 groups of selected sites from across the country. In this installment, we trek the breadth of this vast country, tracing the route of a true world wonder, the Great Wall.
One of the largest construction projects in the history of mankind, the Great Wall is the epitome of ancient Chinese wisdom and perseverance. It was an awe-inspiring defense strategy that spanned dynasties and remains an eloquent testimony to the edifice of Chinese civilization.
The earliest sections of the Great Wall were built by the ancient Chinese people to keep invaders at bay. After the Warring States Period (475-221 BC), the first emperor of China, Qinshihuang, wiped out six states and established the Qin Dynasty (221-206 BC). He ordered consolidation and extension of the Great Wall to protect his territory from his archenemy, the Xiongnu in the north.
In the 2,000 years that followed, and until the Ming Dynasty (1368-1644), this effective military master plan was applied by rulers of different ethnicities.
From Northeast China's Liaoning province to swathes of arid land in Northwest China's Xinjiang Uygur autonomous region, from Central China's Henan province to the border between China and Mongolia in the north, the incredible fortifications ran through rugged mountains, vast grasslands and remote deserts.
In 1987, the Great Wall was listed as a UNESCO World Heritage Site. More recently, a nationwide survey of different sections of the Great Wall found that its total length of 21,196.18 kilometers surpassed the distance between the Earth's two poles.
Among the 15 provincial-level administrative regions through which the Great Wall runs, the Inner Mongolia autonomous region boasts the most extensive fortifications, adding up to 7,570 kilometers across 80 banners and counties.
Construction of the bulwark in Inner Mongolia spanned more than 2,000 years, beginning during the Warring States Period, continuing through the Qin, Han (206 BC-AD 220), Liao (916-1125) and Jin (1115-1234) dynasties, and ending with the Ming Dynasty.
Based on the lengthy time frame, the Great Wall in the autonomous region is divided into 12 types. The most well-known section was built during the Ming Dynasty. It enters Inner Mongolia's Xinghe county from Hebei province and winds its way westward for over 860 km, across cities of Ulaanqab, Hohhot, Ordos and Wuhai, and Alshaa League.