Action pack
Share - WeChat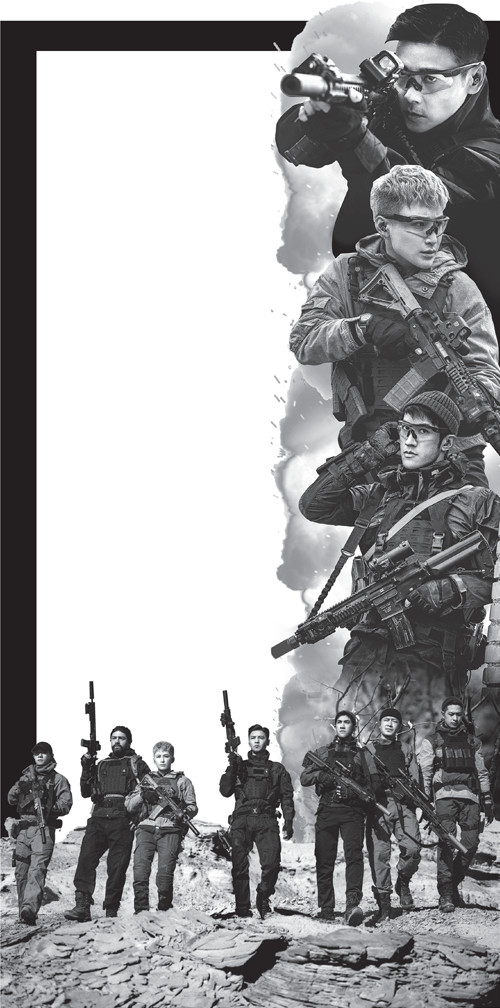 New blockbuster centers around a thrilling mission to protect the nation's interests in a far-flung land from terrorists, Xu Fan reports.
Lin Mu, a Chinese businessman who operates a security company in South Africa, found his patriotism aroused after watching a preview screening of Wolf Pack, a Chinese military-themed action blockbuster depicting an elite team of counterterrorist specialists fighting overseas.
"I went to South Africa when I was 18 or 19 years old. Not long after I had been there, a group of gangsters broke into my home. They tied a rope around my neck and beat my chest with the butts of their firearms, torturing me to give them money," recalls Lin, adding he felt the film resonated with him as it covers the issue of the safety of overseas Chinese.
Recently returning home to deal with some family business, Lin was invited to attend the movie's premiere, held in a downtown Beijing cinema, on Sept 7. In attendance were the film's creators and a number of industry insiders.
The first Chinese military-themed action blockbuster launched this year, Wolf Pack teams up action stars Zhang Jin and Jiang Luxia, as well as Hong Kong actor Aarif Rahman, and opened across domestic theaters on Sept 9.
Centering on an elite team of Chinese operatives who work for an international security company, the movie, set in a fictional Asian country, follows the group as it carries out a dangerous mission to stop a terrorist organization's plan to destroy a natural gas pipeline co-managed by a Chinese company.
The latest feature to be produced by veteran Lyu Jianmin, known for the Wolf Warrior franchise and People's Liberation Army Air Force-themed blockbuster Sky Hunter, the project was conceived around three years ago.
Revealing that he's a military buff, Lyu told China Daily that he has read a lot of news about the protection of Chinese people working overseas, raising his interest to produce a film inspired by these true stories.
"With the rise of China and the development of the economy, a greater number of Chinese companies are establishing businesses in overseas markets. I often thought 'who will ensure the security of these companies and the Chinese working overseas', which became the main impetus to shoot the movie," Lyu says.
According to Lyu and director-scriptwriter Jiang Cong, the production team traveled to Kazakhstan and Pakistan in search of the perfect location for the film, before finally settling on the Xinjiang Uygur autonomous region. Having to work around the ongoing pandemic, shooting took place between November 2020 and February 2021.
Around 50 foreign actors were cast to play the country's officials, the members of the terrorist organization and local villagers, the pair added.
As filming almost spanned the entire winter, Jiang recalls they occasionally faced harsh natural conditions, exacerbated by 16 consecutive night shoots in temperatures that plunged to-20 C.
"The actor who plays the main villain in the film is an Italian. We also recruited locals from different ethnic groups to play the extras, with most of them acting in a movie for the first time," says Jiang.
Recalling that the cast and crew enjoyed their time on set, Jiang says that he discovered how quickly and easily people from different cultures can bond when they are engaged in a job that they love and feel passionate about.
Zhang, the lead actor and a former national champion of several martial arts competitions-who began practicing martial arts at the age of 9-says he hopes the film will encourage more young actors to shoot Chinese action movies, once a pivotal genre to help domestic titles earn international recognition.
"I really hope that, by gathering a group of devoted, brave and passionate actors, who don't fear the pain and injury that comes with performing action-packed stunts, the movie can reach a wider audience," says Zhang.