Team China stars raring to learn from PSG challenge
Share - WeChat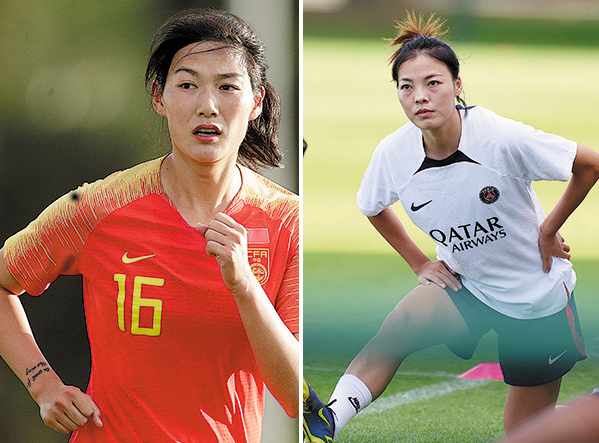 Yang Lina, Li Mengwen hail 'incredible opportunity' after loan moves to Paris
As Paris Saint-Germain's latest Chinese recruits, Yang Lina and Li Mengwen say their arrival at the French giant is a dream come true as they bid to make the most of their European adventure.
PSG on Tuesday officially announced the acquisition of Yang from Shanghai Shengli until June 2023. Eleven days earlier, Li joined PSG from Jiangsu, also on a season-long loan.
"The most important thing is to settle in quickly, build bonds with my teammates and keep improving a little bit more every day. I'm going to give the best of myself," Yang told PSG's official website.
The 28-year-old Shanghai native joined her hometown club Shengli in 2015, when Yang finished as top scorer in the Chinese Football Association (FA) Cup in her first season.
She has also shone in the red of Team China. Yang made her debut for the senior national team at the 2018 Asian Games, and after playing at the Tokyo Olympics, helped the team win the 2022 AFC Women's Asian Cup.
Now Yang is raring to challenge herself in Europe at a club "renowned for its quality".
"First, I'd like to thank Paris Saint-Germain and the staff for giving me this chance to join such a big club. There are a lot of players in this team who come from different national teams right around the world," said Yang.
"I think I can train and play with them to improve my level and go beyond my limits. It's also another step for me. I'm going to try and contribute to the team and prove myself. I always want to improve. I'm also preparing myself for the World Cup next year."
Having arrived in France earlier this month, Li made her PSG debut on Friday in a 2-0 win over ASJ Soyaux. The 27-year-old entered the fray in the 84th minute but took a huge chunk of confidence from her brief introduction to the French top flight.
"I have trained with the team for six days, and I'm still trying my best to adjust and fit in the team," she said. "When I came on we were already leading. I felt great on the pitch, but to get more minutes I will still need time to adjust."
Li started playing soccer in 2006 at the age of 11 at a local sports school in Suzhou, Jiangsu province, and three years later signed for Jiangsu LFC. Gerard Precheur, PSG's current head coach, was Li's coach in Jiangsu in 2018, and she is thrilled to work with the Frenchman again.
"I worked with the coach and his staff for three years in Jiangsu. I've always wanted to play abroad, and he knew that. He asked me if I wanted to come to PSG. I was surprised, but the thought of playing alongside such talented players is an incredible opportunity. I'm ready for the challenge," said Li.
"It's a dream turned reality. It's an extraordinary opportunity to wear this shirt. I've always loved the club, I'm really happy. My goal is to settle in as well and as quickly as possible, and then to get some time on the pitch. But that will require work and total commitment in training."
Yang and Li follow in the footsteps of their star international teammate Wang Shuang, who now plays at US team Racing Louisville of the National Women's Soccer League.
Wang made headlines in 2018 when she signed a two-year contract with PSG, and then became the first Chinese to score in the UEFA Women's Champions League, netting seven goals in 18 appearances across all competitions for the club.
Wang, who goes by the nickname 'Lady Messi', cut short her PSG stay in 2019 as she struggled to adapt to life in France and balance club and country commitments.
Having spoken to Wang about her experiences, Li feels more at ease about her move abroad.
"Wang Shuang told me that the biggest difficulty for her was the language as French is mostly spoken here. My English is not bad, so I will need to use English to communicate for a while," said Li.
"Based on my experience of playing against foreign teams, I've seen how fast European women's soccer has developed in recent years. As an athlete, or even when I retire, I can learn a lot from these players."
Yang said she's been in close contact with other Chinese players in foreign leagues to help her adjust to life in France.
"If you leave to go abroad on your own, it's perhaps more difficult, but we chat and tell each other our news," said Yang. "I'm mostly in contact with Tang Jiali (who plays for Madrid CFF), as well as other players. They are more experienced than me, so they can give me advice. I hope they'll do well with their clubs."
Just a few years ago, Wang Shuang was the only member of the women's national squad to ply her trade abroad-now, there are 10.That is especially welcomed by Team China head coach Shui Qingxia.
"I hope more Chinese players can play in foreign leagues, to know what it's like out there and to absorb new ideas about soccer. It will benefit not only themselves but also the entire growth of Chinese women's soccer."