At 25th anniversary of return, Hong Kong's future looks bright
Share - WeChat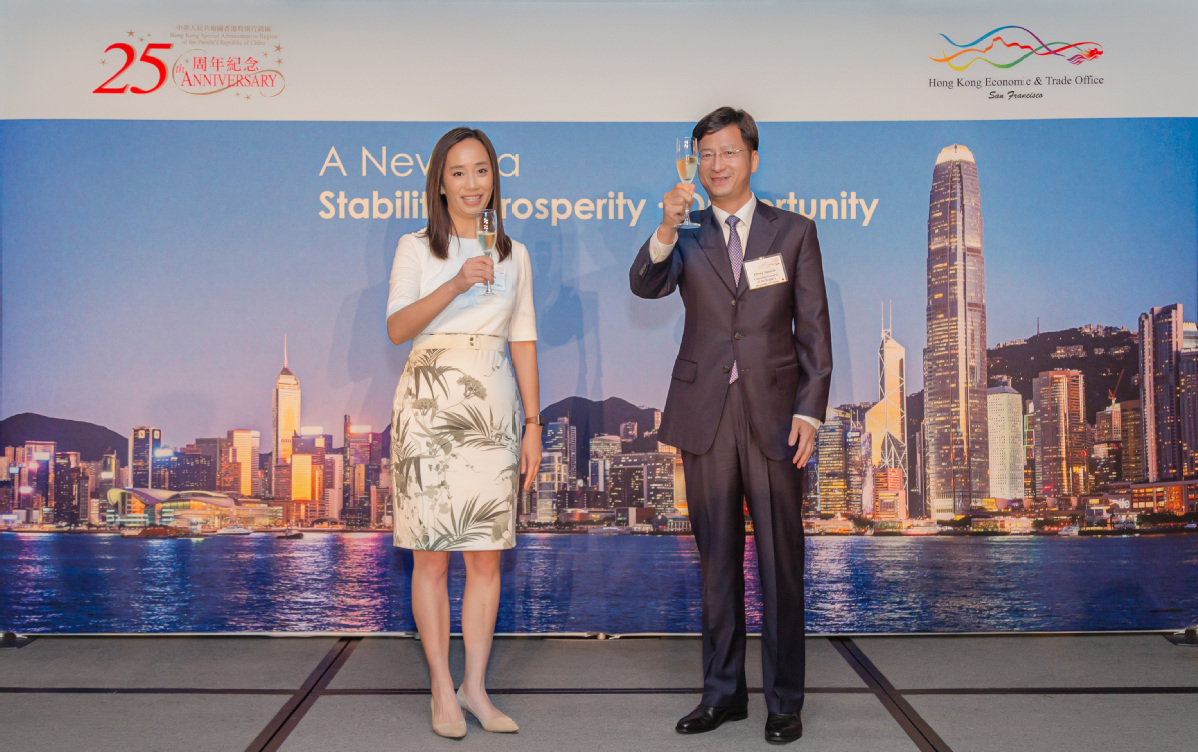 The Hong Kong Economic and Trade Office in San Francisco held an exuberant gala to celebrate the 25th anniversary of Hong Kong's return to the motherland, with high confidence in its economic prospects.
Jacko Tsang, director of the office, told an audience of 150 on Monday, including China's Consul General in San Francisco Zhang Jianmin, US elected officials, scholars, business and community leaders, that "our 25th anniversary carries the theme, 'A New Era — Stability, Prosperity, Opportunity'".
Since the inception of the Hong Kong Special Administrative Region (HKSAR) in 1997, the island has made "impressive achievements over the past two and a half decades", said Tsang, adding "it also underscores our eager anticipation for and confidence in a brighter future".
"We continue to be the premier international business and trade center in Asia," she said. Despite adversity caused by the pandemic and gloomy world economic prospects, Hong Kong's economy shows signs of a revival.
In a pre-recorded keynote speech at the event, Algernon Yau, the secretary for commerce and economic development of the HKSAR, said "the foundation of Hong Kong's unique advantages is 'one country, two systems', the political, economic and social arrangement enshrined in our Basic Law, which was implemented since Hong Kong's return to the mainland 25 years ago. Since then, Hong Kong has continued to grow and evolve, impressing the world with its vitality and dazzling East-meets-West culture."
Hong Kong was the world's sixth-largest exporter of merchandise in 2021 and 2020, according to the World Trade Organization (WTO).
"Notably, we remain the undefeated champion as the world's freest economy in the past 25 years," said Tsang.
As a leading international financial center, Hong Kong is "underpinned by a healthy fiscal reserve, which has doubled compared with 25 years ago", said Tsang.
Hong Kong ranks third in global foreign direct investment inflows, which amounted to $140.7 billion in 2021, behind the United States ($367.4 billion) and Chinese mainland ($181 billion), according to the UNCTAD World Investment Report 2022.
By 2021 year-end, the stock market in Hong Kong ranked the fourth largest in Asia and the seventh largest in the world. Total market capitalization reached $5.4 trillion, which increased by nearly 13 times compared with 1997.
Hong Kong is also the fourth-largest IPO fundraising market in the world, with $42.3 billion raised through initial public offerings in 2021.
A global offshore renminbi business hub, Hong Kong was the largest offshore RMB clearing center in 2021, handling 76 percent of the world's RMB payments, according to SWIFT, a financial messaging service.
"Of the world's top banks, 78 have operations in Hong Kong," Tsang said.
"Compared to 1997, our economy has more than doubled in size. Our airport cargo throughput increased almost three times, making us the world No 1 air cargo hub last year," said Tsang.
Hong Kong is ready to embrace a new era of opportunities emerging from development of the Guangdong-Hong Kong-Macao Greater Bay Area (GBA) and closer integration with the mainland's economy, said Yau.
The GBA, which was first introduced in 2015 and was written in the central government work report for the first time in 2017, and upgraded to a national strategy, is to encompass nine cities in Guangdong province and Hong Kong and Macao to orchestrate a world-class city cluster and economic powerhouse.
The central government also supports Hong Kong's efforts to enhance its status as an international financial center, transportation center, trade center, and a center for international legal and dispute resolution services in the Asia-Pacific region, Yau added.