'Massive' strikes hitting front lines, Russia says
Share - WeChat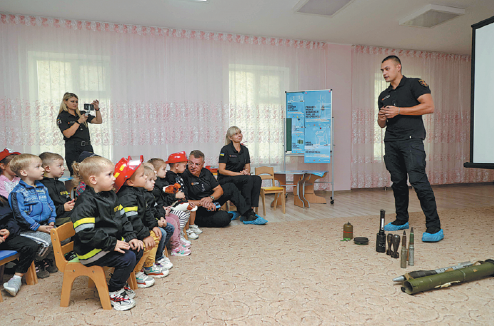 MOSCOW-The Russian military said on Tuesday it had launched "massive strikes" on all battlefield front lines in Ukraine.
"Air, rocket and artillery forces are carrying out massive strikes on units of the Ukrainian armed forces in all operational directions," the Russian defense ministry said in its daily briefing on the conflict.
The defense ministry said in a statement that it had launched "high-precision" strikes on Ukrainian positions around Sloviansk and Konstantinovka in the eastern Donetsk region.
The Kremlin, meanwhile, accused Ukraine's armed forces of abusing civilians in territory it had recaptured.
Russian President Vladimir Putin's spokesman said that in the Kharkiv region, reports were emerging of the "outrageous" treatment of civilians.
"There are a lot of punitive measures … people are being tortured, people are being mistreated and so on," Dmitry Peskov told journalists.
Putin was shown on state TV on Monday chairing a meeting on the economy at which he said Russia was holding up well in the face of Western sanctions.
"The economic blitzkrieg tactics, the onslaught they were counting on, did not work," he said.
Ukrainian President Volodymyr Zelensky has called on the West to speed up deliveries of weapons systems to aid military operations.
Washington and its allies have provided Ukraine with billions of dollars in weapons. In a video address late on Monday, Zelensky said Ukraine and the West must "strengthen cooperation".
Washington announced its latest weapons program for Ukraine last week, including ammunition for HIMARS anti-rocket systems, and has previously sent Ukraine NASAMS surface-to-air missile systems.
More than 73,000 people have been evacuated from the conflict-affected eastern and southern regions of Ukraine over the past month, Ukraine's Ministry of Reintegration of the Temporarily Occupied Territories said on Monday. Of that number, about 16,000 civilians have been evacuated from the eastern Donetsk region as a part of the mandatory evacuation, the ministry said.
Besides, 50,000 people were evacuated from the Russia-held areas in the Kherson and Zaporizhzhia regions in the south to Kyiv-controlled territory, it said.
Ukraine started the mandatory evacuation from the Donetsk region in early August.
Zelensky was expected to speak with International Monetary Fund Managing Director Kristalina Georgieva on Tuesday, two sources familiar with the plan told Reuters, as Ukraine presses the global lender for a full-fledged financing program.