'Leech' Li looks to worm his way up rankings
Share - WeChat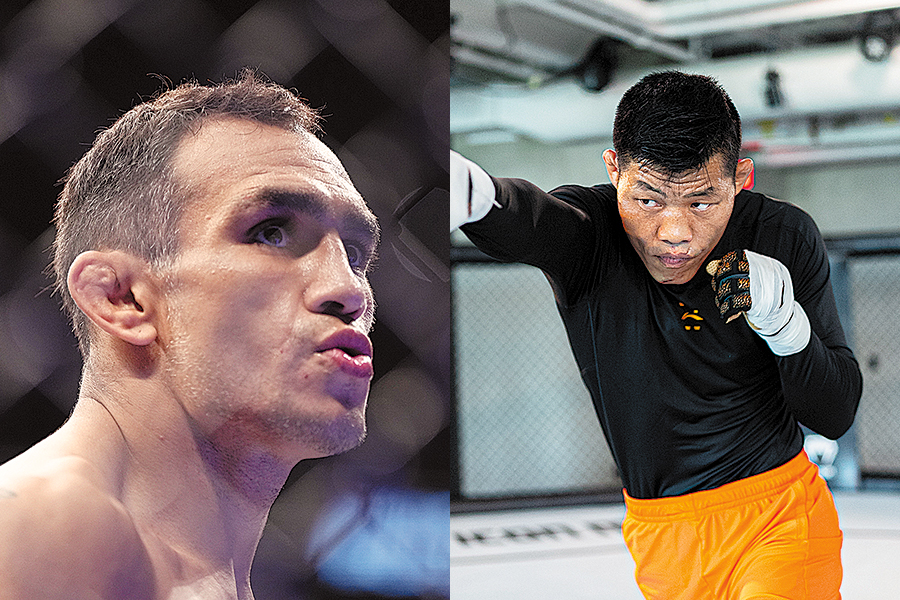 Bloodthirsty and ready for battle, UFC's "Leech" is primed to strike again when the bogeyman goes on the prowl.
Injury free and mentally fresh, Chinese MMA fighter Li Jingliang, who goes by the moniker "Leech" in the Octagon, expects to build on his recent momentum and out-punch former UFC interim lightweight champion Tony Ferguson in Las Vegas on Saturday.
Known as "El Cucuy", the name of a bogeyman figure in Mexican culture, Ferguson surprisingly agreed to move up to the 170-pound (77-kilogram) division to square off against Li at a weight class that the American veteran hasn't fought in since 2011.
The bout is the co-main event at UFC 279, a pay-per-view blockbuster headlined by the welterweight clash of local favorite Nate Diaz and No 3 contender Khamzat Chimaev of Sweden at T-Mobile Arena.
It will be Li's second fight in less than two months since the Chinese striker impressed in a thrilling TKO win over Russian kickboxer Muslim Salikhov on July 16. That victory delivered Li a much-needed boost following his submission to Chimaev last year.
Elite MMA fighters typically have gaps of six months in between fights, so Li is appreciative of being granted a quick return to action by UFC president Dana White.
"I had no injuries from the last fight while mentally I am eager to fight more and progress quicker up the ranks to make the best of my stay in the United States," Li told China Daily in an online interview on Wednesday.
"I learned a lesson from my previous experiences-if I take a break my form will suffer because of distractions, such as traveling back and forth, jet lag and family affairs. Since I am here healthy and sound, I'd like to strike while the iron is still hot," said Li, who owns a 19-7 win-loss record with 10 knockouts.
Li and his team arrived in the US in April to prepare for the Salikhov fight at Sanford MMA gym in Florida. He decided to stay for another bout to make the long trip worthwhile despite the high cost of apartment rental and training fees.
Should Li prevail, the 34-year-old native of Xinjiang Uygur autonomous region is expected to move closer to earning a shot at the UFC welterweight belt currently held by British-Jamaican Leon Edwards.
"I feel like I am in my best shape now. So why not make the most of the time? My goal is to return home at the end of the year with as many wins as possible to reunite with my family and celebrate the Chinese New Year," said the father of two.
By moving up a weight class, Ferguson (25-7, 12 KOs) will attempt to recover from a four-fight losing streak at lightweight. His most recent loss was a brutal KO by Michael Chandler in May, raising questions over the 38-year-old's competitiveness in the 170-pound division.
UFC commentator Daniel Cormier rates Ferguson as the underdog in the bout.
"In Li Jingliang, this guy is tough. He hits hard, and this is a very difficult matchup in his (Ferguson) first time fighting at welterweight in a long time. So while I'm looking for something positive, I don't expect all that much as of right now. He's going to have to show me something," Cormier told ESPN.
Li, however, remains wary of Ferguson, who went on an impressive 12-win streak in the 155-pound class from Oct 2013 to June 2019.
"The way I see it is he remains dangerous. He is a legend. He has many fans, even a lot in China, for a reason. He is a complete fighter who can weaponize any part of his body and fight in an unorthodox way," said Li.
"Yet I am capable of delivering surprises as well. I won't take him lightly at all but I am confident my punches can defeat any opponent, as always."